At 1:57 ET Saturday afternoon, a Twitter posting by user CLowe1215 shared what sounded like sad news about legendary African American educator and civil rights activist Dr. Dorothy Height:
CLowe1215: RIP to Soror Dorothy Irene Height. She passed today at 12pm! Spread the word and send your prayers sorors!!!!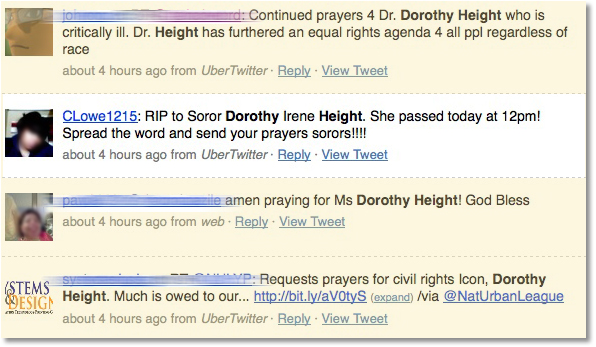 However, Dr. Height, who had been at Howard University Hospital since Wednesday, her 98th birthday, was indeed alive, but in "very serious" condition in the intensive care unit, according to hospital spokesman Ron Harris.
"We are grateful for the excellent care that she is receiving from the physicians and staff at Howard University Hospital and appreciate the continued prayers and support during these challenging times," said Alexis Herman, former U. S. Secretary of Labor and official spokesperson for Height.
Nevertheless, for several hours on Saturday, the Internet was buzzing with more than 1,000 tweets and re-tweets repeating the rumors of her alleged passing -- it was one of Twitter's hot 'trending' topics -- as well as several Facebook postings repeating the false claims.
At 2:02 p.m., her Wikipedia page was changed to report her death, only to be changed back at 2:44 p.m. when her condition could not be confirmed.


The rumor may have started when a Twitter request was sent among members of Delta Sigma Theta Sorority, Inc. Saturday morning, asking for collective prayers for the historical icon at 12 p.m. that day. Just after 1 p.m., that first erroneous tweet went out that she had reportedly died at noon. Height had been the sorority's 10th president.
Height was the chairman emeritus of the National Council of Negro Women and has been one of the nation's leading civil rights activists for more than 60 years.
It appeared that this time, most of the mainstream media did not act on the false report. Neither CNN, the Washington Post or the New York Times picked up on the rumor. Nor did the Associated Press, who had likely been working on an advance obit and monitoring her condition all week.
Height remains in serious but stable condition at Howard University Hospital in Washington, D.C.
UPDATE: Dorothy Height passed away early this morning, April 20, 2010, at Howard University Hospital at the age of 98.
Calling all HuffPost superfans!
Sign up for membership to become a founding member and help shape HuffPost's next chapter