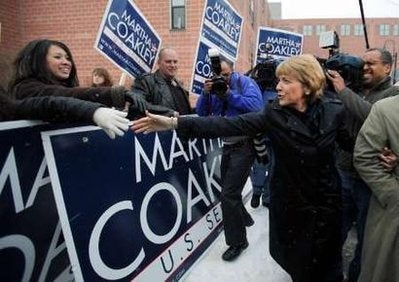 I live in Massachusetts, and yet I had no idea that the Senate race, between Martha Coakley and Scott Brown, to fill the seat of the late Ted Kennedy, was razor close until I got an urgent email from my friend Reno exactly a week before Election Day.
"ALL HANDS ON DECK," it read. "BIG DISASTER IF REPUBS TAKE KENNEDY'S SEAT!"
Her effort to recruit me for an Organizing for America phone bank was the first I heard that Ted Kennedy's seat was at risk, and along with it the US Senate "supermajority" and the Obama agenda, including the health care bill and "cap and trade." It now appears I was not alone.
The causes of this Democratic train wreck that promises to derail the Obama administration's initiatives and has acted like a splash of cold water on the president's intoxicating imperative of "change," will likely be picked over by the media, politicos and the public for some time.
Here are some of the things that are immediately evident from watching the election from inside Massachusetts.
The Passion Thing
Coakley and Brown had less than six weeks, between the December 8, 2009 Democratic primary and the January 19, 2010 special election, to take their case to Massachusetts voters, making the campaign more of a sprint than a race. But despite the need to run hard and fast, Coakley played the Hare to Brown's Tortoise, even taking a six-day vacation right in the middle of the 42-day campaign, while Brown trudged from door-to-door in South Boston, meeting voters, shaking hands and hoping to make up some of the 31 point deficit he started with. Even though Coakley's nearly week-long absence was to his advantage, he still took a shot at his opponent, telling the Boston Herald's Jessica Van Sack, "Martha is on vacation. She thinks she already won this race ... I wouldn't be surprised if she's already picking out the drapes."
"The Last Thing Anyone is Thinking About is Voting"
Further complicating Coakley's efforts was the detached, almost disinterested tone of her campaign that conveyed anything but urgency. Consider that as late as Election Day morning, radio stations here in Boston were airing a pro-Coakley ad, paid for by the American Federation of State, County and Municipal Employees. It featured a sleepy-sounding male voice, and began with an odd reference to a recent NFL playoff game:
"We know everyone's disappointed that the [New England] Patriots lost and it's the middle of winter, so we're all cold. And the last thing anyone is thinking about is voting ..."
"The last thing anyone is thinking about is voting..."?
This hardly was sounding the alarm. In the state that gave us Paul Revere, I wondered where we would be today if he had approached his work in the same way ("The last thing anyone is thinking about is that the British are coming...")
"Shaking hands?"
Meanwhile, Coakley had a stated aversion to the basic work of campaigning, coupled with what now appears to be a serious lack of understanding about running for office in Massachusetts. Less than a week before the election, on January 13, 2010, Scott Brown was working the crowds outside of Fenway Park, the epicenter of Massachusetts's collective soul, following a special Boston Bruins' hockey game held at the baseball shrine. Brown not only shook hands, but his campaign filmed the candidate with perennial Boston favorite, actor Lenny Clarke, and the deftly produced video of Brown was edited and quickly posted on YouTube the same day.
Inexplicably, Coakley chose to lash out at Brown for his campaigning. On January 13, six days before the election, with the polls indicating that the election was a dead heat,The Boston Globe reported:
"Coakley bristles at the suggestion that, with so little time left, in an election with such high stakes, she is being too passive.

'As opposed to standing outside Fenway Park? In the cold? Shaking hands?' she fires back, in an apparent reference to a Brown online video of him doing just that. 'This is a special election. And I know that I have the support of [Salem, MA Mayor] Kim Driscoll. And I now know the members of the [Salem] School Committee, who know far more people than I could ever meet.'"
No Signs of Coakley:
There is also the issue of Coakley's ground game. Having been around numerous campaigns over the years as a volunteer and journalist (my first political campaign in Massachusetts involved handing out leaflets as an eight-year-old for Ted Kennedy during his Senate race in 1964, a race he won by a 3-1 margin, despite his being hospital bound after an airplane accident) Coakley's campaign appeared to be disorganized and flat. One indication: driving around solidly Democratic Massachusetts communities like Newton and Brookline (once home of the Kennedys), one could see dozens of Scott Brown signs, but none for Coakley. In downtown Lexington, MA on Election Day, no shortage of volunteers holding Brown signs, but none visible for Coakley.
Meanwhile, I called the Coakley campaign three days before the election offering to volunteer on election day (mostly I wanted my 10-year-old daughter to have a chance to see an election close up), but despite getting an email from Coakley's Deputy Director of Operations, Karen Owens, saying they would "get back to me," no one did, nor did anyone respond to a follow-up email on Election Day offering help. And the phone number boldly posted on the landing page of MarthaCoakley.com for people to call for help with voting was nothing but busy throughout the day.
Brown Won the E-Campaign:
Brown clearly seems to have won the social media war, an increasingly critical part of election campaigns.
On YouTube, where each candidate posted more than 50 campaign videos, Brown outdrew Coakley nearly 10 to 1, with one million views by election day compared to Coakley's 100,000 views. Brown's Facebook fan page got more than five times as many members as Coakley's (101,000 to 18,000), and on Twitter, Brown outdrew Coakley with 12,000 followers to 4,000, and even changed the background on his Twitter page for Election Day.
Where Was The Press?
Among the intriguing questions in the wake of Coakley's loss is whether this completely unexpected upset was, in part, a product of a downsized press, in Boston and nationally. Would this have been such a surprise if Massachusetts newspapers were firing on all cylinders over the past six weeks?
It was only on election night that many Massachusetts voters learned that Brown seemed to have given a verbal thumbs up to a comment shouted at a recent rally that he should shove a curling iron up Coakley's butt, (a reference to a controversial toddler rape case Coakley once prosecuted) and that Brown had posed nude for Cosmo. And no one has asked some of the basic questions about the campaign, such as what happened to the other Democratic primary candidates (Michael Capuano, Alan Khazei and Stephen Pagliuca) who collectively received 53% of the primary vote? Could they have generated interest and mobilized voters? Did they refuse to help or did Coakley fail to ask them? (Four days before the election Khazei was posting YouTube videos asking people to volunteer for community projects for Martin Luther King Day, but nothing about the election.)
In the end, Coakley called Brown to concede shortly before 9:30 PM on election night, even though the race had not yet been called. Brown, meanwhile, stayed at his election night event and shook the hand of every campaign worker and supporter, late into the night.
Calling all HuffPost superfans!
Sign up for membership to become a founding member and help shape HuffPost's next chapter