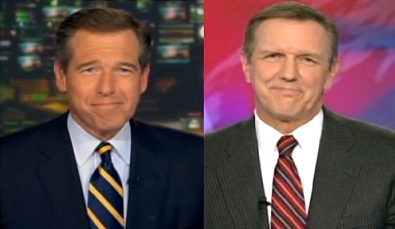 While the nation's attention is focused on the horserace in Iowa, another one is about to be decided — barely. Today is the last day of 2007, and thus the last day for ratings information to accrue for the evening newscasts in their all-out battle for dominance in the 6:30 pm timeslot. Katie Couric ceded that spot long ago (that would be the polite way of putting it) but Charlie Gibson and Brian Williams have been in a pitched battle for the top spot since Gibson first unseated Williams in the weekly ratings back in February. Shortly thereafter ABC declared victory in the February sweeps and the May sweeps, winning in both total viewers and the demo. NBC started closing the gap in the fall, picking up steam and surging to a comeback in November and narrowly clinching the sweeps in both total viewers and the demo. But — the number, though the winner, reflected a loss for NBC, while ABC had steadily shown gains in viewership from the previous year. Drama! NBC has won every week since the beginning of November save one — a bounce that has been attributed to factors including Williams' hosting of Saturday Night Live and habit shifts due to Daylight Savings Time.
The result of all this jockeying for position has resulted in a neck-and-neck sprint down the homestretch. From Jacques Steinberg
last week in the New York Times:
As December drew to a close, Mr. Gibson's overall audience for 2007 was running at about 8.4 million a night for the year, according to Nielsen, an increase of more than 300,000 over the newscast's performance in 2006. (Mr. Gibson became sole anchor in May 2006.)

As of Dec. 9, the last date for which figures were available, Mr. Gibson's program appeared on track to outdraw "NBC Nightly News With Brian Williams" by the Nielsen equivalent of a nose, about 125,000 people. The estimated 8.2 million viewers a night for Mr. Williams in 2007 represented a loss of about 500,000 from 2006, according to Nielsen.
That 125,000 average lead — that nose — has shrunk even further. As I mentioned in my previous post here, Williams won the following two weeks, eroding Gibson's numbers even further. Factoring in the numbers through December 23, 2007 takes ABC's lead down to approximately 97,000 total viewers. Presumably the week of Christmas will not be enough of a lead to bring that down to zero (and both Gibson and Williams have been on vacation besides), but if trends remain constant it's safe to assume that NBC and ABC will finish the year with less than 100 thousand viewers between them — a mere 1% — or, a very pert little button nose indeed (rather like the one on Katie Couric's face, come to think of it). At any rate, it's an exciting finish to a breathlessly competitive year — but at the end of the day all signs point to Charlie Gibson's ABC News being the 2007 winner.
Of course, to quote an ABC news spokesperson back in September: "The news ratings that matter are today... and right now, it's ABC on top." That was in September...as of now, NBC Nightly News is the top newscast going into 2008 (which clearly they're not shy about telling you). Who knows which nose will lead the pack in the coming year; at this point, the only safe bet is that it won't be Couric's.
Related
Popular in the Community