This article is part of a series of interviews, "Future Tech for Good." The interview is from WebSummit 2017 in Lisbon, Portugal, focusing on future technology for social good - #FutureTech4Good.
If you ask David Gorodyansky, CEO and Co-Founder of Anchorfree, about his thoughts on technology and social good, it's immediately clear that freedom online is a huge passion even beyond his company.
"We believe fundamentally that companies can become more successful by doing good. My philosophy is to invest in and spend my time and my life on things that can create real, billion-person impact," he shares.
"We're very mission-driven and the mission is to enable secure access to the world's information. We disrupt censorship, provide privacy online, and encrypt all data so your identity is protected. You can securely and privately access all the world's information with no censorship restrictions." - David Gorodyansky, Anchorfree
The internet allows for a tremendous number of positive things, however along with more sharing and access to data can also come censorship, hacking, and privacy concerns. Since ninety percent of the data out there about us now has been created in the last three years, and that trend continues to pick up, security is becoming more critical by the day. Here are a couple statistics worth considering:
50-100 Billion IoT (Internet of things) devices expected to be online by 2020
6 Billion people projected to be using smartphones by 2020

AnchorFree's mission is to promote free and open communication around the world. David notes that human rights organizations love what AnchorFree provides because freedom and privacy go hand-in-hand.
"About a year ago we opened up a Software Development Kit [SDK] where any company or organization, nonprofit or for profit, can take our technology and stick it inside their app.
Imagine that you're Reporters Without Borders. And you have reporters in Syria. And you have an app through which the reporters are uploading content, maybe videos that they're filming. In a war zone. That's just one example. They can plug our SDK, one line of code, into their application as they build it... it's like 'Freedom as a Service.' Reporters are now going to be totally accessible. So if Syria is blocking access to information, access to Twitter and access to Facebook, we're going to get them around that. Also, they're going to be totally private. So if somebody is trying to track this reporter, or this person in the U.N., [they can't.] Everything is going to be encrypted and secure. [In many parts of the world] your privacy is so important to your liberty and your life," Gorodyansky emphasizes.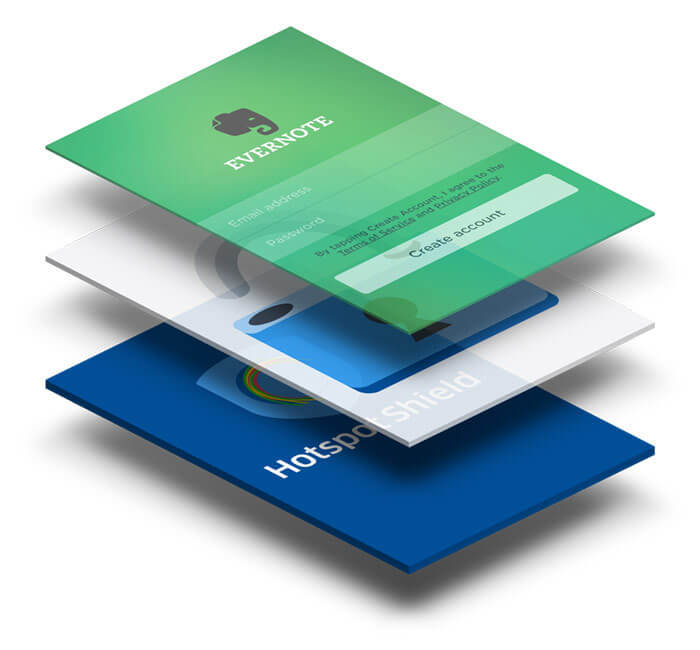 Highlighting the importance of safety, security and privacy, Gorodyansky sponsored a passion project film called "#chicagoGirl" that has won numerous awards including Amnesty International's Movies That Matter. The movie overview and trailer (below) are also a good description of why this type of technology matters to social good and freedom globally:
"From her childhood bedroom in the Chicago suburbs, an American teenage girl uses social media to coordinate the revolution in Syria. Armed with Facebook, Twitter, Skype and camera phones, she helps her social network "on the ground" in Syria brave snipers and shelling in the streets to show the world the human rights atrocities of a dictator. But just because the world can see the violence doesn't mean the world can help. As the revolution rages on, everyone in the network must decide what is the most effective way to fight a dictator: social media or AK-47s."
Currently Acnhorfree's HotSpot Shield is used by more than half a billion people, with 250,000 added daily, and by millions of activists globally. Even in countries where privacy is not as serious to personal safety as others, Gorodyansky says it's still a concern.
"We have to make privacy really simple and effective so that you're sharing your data when it's convenient for you. But when you want to be private [especially regarding your family, health, and wealth,] you flip the switch and it actually works."
This "Future Tech for Good" article and the rest in the series can be found across the internet and social media using the hashtag #FutureTech4Good. And if you have thoughts, ideas, photos, or insights to share from #WebSummit2017 or about #socialgood or #nptech, please connect with me on social media! @CharityIdeas on Twitter, @amyneumann on Instagram, @CharityIdeas on Pinterest, and Amy Neumann on LinkedIn.
REAL LIFE. REAL NEWS. REAL VOICES.
Help us tell more of the stories that matter from voices that too often remain unheard.
This post was published on the now-closed HuffPost Contributor platform. Contributors control their own work and posted freely to our site. If you need to flag this entry as abusive,
send us an email
.