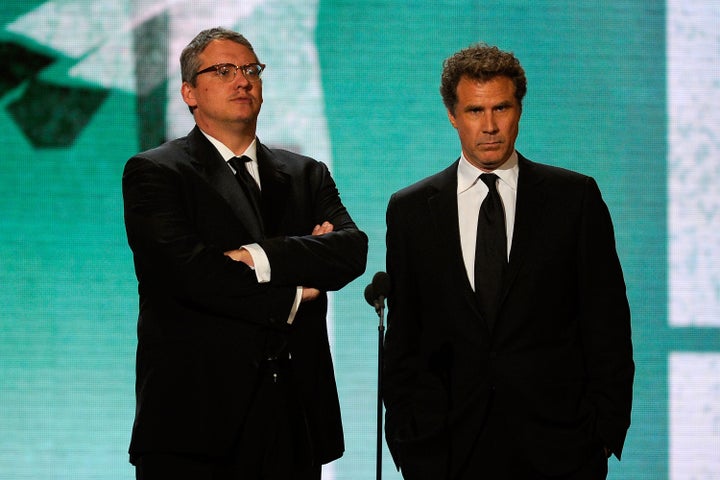 "Anchorman 2" is coming. Eventually.
"We're talking about shooting that next year, and Will [Ferrell] and Adam [McKay] are off writing," Judd Apatow told HuffPost last week. "We always knew we wanted to do a sequel, and the great thing about 'Anchorman' is that you could do a sequel when they're any age."
As McKay recounts, the "Anchorman" sequel was frequently shot down by Paramount executives over budgetary reasons. The studio didn't want to spend more than $35 million on "Anchorman 2," citing the low-end global grosses the first film earned in 2004 ($90 million overall).
"[T]heir numbers machine purely looked at the box office. It didn't project off of DVD sales and TV and cultural influence. It stopped at the box office," McKay recalled.
Despite the successes Ferrell and McKay had together on "Talladega Nights," "Step Brothers" and "The Other Guys" (films released by Sony and not Paramount), the studio still wouldn't budge. And despite the enjoyment McKay got from making "Anchorman," he wasn't going to work pro bono.
Yeah, and once again, we didn't even want our regular deal. Just to get it so you're not losing money making the movie. Because for me, I've gotta be on it for two years, and if I'm making such-and-such money I'm losing a lot of money, and it's hard to explain to your wife why you're working 14 hours a day for… when you're directing, once you're in it you're in it. Believe me, I'm not complaining. But at the same time, you want to make some money, even out of a sense of fairness, and it was literally like no pay, a little shot of back end. And once again, all the reps, when we went back the second time, were like, "This is horrible. You can't do this." So we gave up.
Except: why was it so difficult to get a green light on "Anchorman 2"? Since that film, none of McKay's features have grossed under $100 million. "The Other Guys," McKay's most recent outing with Ferrell, earned $170 million globally. Whether budgeted at $60 million, which is what McKay wanted, or $50 million, "Anchorman 2" stands a good chance at making back its money in pretty easy fashion. (This is to say nothing of the DVDs that the film could sell; the DVD market might be dead, but won't "Anchorman" fans want to complete their set?)
"All of these actors and writers on 'Anchorman' have such an incredible chemistry, it would be a waste for them not to work together again," said Apatow to HuffPost. "I'm glad they are trying."
So is everyone else. But for an industry that spends wildly on movies no one actually wants -- see: $200 million for "Battleship" -- did McKay and Ferrell need to try so hard for it to actually happen?
For more on McKay's battle to get "Anchorman 2" to the big screen and why his work on another Paramount comedy might have sealed the deal, head over to The Hollywood Reporter.
VIDEOS: Great Moments In "Afternoon Delight"
PHOTO GALLERY
'Anchorman's' 'Afternoon Delight'
Calling all HuffPost superfans!
Sign up for membership to become a founding member and help shape HuffPost's next chapter
BEFORE YOU GO