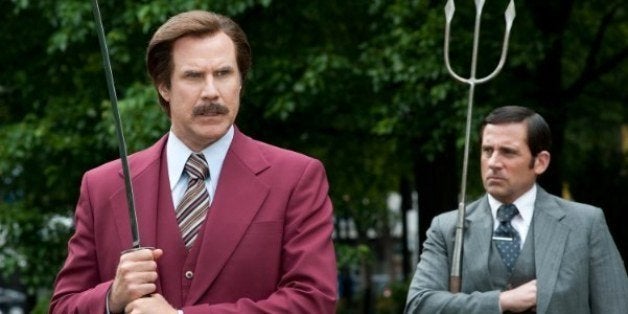 "Well, that was disappointing." These were the exact words that I muttered to a friend back in 2004 as I left a suburban St. Louis movie theater after seeing "Anchorman: The Legend of Ron Burgundy" for the first time. One week later, I went back, this time with a different human being (named "Steve"), and I was figuratively rolling in the aisles.
I certainly didn't walk out of "Anchorman 2: The Legend Continues" disappointed, but I'm glad that there were two weeks in-between the time that I saw this movie and the time, right now, when I'm writing about the movie.
Let's back up a bit. As you know the world has been inundated with a plague of Ron Burgundy promotional tie-ins. I don't watch "Homeland," but at this point I just assume he made a cameo and I'm sure it was hilarious. But, based on the aggressive ad-campaign, my fear going into "Anchorman 2" was that it would develop "The Spy Who Shagged Me"-syndrome. Basically, now that Adam McKay and Will Ferrell have more money to play with, the attitude would be "bigger is better," which is what happened with the (extremely successful, but not as funny) Austin Powers sequel.
Actually, Austin Powers and Ron Burgundy have quite a bit in common. Both Powers and Burgundy feature ex-"SNL" stars (Mike Myers and Ferrell) as the title character. Both are characters from the past – Powers a caricature of the '60s; Burgundy one of the '70s – and both are extremely quotable. (Sure, an Austin Powers reference would seem dated right now, but they were unavoidable in the late 1990s.) And both were movies that did OK at the theaters, before going on to become huge successes as a result of home video and cable.
And both felt they had to up the ante for the second movie.
It's hard not to think that at least a little inspiration for the Burgundy films came from the Powers films. (Not to even mention that Will Ferrell was in the first two "Powers" films.) When discussing the dismal track record of comedy sequels, Adam McKay even told Devin Faraci of Badass Digest, "We pegged it as 'Austin Powers 2' and you know, a downplayed one is actually 'Wayne's World 2,' that's actually pretty good." These two franchises are not that similar when it comes to the tone of their comedy, but the concept is remarkably similar.
What made the first Austin Powers movie funny were the small moments. Sure, saying "One million dollars" is played out at this point -- but that scene is brilliant to virgin eyes and ears. The sequels tried to thrive on cameos (Tom Cruise!) and larger set pieces. "Anchorman 2: The Legend Continues" doesn't quite fall into this trap, but it's … close. The list of cameos in this movie alone is mind-boggling. And it does feel bigger.
This time around, Ron Burgundy lives in New York City and eventually winds up working for one of the first 24-hour news networks, during the graveyard shift. With him is his news team: Brian Fantana (Paul Rudd), Champ Kind (David Koechner) and Brick Tamland (Steve Carell). Ah, yes, Brick…
When the first "Anchorman" was released, Steve Carell was best known for being a correspondent on "The Daily Show" and for a few scene-stealing moments in the Jim Carrey vehicle "Bruce Almighty." Now, Steve Carell is a major star and I suppose it doesn't make sense for a major star to have a role in which he just blurts out nonsensical phrases every 20 minutes or so. Not to say that Brick doesn't still do that, but his role has been significantly upgraded to the point that he has an entire subplot involving a new romantic interest (played by Kristen Wiig). Both actors do what they can with these moments, but these scenes do have a tendency to throw off the rest of the film's pacing.
I know, it sounds like I'm being negative. So, I should add, "Anchorman 2: The Legend Continues" is, at times, very funny. There's a sequence that I won't spoil around two thirds of the way through that might be the funniest thing I've seen in a movie theater in the last few years. (It's a sequence that at one point involves a pet shark named Doby, you may have heard the now Oscar-eligible song.) I walked out of "Anchorman 2: The Legend Continues" thinking, Well, that was hit and miss. (To be fair, even then, those hits were big hits.) Then a funny thing happened…
I've been quoting the movie incessantly ever sense -- even the parts I didn't find particularly funny when I was watching the movie.
'Anchorman 2: The Legend Continues' certainly feels bigger than the original – the show-stopping news team brawl is taken to new levels; a minotaur is involved this time and that's like the 15th weirdest thing that happens – which seems to be what resonates while you're watching. But, unlike "The Spy Who Shagged Me" and "Goldmember," the esoteric weirdness is still very much present. These are the moments and dialogue that we will all be quoting for the next 10 years. These are the moments that need some time to fully baste. There are a lot of similarities between Ron Burgundy and Austin Powers, but this isn't one of them.
Mike Ryan is senior writer for Huffington Post Entertainment. You can contact him directly on Twitter.
BEFORE YOU GO
PHOTO GALLERY
"Anchorman 2: The Legend Continues"