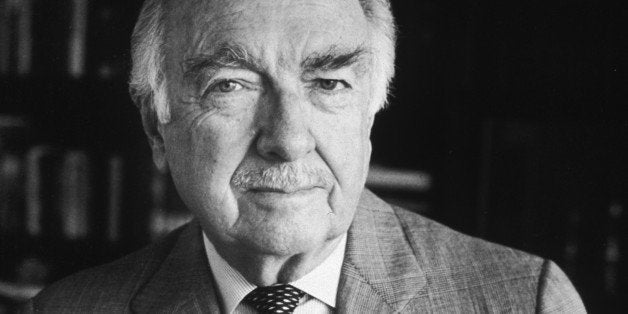 The recent departure of Brian Williams as the anchor for the NBC Evening News with Brian Williams has sparked considerable public commentary, much of which has focused on the "trust" required of the men and women who bring us the TV news each night. This standard of "trust" can be traced directly to the late Walter Cronkite of CBS whose long experience as a wartime reporter, coupled with his avuncular voice, cadence and demeanor, conveyed not only gravitas but also reliability and honesty. When you listen to someone who ends each broadcast with "And that's the way it is, Wednesday, February 24, 1971 ..." you come away thinking ... well, that's the way it really was. Walter Cronkite, whom I had the good fortune of meeting once, was the original Voice of God.
Since Cronkite retired in 1981, no anchor has succeeded in commanding the same level of respect and trust. Some, like Tom Brokaw (NBC) and Peter Jennings (ABC), have come close, and Dan Rather, Cronkite's immediate successor at CBS, lost his anchor's perch after 24 years over a flawed 60 Minutes segment on George W. Bush's National Guard service.
It is also apparent that today's third generation of network anchors has brought to the job a combination of good reporting skills and experience, along with evolving personas as hip celebrities who must also find ways to cope with the overall declining ratings for network news programs. It is not an accident that many of the commercials aired during the network news programs are targeted at an over-50 audience that presumably suffers from a cornucopia of illnesses. (Why do those ads for erectile dysfunction conclude with the happy couple holding hands in two separate tubs?)
To help reach a younger audience, Brian Williams had developed a second career as a late-night comic, and David Muir, ABC's new anchor who succeeded Diane Sawyer, is occasionally seen reporting in open-necked shirts or skin-tight Tees that undoubtedly bring a new degree of muscularity to his work. Like almost every other aspect of American culture, the nightly news has now become a commodity driven by audience share, advertising revenues, and the celebrity attraction of the people who read the news.
The response to the six-month suspension of Brian Williams has been fascinating to watch. I do not know Mr. Williams, but he has always struck me as a serious and decent man, but in this case, there can be little doubt that he made mistakes in exaggerating his own experience in a dangerous war zone. Americans, however, tend to be forgiving people, and one unresolved issue here is whether his error is so serious that he must ultimately lose his job. We'll see later this year.
Search firm professionals have told me over the years that it is surprising the number of resumes they see from professionals that include lies, especially tall tales that misrepresent one's education. I know one former CEO who lied on his resume: he stated that he had an M.B.A when, in fact, he didn't. When this untruth surfaced, his board did not fire him but, instead, docked him a $1 million annual bonus. Other executives have been fired for similar indiscretions. Each case will be different, and there is no magic formula for handling these problems. The tension between forgiveness on the one hand and losing a job on the other hand will continue to play itself out on a case-by-case basis.
But here's my real concern about the Brian Williams episode: It has prompted the wrong debate. The real debate, in my view, is why our network news programs are so shallow, so focused on what Rush Limbaugh and others call "low information" voters. Why is international coverage so thin? Do we need to have so many lost-animal stories when there's an economic crisis in Greece, an ongoing war in Ukraine, uncertainty about the Federal Reserve's future monetary policy, and a rising global Islamic jihad?
The anchors of our network news programs have become little more than readers of scripts. When they read the evening news to us, they are not reporting. Backing up their scripts is an army of people who do the selecting and the writing for what eventually appears on the screen. Shouldn't the concept of trust also apply to these people as well? Is it possible to hold accountable these behind-the-scenes people who play a major role in deciding what news gets reported?
There are obvious limitations imposed by a program format that is limited to 30 minutes (including advertisements), but there are other programs that offer better substance, variety, and depth than the network news. PBS's News Hour, for example, provides excellent international and economic coverage while also offering an occasional human-interest feature story. Likewise, French television provides almost an hour of commercial-free coverage that offers in-depth national and international information.
Our main network news programs can do better. They do not need celebrity anchors -- they need better content. Low-information news programs beget low-information citizens. Rather than dumb down the evening news, why not expand it with more in-depth coverage of the most important domestic and international stories?
When Walter Cronkite delivered the evening news, there were only three major networks. Today, we have an explosion of news sources -- on television, radio, the Internet, and social media. "Aggregators" like newspapers and the television networks face enormous competitive pressures at a time when the news itself has become disaggregated. People now tend to find their news from several different sources and at different times throughout the day. Pop-up alerts arrive throughout the day, and individuals can effectively create their own daily newspaper by tracking several news web sites on a regular basis. Perhaps a decade from now there will be no network evening news programs and, of course, no anchors. That possibility will become a certainty if the current quality of the coverage fails to improve.
Charles Kolb served as Deputy Assistant to the President for Domestic Policy from 1990-1992 in the George H.W. Bush White House. He was president of the French-American Foundation--United States from 2012-2014 and president of the Committee for Economic Development from 1997-2012.
Calling all HuffPost superfans!
Sign up for membership to become a founding member and help shape HuffPost's next chapter