An extraordinary and elegant appetizer with quality and aroma from Greece. This anchovy fillets with dried figs recipe is super easy, which makes it perfect for parties and entertaining.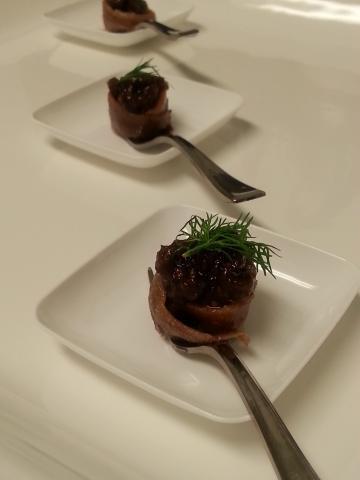 120 gr. anchovy fillets (about 20 pieces)
150 gr. dried figs
1 cup red wine
1 cinnamon stick
5 allspice grains
1/2 teacup olive oil
3 tablespoons balsamic vinegar
salt, pepper
Directions:
Chop dried figs and simmer in red wine with spices (cinnamon stick and allspice grains) for about 20 minutes. Let them cool and mix them in a blender with olive oil, balsamic vinegar, salt and pepper until they become jelly. Wrap anchovy fillets with a little of the pulp of dried figs in small rolls.
If desired, garnish with a little dill before serving.
For more recipes by Katerina, visit here.