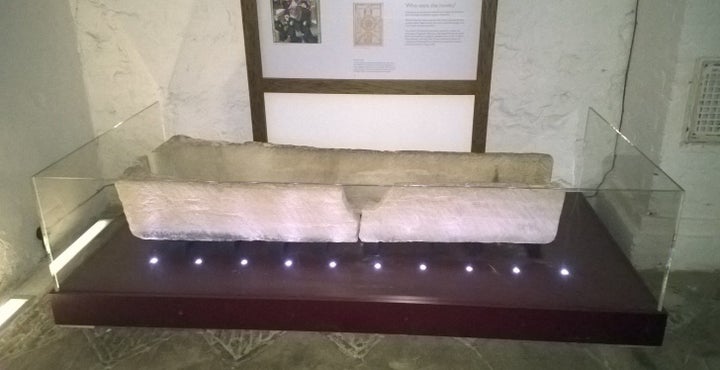 An 800-year-old coffin smashed to the floor of a U.K. museum last week after someone reportedly tried to put a child inside it for a photo.
The sandstone relic was on display at the Prittlewell Priory Museum in Southend-on-Sea, Essex, when someone knocked it over by lifting a child over a protective barrier, the Southend Echo reported.
Instead of reporting the damage or taking responsibility for the Aug. 20 accident, The Guardian reported that surveillance video captured the culprits fleeing ― leaving the toppled coffin with a deep crack and a large, triangle-shaped piece missing from its middle.
"To be clear, the coffin has always been in three pieces," Michael Sargood, spokesman for Southend-on-Sea Borough Council, told HuffPost by email on Thursday. "The crack in the [center] and the piece missing on the left of the photo has always been there since it has been displayed. The new damage is to the right of [center]."
"The care of our collections is of paramount importance to us and this isolated incident has been upsetting for the museum's service, whose staff strive to protect Southend's heritage within our historic sites," Claire Reed, the conservator responsible for repairing the sarcophagus, said in a statement obtained by HuffPost.
The coffin was found at the priory back in 1921. Inside, it held a skeleton that may have once been a senior monk, according to the BBC.
The Echo had reported that the damage would be "very expensive" to repair. But Sargood, in his email to HuffPost, shared that it may be cheaper than previously reported.
"The costs are going to be negligible, probably well under £100," he said, which is around $128. "We still have the piece and specialist adhesives will be used to repair the coffin. Fortunately, we have an in-house conservator who will carry out the careful repair."
This story has been updated to include Michael Sargood's comments.
Popular in the Community