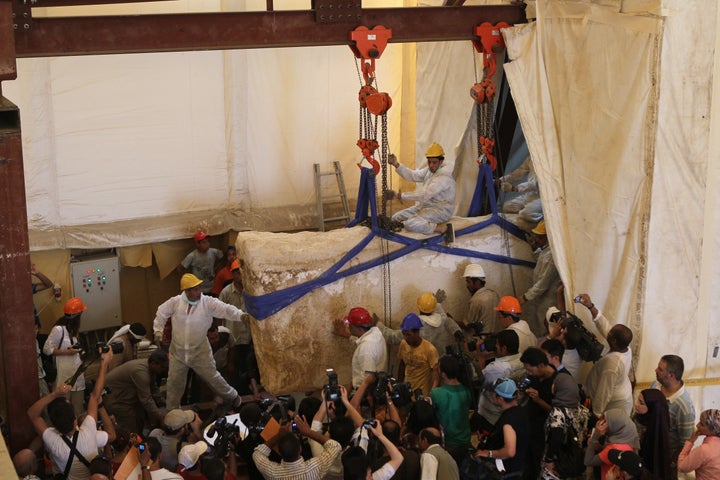 CAIRO, Egypt (AP) — Archaeologists have begun excavating a 4,500-year-old wooden boat found next to the Great Pyramid of Giza, one of Egypt's main tourist attractions, Egypt's top antiquities official said Thursday. (Scroll down for photos)
The boat is one of two buried next to the pharaoh Khufu in what appeared to be a religious custom to carry him in the afterlife. Khufu, also known as Cheops, is credited with building the Great Pyramid of Giza.
Sakuji Yoshimura, a Waseda University professor who is leading the restoration project with Egypt's Antiquities Council, said scientists discovered that the second ship is inscribed with Khufu's name.
Khufu founded the 4th Dynasty around 2680 B.C. and ruled Egypt for 23 years.
Take a look at photos of the boat from AP and Getty, and then scroll down to keep reading.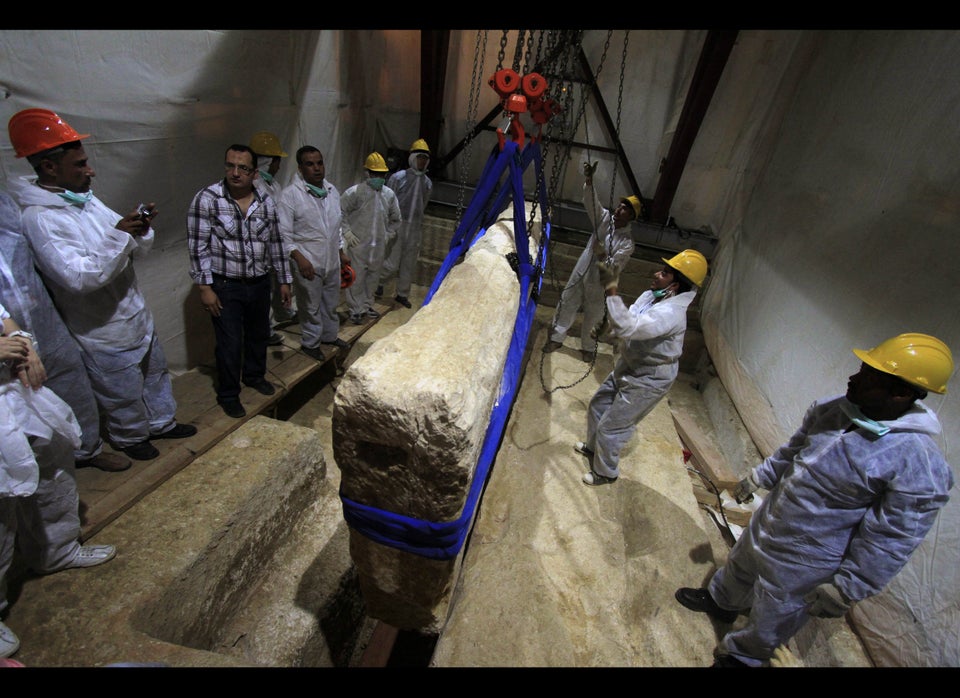 Egypt Ancient Boat Restoration
Zahi Hawass, Minister of State for Antiquities, called the excavation "one of the most important archaeological and conservation projects in the world." He hoped its display would boost tourism in Egypt, which has fallen sharply since the country's popular revolution that deposed President Hosni Mubarak in February.
The boat was originally found in 1954 along with another ship, which was restored and is regarded as one of the most significant discoveries on the Giza plateau for its age, size and condition. Experts say the ships are the oldest surviving vessels from antiquity.
The second boat is thought to be smaller than its sister ship, which is about 140 feet (43 meters) long.
Using a pulley system, a team of scientists lifted the first of 41 limestone slabs, each weighing about 16 tons, to uncover fragments of the ancient ship. Over the next two months, experts expect to unearth about 600 pieces from the boat's underground resting place. Restoration is expected to take about four years, and then it will be displayed at the Solar Boat Museum near the huge pyramid, which routinely attracts millions of tourists, boosting one of Egypt's most important industries.
Both boats were made from Lebanese cedar and Egyptian acacia trees.
The experts hope to restore the second ship as successfully as the first. Hawass said the boat's condition was better than he expected. "I was really afraid when I first saw the wood," he said. "I am very optimistic that in four years there will be another boat."
The entombed boat remained untouched until 1987, when a team from the National Geographic Society threaded a tiny camera under the site's limestone surface to see what lay beneath and found it. Other similar cavities nearby were empty.
After receiving a $10 million grant from Waseda University, Egyptian and Japanese scientists in 2008 began preparing for the ship's excavation process, conducting environmental surveys and building a temperature and humidity controlled structure around the site.
After the excavation process is complete, scientists will devise a computerized schematic of the boat to aid in its reconstruction.
Support HuffPost
The Stakes Have Never Been Higher
Related
Popular in the Community