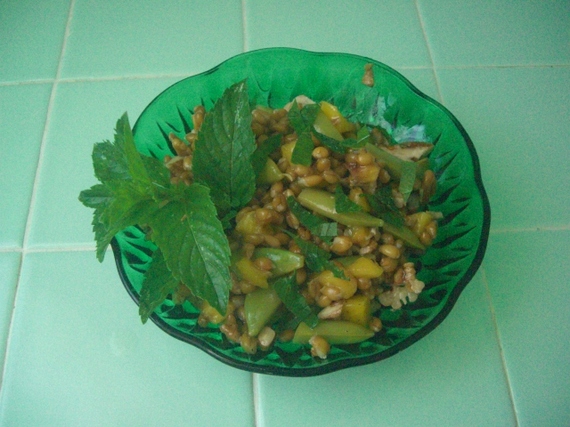 The Aztecs were so reliant on chia seeds, they not only utilized them as much as corn but delivered them as tribute. Spelt was sufficiently important to the Greeks and Romans that they gave it as an offering to their gods. Farro was so prevalent in ancient times that it is mentioned repeatedly in the Old Testament. And yet, as little as 10 years ago, if you had gone searching for any of these historical grains you would have been hard-pressed to locate them at all.
Fortunately, we are seeing a huge resurgence of interest in so-called "heirloom" or "ancient" grains. Now, even your local grocery store is likely to carry some form or another of several of them. Major food producers are incorporating them into multiple products. My favorite grain source, Bob's Red Mill, has introduced an entire line called "Grains of Discovery," with nine different heirlooms available. The not-so-glorious glory days of processed rice and nothing more in the grain aisle are drawing to a close.
Consider a few historical grains that lend themselves to healthy eating and culinary bliss:
Not just for silly, fuzzy green ceramic figurines, these unique and nutritious seeds were a lynchpin of Aztec civilization for centuries. Packed with omega-3 fatty acids, protein and dietary fiber, they are also an excellent source of calcium, manganese and phosphorus. Their neutral flavor makes them a perfect addition to all sorts of foods -- smoothies, cereals, baked goods, salads and more.
A distant cousin to wheat, spelt offers a wider spectrum of nutrients than its modern relative; it provides a generous dose of protein, riboflavin and zinc. Spelt has a robust nutty flavor and chewy texture. It can be found as a whole grain or as flour; breads and pasta made from the flour have a denser texture and slightly sweet flavor.
Known in antiquity as "the Pharaoh's wheat", farro is similar in texture and taste to spelt. Packed with fiber (even more than quinoa or brown rice), it provides a complete protein when paired with legumes, and its lignans offer antioxidant benefits. Vitamins and minerals round out the nutritional package with plenty of B3, magnesium and iron. Resembling a plumper barley grain, it is excellent in pilafs, salads and soups.
An ancient cereal grain related to durum wheat, Kamut is a type of Khorasan wheat. It found its way into numerous legends: one holds that it was discovered in King Tut's tomb, another postulates that Noah took it with him on the Ark. Whatever its historical roles, kamut is demonstrably a high-energy wheat due to its complex carbohydrates and protein content. Multiple vitamins and minerals abound, and because of its low oxidation levels it maintains most of its nutrition even when ground and processed.
These are just a few of the delicious and nutritious options available nowadays to increase your grain intake and widen your culinary horizons. Also consider millet, sorghum, and amaranth; and don't neglect the ubiquitous quinoa.
And take some of your old stand-by's -- rice pilaf, tabbouleh, couscous -- and shake 'em up with some different grains. Cook up some millet with saffron, pine nuts and pomegranate seeds for an exciting new version of couscous. Transform a pilaf with spelt in place of brown rice. Combine some plump nutty farro with chopped parsley, tomatoes, cucumber and mint for a spectacular twist on traditional tabbouleh.
Now, head on down to your local health food store and get your grain on!
Spelt, Sugar Snap & Peach Salad
This unusual and fresh-tasting salad pairs beautifully with a crisp-skinned roast chicken...
2/3 cup organic spelt
2 cups water
8 ounces sugar snap peas
1 large peach, peeled, pitted and diced
1/3 cup chopped raw pecans
1 1/2 tablespoons blood orange olive oil
1 tablespoon raspberry vinegar
Salt & pepper to taste
Handful of shredded fresh mint leaves
In a small saucepan, bring spelt and water to a boil, reduce to a simmer, and cook until tender, about 55-60 minutes. Drain and cool.
Steam sugar snap peas briefly, until just past hard but still crisp, about 1 ½ minutes; rinse under cold running water and drain. Cut them all in half.
In a medium bowl, combine spelt, sugar snaps, diced peaches and pecans. Drizzle with olive oil and vinegar, add salt & pepper to taste, toss lightly.
Mound in a serving bowl and sprinkle shredded mint over the top.
Raspberry-Peach Chia Refrigerator Preserves
This fast, simple and delicious spread has no pectin or sugar - so slather it on your morning whole-grain toast with a clear conscience!
1/2 cup smashed fresh raspberries
1/2 cup + 1/4 cup diced white peach
1 teaspoon lemon juice
1 tablespoon chia seeds
1 tablespoon local honey
In a food processor or blender, combine raspberries, 1/2 cup peaches, lemon juice, chia seeds and honey; process or blend until smooth.
Stir in 1/4 cup diced peaches and transfer to glass container. Chill overnight.
[ A version of this post appears in my "Eat Smart" column in Better Nutrition Magazine.]