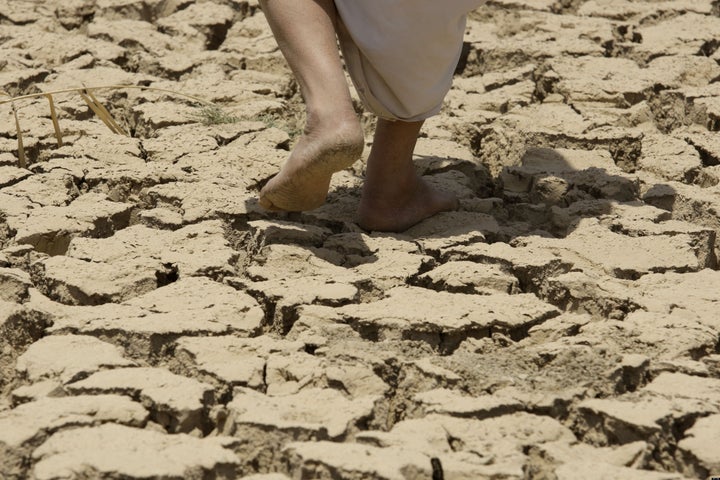 WASHINGTON (Reuters/Deborah Zabarenko) - Ancient megadroughts that lasted thousands of years in what is now the American Southwest could offer a preview of a climate changed by modern greenhouse gas emissions, researchers reported on Wednesday.
The scientists found these persistent dry periods were different from even the most severe decades-long modern droughts, including the 1930s "Dust Bowl." And they determined that these millennial droughts occurred at times when Earth's mean annual temperature was similar to or slightly higher than what it is now.
These findings tally with projections by the U.N. Intergovernmental Panel on Climate Change and others, according to study author Peter Fawcett of the University of New Mexico. The results were published in the current edition of Nature.
"The IPCC model suggests that when you warm the climate, you'll see extended droughts in this part of the world and this is what the paleo record seems to be telling us," Fawcett said in a telephone interview. "When you've got past temperatures that were at or above today's conditions, conditions got drier."
The U.S. Southwest has seen steep population growth over the last century, with population increasing by 1,500 percent from 1900 to 1990, according to the U.S. Geological Survey. The total U.S. population grew 225 percent over the same period.
The settlement of this area depended, as all human settlements do, on access to water. There would clearly be less water available in a megadrought.
EARTH'S ORBIT AND GREENHOUSE EMISSIONS
Megadroughts in the past were caused by subtle changes in the Earth's orbit around the Sun, which were also responsible for periodic ice ages. If these orbital changes were the only influence on the planet's climate, Earth should be heading into a cool period, Fawcett said in a telephone interview.
However, recent temperature statistics indicate that is not the case. The decade that ended last year was the hottest since modern record-keeping began in 1880. The previous decade, 1991-2000, was next-warmest and 1981-1990 was third-warmest.
Emissions of climate-warming greenhouse gases including carbon dioxide help trap heat near Earth's surface and could be influencing the natural orbital cycle that would dictate a cooling period.
To figure out just how long these megadroughts lasted, and what happened during them, scientists took samples from a dried lake bed in northern New Mexico called the Valles Caldera. They analyzed these sediments for biochemical signs of drought, ranging from which trees and shrubs grew and how much calcium was in the cracked mud in the dried lake bottom.
Looking at records going back more than a half-million years, they also developed a technique to determine temperature in the ancient past by looking at signs left by soil bacteria, Fawcett said.
The fats in the walls of these bacteria change their structure in response to temperature changes, he said, and act like a "tape recorder" for antique temperatures.
Related
Popular in the Community