JERUSALEM (AP) - Archaeologists have cleared out a 2,000-year-old tunnel running under the walls of Jerusalem's Old City and plugged up over the generations by accumulated debris, the Israel Antiquities Authority said Tuesday. (Scroll down for photos) Archaeologists believe the tunnel served to drain rainwater near the Second Temple, the center of Jewish faith destroyed in A.D. 70. It runs near -- but not underneath -- the sacred and politically explosive enclosure known to Jews as the Temple Mount and to Muslims as the Noble Sanctuary, home to the Al-Aqsa mosque.
Archaeology and politics in Jerusalem are entangled, and there was criticism of the new excavation Tuesday from both Palestinians and dovish Israelis.
The tunnel runs almost 2,000 feet (600 meters) from inside the Old City to the nearby Palestinian neighborhood of Silwan, where an Israeli settler group, the Elad Association, both funds archaeological digs and moves in Jewish families, angering Palestinians. The group, which works closely with arms of the Israeli government and the Jerusalem municipality, aims to prevent any division of Jerusalem in a future peace deal.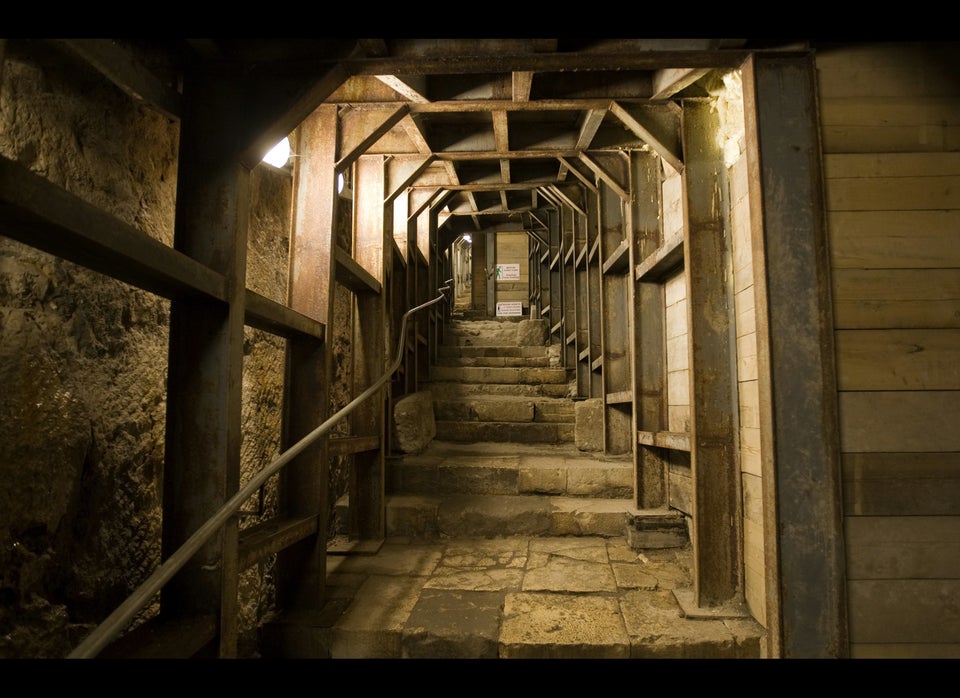 Jerusalem Water Tunnel
Antiquities officials and Elad declined to say Tuesday whether the group had provided funding for the tunnel excavation, but a 2007 statement by the Israel Antiquities Authority said the excavations were being carried out jointly with Elad.
Palestinians claim Silwan as part of the capital of a future Palestinian state. Israel captured all of east Jerusalem from Jordan in the 1967 Mideast war and annexed it soon afterward, a move that has not been recognized internationally.
Israelis know Silwan as the City of David, named for the biblical king believed to have ruled from Jerusalem.
Critics see the Silwan excavations as part of an attempt to cement Jewish control over heavily Palestinian areas of Jerusalem.
"They'll say, 'David was here, we can see his palace and follow his footsteps, so it's something we should not negotiate,'" said Professor Yitzhak Reiter of Hebrew University's Conflict Studies Program.
Some residents had petitioned Israel's Supreme Court to halt excavations, fearing digging under their homes might cause them to cave in.
Yuval Baruch, the Israel Antiquities Authority archaeologist in charge of Jerusalem, pointed to the court's ruling permitting the excavations to continue, and said 95 percent of the newly excavated tunnel lies underneath roads, not houses.
Related
Popular in the Community