If you thought the Pretzel Bacon Cheeseburger was the ultimate upgrade in burger buns, think again. Today the Dallas-based Boston's Restaurant & Sports Bar chain introduces the Pizzaburger.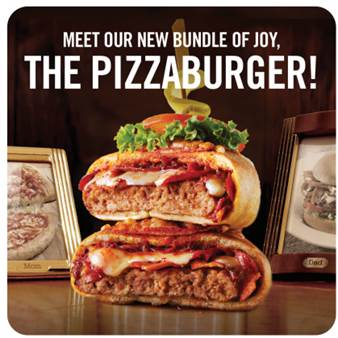 Pizzaburgers are available in Five-Cheese and Pepperoni & Bacon versions. The latter includes a half-pound Angus beef patty, signature pizza sauce, grated cheese, pepperoni and bacon, all wrapped in hand-made pizza dough and baked. The Pizzaburgers are priced at $9.99 to $12.99 depending on market and other variables, the casual-dining chain says.
"Some things just belong together, and the Pizzaburger, first introduced by our sister company Boston Pizza in Canada, is our take on the perfect food combination," Mike Best, chief operating officer of Boston's said in a statement. "Our customers crave diverse, robust flavors and the Pizzaburger offers just that. It is sure to be a crowd pleaser."
Boston's plans to support the Pizzaburger introduction with a social-media campaign that includes a contest playing off the online dating trend. Digital videos and in-store signage also support the launch.