My hairstyle design used for Nurse Ratched in the film One Flew Over the Cuckoo's Nest (Courtesy Peter Sorel)
What an exciting phrase. It makes me hold my breath. New scripts will be bought. New roles will be booked. New lives will begin.

But for me, it's the moments, the moments that have become etched in history, that make the Oscars so special.

Who can forget Roberto Benigni, having won Best Actor for Life is Beautiful, leaping over chairs and well dressed people to get to the stage? How about Cuba Gooding Jr's spontaneous, hyperactive, and perfect reaction to being named Best Supporting Actor for his turn in Jerry McGuire?
I can still hear the echo of dear Sally Fields shouting, "You like me, right now, You like me!" That was back in 1985 after going up on stage to receive her Oscar for Places in the Heart. I mean, we can't even think of her without thinking of her quote.
Not every Oscar memory is a good one for me. I'm still pulling my hair out in agony for Annette Bening losing not once, but twice, in 1999 and 2004, to the same person. I bet Annette won't even make a movie in the same year anymore if she finds out Hillary Swank is making one, too.
But out of all the moments I remember, my favorite is still Louise Fletcher communicating in sign-language to her deaf parents who were watching when she won for her role of Nurse Ratched in One Flew Over the Cuckoo's Nest.
Not only was I moved by the love she shared with her parents, but I truly felt like I also won because one of the most memorable things about Nurse Ratched, other than Louise's incredible performance, was her unmistakable hair. And I'd created that hair.
Louise's husband, Jerry Bick, was my acting agent, long before he became a producer in the mid-60s. I was working, doing hair, and going on auditions. I did Louise's hair for her auditions and roles. I never got any roles. Then I didn't want any. Hairdressing was proving my best role.
I became popular as a hairstylist and Louise kept acting. In 1974, I did her hair for an audition for a part that she really wanted. She thought it would be a big break for her.
Another client of mine was Brenda Vaccaro. Her live-in boyfriend was producing this movie Louise had tried out for. Brenda and her boyfriend lived across the street from me on Benedict Canyon and invited me to a party a few nights after Louise's screen test. I kept my ears peeled for any scoop I could pass on to Louise. But sadly, it seemed another Louise had gotten the part.
The next day, Louise came in my salon. She sat in my chair. I figured it'd be best if she got the bad news from me, a comforting friend, rather than through a cold business call. She was bound to be so disappointed. I was disappointed too, because I'd thought I'd get to design her hair.
"I have to tell you something...not so great," I said. Louise sat up and looked at me in mirror as I stood behind her. "I went to a party at Brenda and Michael's last night." Louise turned around and looked directly at me. I hung my head. "The main conversation of the evening was about this movie and I heard them all talking that the nurse role you tried out for--well, I'm so sorry to say, they were flipping over another Louise."
"I know, I couldn't believe it. Two Louises trying out for the same part. But they are going to give it to a Louise Fletcher, not Louise Bick."
"I AM Louise Fletcher, you goofball!"
"Huh?" As far as I knew she was Jerry Bick's wife, Louise. I wasn't aware people had different stage-names. "Well, call your agent. You got the job!"
Without a costume change throughout an entire film, I figured a hairstyle could really say a lot. And after learning about Louise's character, trapped by her false power, her authority, she should also be stuck in an out-dated, inflexible hairstyle. It made me think of my mother who was stuck in her 40s do.
Louise came over to my house on a Saturday night. We drank some white wine and I styled my creation and took Polaroids. Louise took them with her so the studio hairdresser could duplicate the do. I always call it my famous style... that no one ever asks for.
Today when I'm asked how did I come up with the idea for Nurse Ratched's hairstyle, I recall a photo where my mother styled my hair like hers and I say, "I was wearing it when I was five."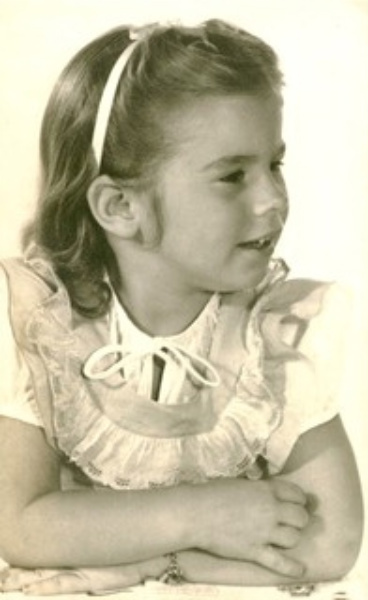 My hair design used for Nurse Ratched in the film One Flew Over the Cuckoo's Nest (Personal Collection)

Calling all HuffPost superfans!
Sign up for membership to become a founding member and help shape HuffPost's next chapter