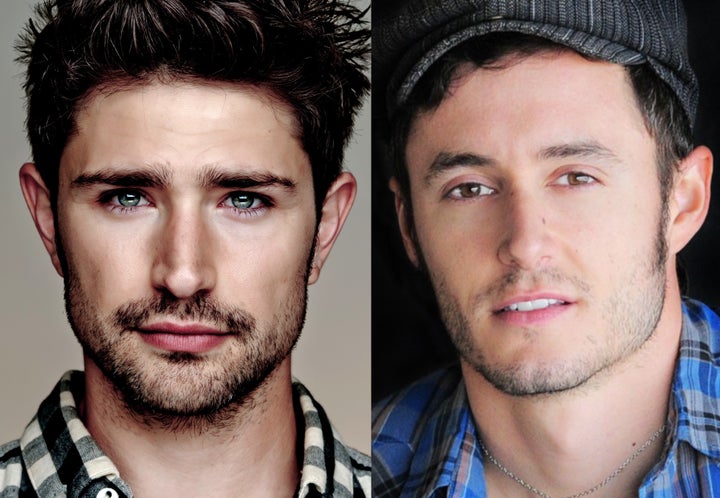 To say they are a stunningly handsome couple is a gross understatement. Their good looks alone are probably reason enough for a large portion of their more than 169,000 YouTube.com channel subscribers to tune-in weekly for another chance to peer in to their lives. However, more recent episodes of Matt and Blue have begun to uncover a different appeal, offering viewers a chance to watch these men be dads. In this Huffington Post Queer Voices "Let Love Define Family®" series installment, RaiseAChild Founder and CEO, Rich Valenza, gets an all access pass to ask some very personal questions.
"Early on in our relationship, we both were so career focused living here in Los Angeles," said actor Matt Dallas. "When we moved to Phoenix full time, we both realized we were missing a child in our family. We were finally ready to take that next step."
Turns out, it was Blue Hamilton who started and turned up the volume on the kid conversation.
"I was obsessing over it," Blue admitted. "We did a lot of research online. Private adoption, surrogacy and all those different avenues of having a kid for two guys like me and Matt."
Prior to the research, the fostering to adopt option was relatively unknown to Matt and Blue.
"I have a close friend who was adopted," Blue shared. "I met her when I was in my late 20s, but that was the closest I'd ever been to foster or adoption anything."
"But once we learned that there is about 20,000 kids in Arizona's foster system... once we started reading the stories of all these kids… learning how so many of them age out of the foster system, and so many of them go on to not even have families; it is really heart-breaking. We just knew that we were going to foster and adopt."
The couple credit their agency and social workers for their good experience in training and getting certified.
"We were looking for a child between the ages of 0 and 2," Matt recalled. "They told us that it might be a while because we were so specific. So, we decided to let the universe do its thing. If it took a year or two years, the agency would find the perfect match for us. So be it."
Just as Matt and Blue gave it up to a higher power and mutually agreed to wait it out, they were surprised with the results.
"Within a few weeks of being certified, we got the call about Crow," said Matt. "They told us that his case plan was adoption. Everything seemed to be perfect and exactly what we were looking for. They told us that they were going to bring him over the following day. As soon as we met him we knew that for us, he was exactly perfect."
"When you start the certification process, you hear what can happen," Blue added. "You hear about the background of the kids that are in the system; drug addicted parents, abused, molested, all these terrible things that happen to these kids, the issues that they had and all the things you're going to come up against. Not only that, you also hear how some families can wait for a year and not even hear on a placement. So, our experience was the exact opposite of that."
"That was one of the biggest motivations for me, speaking about it and raising awareness for it, because there is another side to fostering and adoption. There's so many cases where all these beautiful children just need a place to call home temporarily or permanently and I think more attention needs to be shed on that. I get that when you're in the certification process they have to tell you that. I don't really remember any happy glory stories that they told us."
So, some may be missing it. But on their YouTube channel, Matt and Blue are rebranding what it means to build a family through the foster to adopt process. They are helping people reimagine foster and adoptive parents.
"Matt and I come from a creative background," said Blue. "So, when it comes to the videos we create and post on our YouTube channel, it naturally works for us. We enjoy doing it all… the editing, audio, and music. The time we put into it doesn't seem like time working."
"Our channel and videos are sort of a playground for us," Matt shared. "But on the other hand, it is an opportunity to continue the conversation about foster care and adoption. To hopefully bring awareness to the LGBT community, there are other great options, even heterosexual couple who can't have children, that there are so many children out there that just need a home. It was our hope that we'd be shedding a light on that, for more people to choose this route."
It is one thing to edit what the camera shows the viewer, but being a parent is a much bigger and more challenging role.
"Honestly, I feel that when Crow came into our lives," Blue shared, "he came at a time when we were so open for it. He just was not just a perfect fit for us individually, but also for our extended family across the board. You would think that he was our biological son. He fits in to our family so well. I know it's changed us and it's made us stronger…"
"I think that definitely it has changed our relationship. Now, we are forced to work together as a team in a way that we hadn't before. We lived together, we shared our bills, a financial cross over, but bringing a kid into the picture, not only raises the stakes…"
"It made me aware of how selfish I was," Blue shared with honesty in his voice. "Now my priorities are to take care of this little man in our lives. Where before it was like, 'What am I going to do today? What fun am I going to have? How long am I going to spend at the gym,' That was the biggest change for me."
"I think," said Matt, "we've launched into this teamwork relationship more than we ever did before."
Then there is the tough question that some parents think about, but rarely talk about. How will you know if you were a good parent? How will you know if your parenting skills and practices were successful?
"I find myself thinking about that a lot," Matt admitted. "I always have to remind myself that as long as I'm supplying our son with a home and a lot of love… on the daily I'm trying to teach him something new and to prepare him for the world, I feel that I'm on the right track. But of course, as a parent, you're always pushing yourself. Especially now he's at an age of I ask myself, 'Does he know his letters well enough? Should he be learning to spell?' All the fundamentals that come into play at this age, you start to worry. Even just his communication skills, his people skills; it's constantly just running through my head and I try to remind myself that as long as we keep moving forward and I make sure that he's learning something new every day and he has a loving environment to grow up in. I feel that for right now we are in a good place."
"As our son grows older," Blue added, "for me, as long as he's laughing, if he's happy, and he's loved, that's kind of what I strive for. I want to see him laugh and I want to see him happy. Hopefully as he gets older, he chooses whatever it is that he's going to be in this world and however it is he's going to move forward in this world; he keeps that. He is genuinely just a happy, fun, loving kid.
"I feel," added Matt, "that as long as I can encourage him to always be either searching for a passion or to find something and really delve into it and learn as much as he possibly can about it. That for me would be the ultimate thing, that he finds what he loves and work towards it."
Given the opportunity to end this interview on any note, Blue offered, "I want to encourage everyone to do a little research about the kids that are in the foster system. Those kids are the ones that need the home, the love, need the help so much. If I were going to encourage my friends to go a certain route, I would encourage them to explore this."
Then Matt got more personal and direct.
"I was the one who was a little bit more adamant at the beginning about having a biological son. It took Blue to say, 'Listen, let's just go through the certification process with an open mind. Just because we are getting certified, just because we are going through the process, doesn't mean we have to go that route; let's just go explore it.' For me, that was enough to say I was open to that. The further we got into the process, the more I realized that this was the right path for us. It was the right path for me. I would encourage anybody that is considering it or the different options, to at least give the foster to adopt route a real shot. Go into it with an open mind. There's things you'll learn about yourself in the process that you might surprise yourself."
On Saturday evening, June 10, 2017, Matt Dallas and Blue Hamilton will receive the "Let Love Define Family®" Award at the fifth annual RaiseAChild HONORS event at the Jim Henson Company Lot in Hollywood, CA for their commitment to promoting family building through fostering to adopt. Join us. Tickets and info at https://raiseachild.org/events/.
Have you thought about building a family through fostering or adoption? RaiseAChild is the nationwide leader in the recruitment and support of LGBT and all prospective parents interested in building families through fostering and adoption to meet the needs of the 425,000 children in the foster care system of the United States. RaiseAChild recruits, educates and nurtures supportive relationships equally with all prospective foster and adoptive parents while partnering with agencies to improve the process of advancing foster children to safe, loving, and permanent homes. Take the Next Step to Parenthood at www.RaiseAChild.org or call us at (323) 417-1440.
Calling all HuffPost superfans!
Sign up for membership to become a founding member and help shape HuffPost's next chapter