This week, Redfin's homebuyers surprised us: They came back. Over the past week, annual growth in new clients contacting Redfin surged from 41 percent to 58 percent. In the aftermath of the shutdown and debt ceiling debacle, a storm of news media and economists tallied the damage done to consumer confidence and predicted that anxious Americans would spend less through the new year. In the housing market, however, these predictions aren't panning out.
Indeed, buyers paused their search during the government shutdown. However, data from the second half of October suggest that Redfin's homebuyers are shrugging off Congress's spending quarrel and getting back to their house hunt.
As a company of technology-powered real estate agents, we're able to track how more than 7,000 of our home-buying clients across 22 U.S. markets are reacting in real time. Comparing Redfin's year-over-year growth during the week of October 20th to the average of the previous three weeks:
The year-over-year growth in new clients contacting a Redfin agent increased from 41 percent to 58 percent.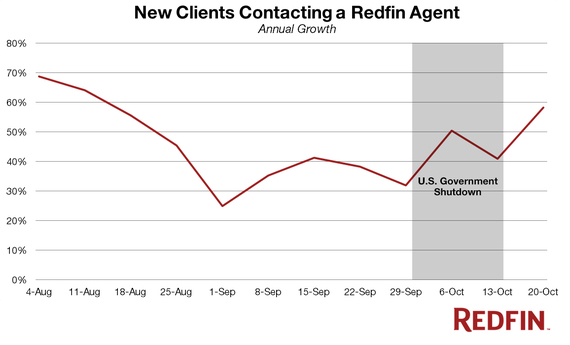 The year-over-year growth in clients touring a home increased from 21percent to 33 percent.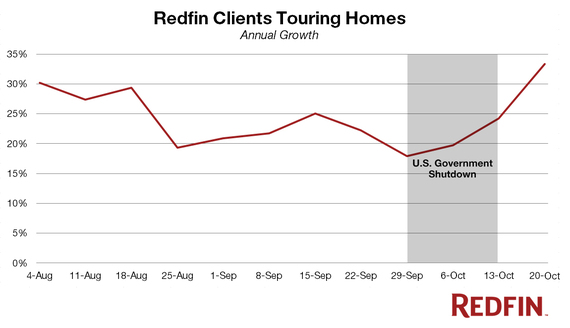 The year-over-year growth in clients making an offer on a home increased from 15 percent to 24 percent.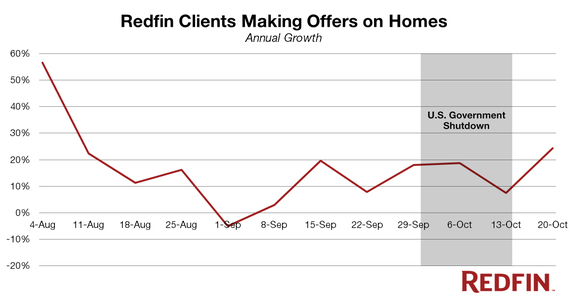 This boost in demand is a little puzzling. After all, consumer confidence indicators show that the face-off in Washington left Americans more worried about the economy than they have been all year. Redfin's recent survey of home sellers, conducted between October 24-29, confirmed the increased anxiety. Thirty-nine percent of respondents cited "general economic conditions" as a concern in October, compared to 25 percent in July.
Nevertheless, Redfin's agents say that the Congressional gridlock wasn't troubling enough to derail buyers' plans. According to Washington, D.C. Agent Philip Gvinter, "My clients think the ugly showdown we saw in October is unlikely to happen again. After putting their home search on hold during the shutdown, they are ready to get back out there."
Redfin Washington, D.C. Market Manager Marshall Park agrees. "Buyers saw the shutdown and debt ceiling battles as a short-term threat. When the immediate risk of default passed, so did their concerns about buying a home."
The budget and debt battles, of course, are not over. Congress's October 16 deal only funds the government through January 15 and lifts the debt ceiling through February 7. For now, however, these policy skirmishes seem out of sight and out of mind for Redfin's homebuyers.