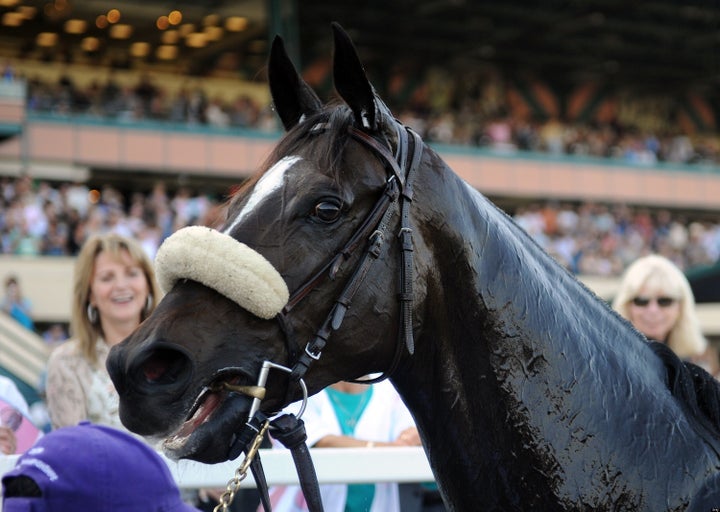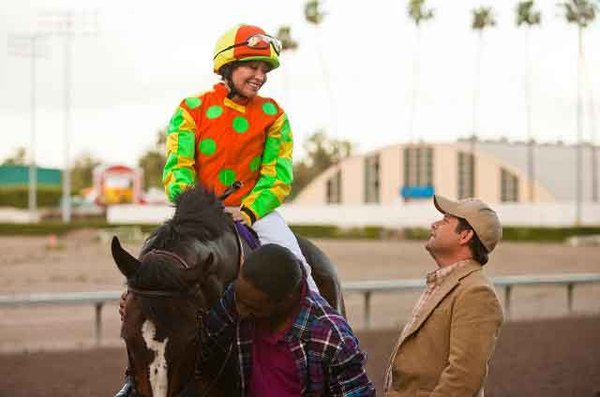 Actors Sean Astin and Cheri Oteri work out their characters' relationship in And They're Off...
Photo with permission of Harper Smith and Paul Mocey-Hanton
Can And They're Off ... be to horse racing movies what This Is Spinal Tap is to rock films? What Best In Show is to the dog show oeuvre? Given the deft comic timing of the film's acting, writing, directing and producing connections, my hopes are high.
Unlike last year's glossy, high budget film Secretariat, And They're Off... is a mockumentary -- a genre that infuses the devices and production aesthetics of a documentary with parody, satire and improvisation.
Having spent time on the backstretch of a racecourse, where the lives of the people play out concurrently with the lives of the horses, And They're Off ...'s writer and producer Alan Grossbard has sourced his film from first-hand experience.
"I participate in racing partnerships with Bongo Racing, owning small percentages of a few different horses. I get to spend time at the track, hang out with the trainers, other owners, the grooms and hots (hotwalkers). I wrote about the humor in this business of racing, how much fun it can be at every level, something that hasn't been shown before," Grossbard explains.
The film's central character is California Thoroughbred trainer Dusty Sanders, who is nursing an eighteen month losing streak, played by Sean Astin. Sanders' father Ken, played by Martin Mull, is unconvinced that training is the career for his son, and offers alternative career paths that can parlay Dusty's love of animals into a "real" career -- like a taxidermy. (Blogger's note: my family and friends have been mounting horse-career-interventions since I left school -- thankfully, pet mortuary science has never been suggested!)
Shooting on-site at racetracks lends itself to the documentary feel of the film -- the infrastructure of the backstretch, the barns, racetracks, horsepaths, can't be reproduced in a studio. And They're Off... was filmed in eighteen days overall -- at California's Fairplex Park, Pomona, for ten days, and four days days spent at Hollywood Park, Inglewood. Two hand-held cameras captured the footage. With the mockumentary format providing far more freedom in the editing room, the crew was able to capture all the footage needed for a full length film in a relatively brief amount of time -- making the production of this indie film possible.
Are SAG memberships cards the new backstretch accessory?
The real-life facilities weren't the the only track assets used in the film. Leading trainers Doug O'Neill, John Sadler and Bob Baffert make cameo appearances; as do jockeys Joe Talamo and Martin Garcia.
When asked about his appearance in the film, Bob Baffert confirmed the improvisational aspects of the production. He said, "I didn't have a script. They told me what to do and just be myself. They (the crew) were really great to be with."
The film will be shown by the Hollywood Film Festival on October 22 at 5 p..m. at the ArcLight Hollywood, Sunset Drive, Los Angeles. The film will be released in New York, Lexington and Louisville on October 28.
And They're Off...'s production note gives the gist of the story:
It's been a rough week for Dusty. One of his beloved horses has been claimed by trainer Doug O'Neill (played by the actual trainer), and his losing streak forces other owners to take their business elsewhere. To make matters worse, his longtime jockey girlfriend, Dee (Cheri Oteri), breaks up with him for not inviting her to his high school reunion and his neophyte groom Julian (Lil JJ) is forced to go back to his job at the local pet store cleaning fish tanks. Dusty Sanders is a trainer with nothing to train.

His overprotective father and former horse transportation driver, Ken (Martin Mull), worries constantly and is doubtful his son will ever make it in this competitive world. So he encourages him to look at other possible careers with animals, and he"s got an "in" with a good friend in taxidermy (Kevin Nealon) who may have an opening. Dusty's father's concerns are justified -- Dusty's unorthodox training methods of bringing in a Feng Shui master to the barns and showing inspirational video clips from Seabiscuit and the like have not worked. So the losing streak continues -- but in no way discourages a determined Dusty.

At his high school reunion, Dusty regales his classmates about the exciting world of horse racing and spends time chatting with his former teacher, Keri Wannamaker-Flamm (Gigi Rice) and her husband, infomercial huckster and "Dried Fruit King", Alex Flamm (Mark Moses). Both are very impressed that Dusty is a professional trainer in such a glamorous world.

This chance meeting gets Dusty back into the world he loves, when the Flamms and their friends, Sebastian (Peter Jacobson) and Tina (Mo Collins), claim a colt named Caveat. They believe that with the right trainer, this racehorse could go all the way to the Kentucky Derby and they place their bets with Dusty as he signs on to train Caveat. When it's time, the owners pick Dee to be their jockey, creating a somewhat awkward trainer/jockey working relationship.

With big dreams, our group watches Caveat struggle with race after race, eventually ending up in the Bunson Swine Mile, the biggest race at the San Joaquin County Fair. It's a race Dusty believes Caveat can win, but there's one problem -- Dee is on suspension as a result of a recent post-race emotional "incident" where she took a swing at another jockey on the track. Without Dee, Dusty is forced to ask another jockey to ride, a decision that infuriates Dee. But the suspension stands unless Dee can change the steward's minds and get to the big race in time.

Calling all HuffPost superfans!
Sign up for membership to become a founding member and help shape HuffPost's next chapter