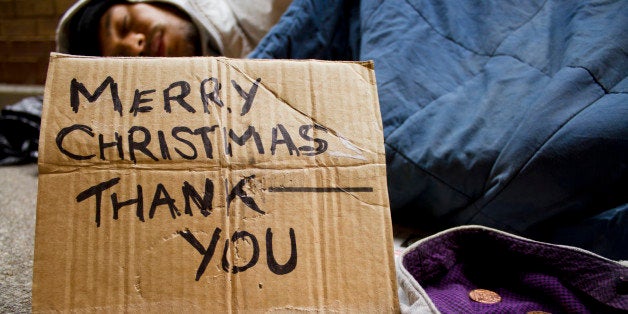 'Twas the night before Christmas,
And asleep in his car
Were the vet's wife and sweet children
As he touches his scar.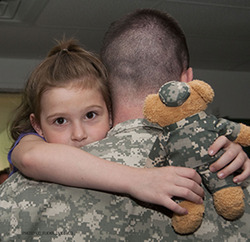 It is far too easy to envision a homeless veteran sleeping in his car this Christmas Eve. He's shivering, trying to shake off the cold that can't be shaken off because it has burrowed into the very marrow of his bones.
What's more heartbreaking to imagine are his 6-year-old son and 4-year-old daughter in the back seat, both trembling against their mother, as she desperately tries to use her body heat to warm them. But it's a losing battle; that same bone-chilling cold has them shivering as well. To them, Christmas will mean a hot ham dinner and a candy cane served at a soup kitchen.
Now imagine that same father and mother, "she in her kerchief, and he in his cap," in their children's oh-so-perfectly warm rooms at night, tucking them in, then reading them The Night Before Christmas, as the children sink their heads into their soft pillows, in their very own home, anxiously awaiting the arrival of Santa.
This Christmas, I bring tidings of great joy: 30,000+ veteran and veteran families in your community and nation will have a home for the holidays thanks to bipartisan support, national attention and unity. Dropping political rancor and vitriol for the sake of our veterans, the Obama Administration, Congress, HUD, the VA, community partners, regular Americans like you and me, and even some regular Americans with names we all know, have joined to house our homeless heroes with impressive results. United we stand.
I write this editorial not as an academic with a degree and statistics, but simply as someone who has been homeless and knows well the effects of that bone-chilling cold; for many, it's all too real. I write this now as CEO of a small technology search firm who, for the past 25 years, has been blessed to be able to give back as a volunteer, philanthropist, and staunch advocate for and with those still on the streets. As I travel between both worlds, I now report to you what I see down here at curb level, on the streets, where the rubber actually does meet the road.
The program model is based on "Housing First." The VA seeks out our homeless heroes in cars, abandoned buildings and shelters. Housing is found and then HUD provides them with long-term rent. What makes this program successful is that the VA then provides social workers to help our veterans return to the domestic autonomy they had before they put on the uniform: employment, mental health, recovery, transportation, education -- whatever is needed to move forward.
This success also comes because the VA, too, has changed its model when it comes to housing our veterans. To illustrate this change, let's say there is an accident at a certain corner every week. Down at curb level, we see that and say, "We should put up a stop sign."
In a typical bureaucracy, a year later when they see the data, the leaders then allow us to erect the stop sign.
But with veteran homelessness, the VA relies on empowered social workers and community partners at curb level to advise and respond, quickly placing virtual stop signs where needed.
For example, when the HUD-VASH program was slow to ramp up, the VASH team reported it was due to the number of competitive, independent community organizations walled off from each other. So the administration engaged two nonprofits, Community Solutions and the Corporation for Supportive Housing, to host "boot camps" across the country to help communities level those walls.
Once leveled, the VA then focused on uniting and engaging those community partners in a movement to "Zero 2016" for veteran homelessness. One thousand community heroes nationwide have now united at curb level to identify, by name, each veteran and house them today, one veteran or veteran family at a time. We see their results; it is working.
Further, in 2014 First Lady Michelle Obama convened the White House Summit to End Veteran Homelessness and issued the Mayors Challenge to accelerate progress in housing America's veterans. At this summit we shared best practices and identified additional solutions.

The VA is not known for embracing innovation, but with veteran homelessness, they do.
A good example is Veterans Matter, one of hundreds of groups partnered with the VA. I had created a local way to use cloud-based technology to offer a high-impact/very low-cost solution to simplify a complex process, reducing the time to approve a security deposit - from 4-6 weeks to, quite literally, minutes.
Targeted by the VA to areas with the greatest need, we rallied some Americans and notable names such as Dusty Hill of ZZ Top, John Mellencamp, Katy Perry, Kid Rock, Stevie Nicks, Heart, Susan Sarandon, Kix Brooks and so many more. Collectively we have raised more than $700,000 and nearing our 1,000th veteran housed across 11 states. We figure we must take care of our own. So we do.
So this Christmas Eve, have great joy knowing this nation's unheralded unity has given homeless veterans, including those in your community, a home for the holidays. But there is much yet to do.
You can join the unity in your local community and next year thousands more will be housed, rather than shivering in their cars. They will rest their heads on their soft pillows; right there in their very own warm homes, as their children anxiously await the arrival of Santa.
Merry Christmas to all, and to all, a warm night.
*With a nod to Clement C. Moore.
Related
Popular in the Community