TravelWeds decided to have a spontaneous overnight stay at the Andaz Wall Street in Lower Manhattan.
We called the hotel to inquire if there was any availability (considering how late in the night it was). Luckily for us, instead of being turned down, we were told that we would be most welcomed by the overnight assistant front manager, George.

Upon our late arrival, we were warmly greeted by George, as promised, and were offered glasses of wine. Our dogs received yummy organic welcome treats as well. Note that Andaz Wall Street is a pet-friendly hotel with its own Pet Program that includes a doggie bed/cat pillow, three pet toys to keep, two bowls, and a jar of gourmet treats. Although we weren't able to partake in the Pet Program, guests can enjoy all these wonderful benefits by letting the hotel know at least three days prior to arrival of travel plans with pet(s).
At check-in, George once again thanked us for our
Diamond
status, but informed us that there were no upgrades available for that night (understandable due to our last minute arrival). But as a Hyatt Diamond member at this property, our Diamond Amenity offers included either:
1,000 Gold Passport Points; or
Personalized leather booklet.
We headed up to our King Deluxe room (Room 1006), which is located on the 10th floor. TravelWeds has stayed once before at Andaz Wall Street and once again, we were reminded of why we loved it so much the first time: the hardwood floors (for pet stay reasons) and the simple, but still stylishly modern features that defines Andaz hotels.

During the weekends, the hotel (and the financial district in general) is very quiet and peaceful that we forgot we were staying in the busyness of New York City. Although the property is indeed a bit further away from the livelier and louder parts of uptown, we preferred it in terms of the large space and tranquil sleep we were able to receive in return.

At 450 square feet, we (plus our three dogs) had more than enough space for everyone. The bedroom consists of a king-sized bed with his and her nightstands (and outlets) on each side. The bed and pillows are so soft and comfortable that a restless sleep is out of the question. State of the art control panels next to the bed can be used to control the light and blind settings without having manually to do it yourself.

Included in the living room area is a connected desk space with plenty of outlets to charge your electronics, a flat screen TV, and an armchair. The TV also creatively doubles as a vanity with a mirror on the backside of the TV and a vanity chair placed on the other side of the desk area. There is a large window with cushioned seating that makes both the perfect reading nook and nap space for pets. The standing closet comes with a full-sized mirror and ample storage space for hanging clothes. Also, it revolves. Amazing.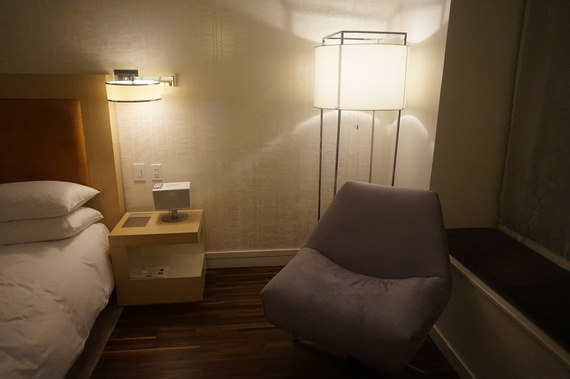 TravelWeds absolutely loved the bathroom here at Andaz Wall Street. The bathroom comes with double sinks, a huge rainfall shower and a full-size soaking tub (bath salt included). We especially loved how there was a glass wall enclosing the shower/bathtub area with views of the bedroom/living room area (perfect to wind down from the long week with a glass of wine AND watch your favorite TV show). The hotel uses Beekman 1802 bathroom amenities (goat milk soap for the win!). The dark colors of the bathroom space was a nice contrast to the gentler colors seen in the rest of the room.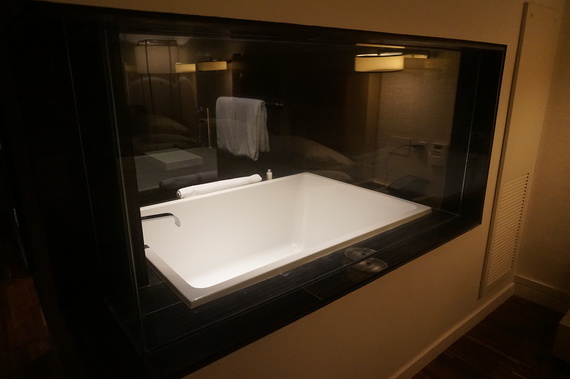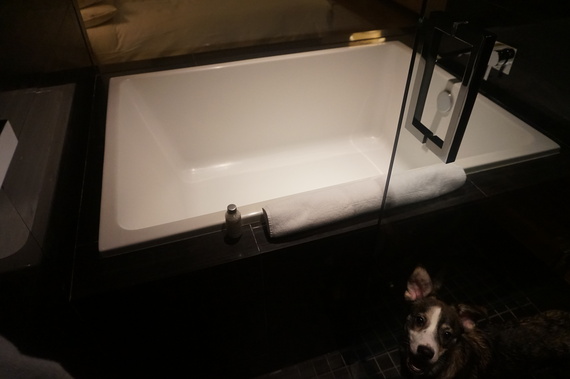 All the snacks and non-alcoholic beverages are complimentary and replenished daily for guests staying more than one night.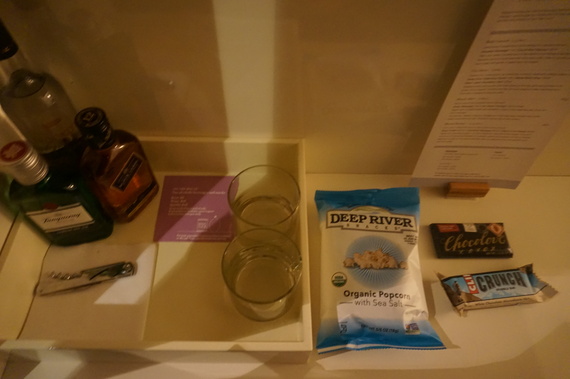 By staying at the Andaz Wall Street, you can expect to receive these below benefits and perks as a a Hyatt Diamond member:
Diamond Amenity: 1,000 Gold Passport Points or Personalized Leather Notebook
4 PM Check-Out Time
Free Premium Wifi
Upgrade to the best room depending on availability and at check-in (excluding suites per Hyatt policy)
Breakfast at the Wall & Water
Overall, the one night stay was great: the hotel's quiet location, the very friendly pet policy and the wonderful staff! TravelWeds (and a happy Mimi) would like to say a personal Thank You to George!

This story was published on February 2016 on TravelWeds.com orginally.