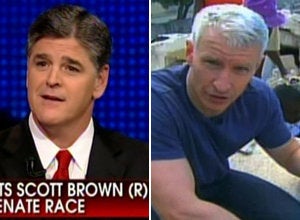 Being determined, creative and thinking outside-the-box are all ways to get ahead, especially in the face of adversity. There isn't a successful person out there who hasn't come up against seemingly insurmountable odds. It's not the obstacle but how we approach it that matters.
Anderson Cooper is a perfect example of how someone went from being stymied in his career to the top of his field.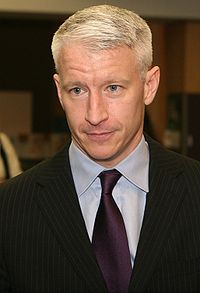 After graduating from Yale, Anderson knew he wanted to be a news correspondent and tried to get a job -- any job -- in a news station. After being turned down by a number of stations, he was finally offered an entry level job as a fact-checker at Channel One, a station broadcasting news to high schools. After several months on the job, Anderson became bored and realized the only way he was going to get to report on the front lines was to take charge of his future. He quit the station, borrowed a friend's video camera and, armed with a fake press pass, left for Thailand. He shot footage at the Thai-Burmese border of the Burmese refugees who were planning a government coup. Anderson's gamble paid off when he was able to sell the video to Channel One. Eighteen months later his career was launched when Channel One, where he had recently been a junior fact checker, hired him as a correspondent.
After two years of compelling coverage in political hot spots like Bosnia, Croatia and Rwanda, Anderson got an offer to join ABC News, which just three years earlier had turned him down for a job as a receptionist! His initiative was paying off in a big way.
In December 2001, after the 9/11 attacks, Anderson accepted a position on CNN's program, American Morning. In March 2003, after the start of the war in Iraq, Anderson moved to prime time, hosting his own program Anderson Cooper 360.
While Anderson had reached a certain level of success, first in broadcasting and then anchoring, he really made his mark during his compelling coverage of Hurricane Katrina.
Because of the weather conditions, there was no Teleprompter, no script to support his on-camera reporting. "I had to be quick on my feet, ready for anything." Anderson's interview with Louisiana State Senator Landrieu got national attention because of his emotionally charged questions. While Senator Landrieu went on and on thanking President Bush and senior ranking senators, Anderson grew impatient: "Excuse me Senator, sorry for interrupting. For the last four days I've been seeing dead bodies in the streets. And to listen to politicians thanking each other and complimenting each other .... There's a woman's body that's been on the street for 48 hours and there's not enough facilities to take her up. Do you get the anger that is out here?"
It was that kind of impassioned reporting that put Anderson on the map. Whether he was on the front lines of a war zone or a natural disaster, Anderson got emotionally involved in the stories he was covering and would occasionally get choked up during a broadcast. This ability to freely show his emotions while reporting the facts became a trademark of Anderson and clearly separated him from his broadcasting colleagues.
Broadcasting & Cable magazine wrote: "In its aftermath, Hurricane Katrina served to usher in a new breed of emo-journalism, skyrocketing CNN's Anderson Cooper to superstardom as CNN's golden boy and a darling of the media circles because of his impassioned coverage of the storm."
Anderson Cooper's success can be traced back to his unconventional approach and to trusting his instincts. The same could be said for his reporting style. He asked the questions his viewers wanted answered and wasn't afraid to show his emotions.
"I think you have to be yourself, and you have to be real and you have to admit what you don't know."
If you're feeling "boxed-in" and stuck, think of an innovative way to move your career forward. Importantly, learn from what Anderson did when it came to his viewers -- he focused on what was most important to them. Think of your constituents and how you can address their most critical needs.
REAL LIFE. REAL NEWS. REAL VOICES.
Help us tell more of the stories that matter from voices that too often remain unheard.