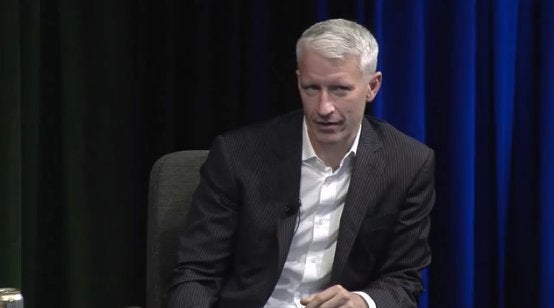 Anderson Cooper stopped by Google's New York offices the other day for an hour-long chat. On Friday, Google uploaded video of the session, and there were quite a few interesting tidbits to be found.
Cooper used to map out a detailed TV-watching schedule for himself when he was young. He said he would allow himself fifteen minutes for dinner and homework, "which tells you something about my home life."
After his infamous giggle fit last week, Cooper asked his producers if they could cut the clip from his show's 10 PM repeat. They flatly refused.
Cooper said that he hopes his upcoming talk show will allow him to have "more human connection" with people, as opposed to what he called the formal, "one or two dimensional nature" of TV news.
Cooper spoke candidly about Yale, where he went to college. Asked what class he found most useful in life, he said he'd never taken one: "I don't want to badmouth Yale, but no, there was nothing...I think, if that was the best four years of my life, just shoot me in the head!"
Cooper's craziest stalker was a 55-year-old woman who showed up at his house with all of her possessions. When he checked the emails she'd been sending him, he found that she had "announced her intentions quite clearly," right down to the time her flight was arriving.
Watch the whole talk:
Related
Popular in the Community