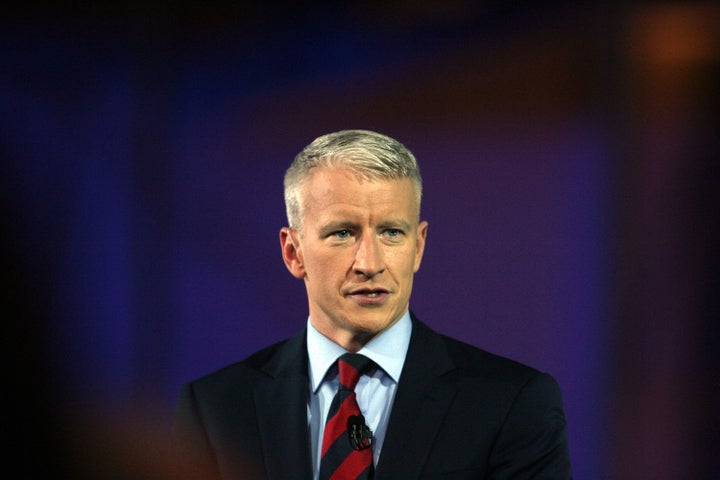 NEW YORK -- As Anderson Cooper traveled through Germany, Austria and Greece last week to cover the refugee migrant crisis, Las Vegas wasn't far from his mind.
By day, the CNN host was busy reporting in Europe for "60 Minutes," but turned each night to stacks of candidate research to gear up for the first Democratic primary debate, which will be held Tuesday at the Wynn Las Vegas hotel.
Cooper, who is moderating that debate, didn't seem to mind pulling double duty. "I'm a nerd, so I enjoy reading all the stuff," he told The Huffington Post.
Now back in the U.S., Cooper is working with his team to craft questions for any eventuality, including Vice President Joe Biden jumping in at the last minute.
"I obviously am preparing for him, just as I'm preparing for anybody else," Cooper said of Biden, whom CNN will allow onstage if he declares that he will run before the cameras roll at 6 p.m. Pacific time.
But even a Biden-less debate will be a major political event, the public's first opportunity to watch Democratic front-runner Hillary Clinton and top challenger Sen. Bernie Sanders (I-Vt.) spar on live TV. It will also allow second-tier candidates-- former Maryland Gov. Martin O'Malley, former Virginia Sen. Jim Webb and former Rhode Island Gov. Lincoln Chafee -- to try to make an impression on millions of viewers and gain some traction in the polls.
The much-anticipated faceoff comes amid calls within the party to add more debates. Just four have been scheduled before the Iowa caucus, and many have argued that the setup benefits the front-runner. Democratic National Committee Chair Debbie Wasserman Schultz has defended the process, recently telling HuffPost that she wants "the American people to get as much of a look at these Republican candidates in these debates as possible." Tens of millions got a look at the large GOP stable in the last two debates, with hosts Fox News and CNN both setting ratings records.
But the smaller size of the Democratic field provides an opportunity to go more in-depth than the Republican debates did, even though the Democrats are participating in fewer debates. During last month's CNN debate, moderator Jake Tapper had to juggle 11 candidates in the primetime event (as well as the four-candidate undercard), whereas Cooper will likely have five -- at most six -- onstage at one time.
"I think there's great opportunity ... to really get a sense of who these people are," Cooper said of the smaller roster. "And I think that's what people walk away with the next day or that night, thinking, 'Oh, now I get who Martin O'Malley is,' or 'I get what Clinton's position is on X, Y or Z.'"
Cooper will be joined Tuesday by CNN anchor Don Lemon, who will incorporate questions submitted through Facebook -- which is partnering with the network to host the debate -- as well as correspondent Dana Bash and CNN en Español anchor Juan Carlos Lopez.
The setup will be similar to CNN's Republican debate, in which Bash and conservative radio host Hugh Hewitt asked some questions alongside the moderator. Cooper said he'd like to integrate the panelists a bit more this time, noting that "bouncing back and forth between questioners gives some energy and some different perspectives."
The 48-year-old journalist is familiar with the role, having moderated both Democratic and Republican debates over the past three election cycles. He recalled some past presidential hopefuls staring at him intently onstage, "giving little poker tells to get you to call on them." On occasion, candidates' spouses even tried intervening during commercial breaks to ask for more airtime. (He won't say who).
Whereas Tapper kicked off the GOP debate by having candidates respond to attacks from front-runner Donald Trump, making for an ideal two shot, Cooper acknowledged there haven't been as many similar public spats on the Democratic side. Still, that doesn't mean there won't be fireworks.
"We'll see what happens on the stage," he said. "Often there's a different dynamic when people are next to each other on a stage and you have some candidates people don't really know. Do they choose to use this opportunity to kind of make a name for themselves by going after some of the leading candidates? That's a possibility ... As a moderator, it's not my job in this kind of debate to try and force anything."
"I don't go into this with some strategy for getting people going in one way or another," he added. "Even if I did have that strategy, or a strategy, I wouldn't necessarily telegraph that."
He's wary of giving away his game plan, especially when it comes to particular topics that may come up. Cooper said he wasn't aware of a recent letter from billionaire Democratic backer Tom Steyer calling on him to ask questions about climate change, and wouldn't commit to raising the issue.
"Look, I certainly think environmental issues are of great interest to a lot of Democrats, to a lot of Americans, and it's entirely possible it could be in the realm of questions," he said.
Cooper also indicated that there won't be any "gotcha" questions, though he balked at the term itself.
"I'm fascinated by obscure leaders from central Africa," he said, "but I'm not going to be quizzing people on it."
Cooper said he's pleased with the recent uptick in public attention around debates, saying "the more people interested in the democratic process, the better." Still, he's not worrying about ratings because, unlike debate prep, that's not something he can control.
"I know other people would obviously like huge numbers," he said. "But to me, if the story the next day is that we got a really good look at who these candidates are, and there were some great moments and some unexpected things happened or people got a different view of somebody, I think that's a successful debate."
Popular in the Community