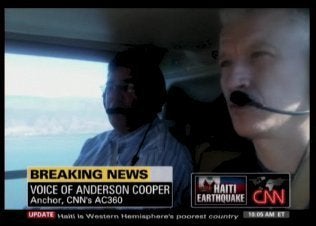 The CNN anchor who made his name covering Hurricane Katrina flew out of New York at 1AM and filed his first report from the earthquake-shaken region Wednesday morning.
"On a story like this you need to see it with your own eyes," he wrote on his blog. Cooper has also been chronicling his journey to Haiti on Twitter.
Katie Couric has also used Twitter to announce that she's on her way:
landing in santo domingo in the DR From the air.. development, lots of vegetation...less mountainous and worlds apart from haiti. [Link]

On way to haiti...getting to port au prince will be very tricky. Sounds very bad, sixty percent of structures shabby in good circumstances. [Link]
Other journalists expected to report from Haiti, according to TVNewser, include NBC's Brian Williams, Ann Curry and Al Roker as well as Kerry Sanders, Michelle Kosinski and Ron Allen; ABC's Kate Snow, Richard Besser, and Dan Harris; CBS' Jeff Glor, Byron Pitts, Kelly Cobiella and Dave Price; and Fox News' Bill Hemmer, Orlando Salinas, and Steve Harrigan.
Watch Cooper's first report below; the still photo is of Cooper and Victor Diaz Rua, Dominican Minister of Public Works, in a helicopter from Santo Domingo to Port-Au-Price shortly before 10AM Wednesday morning:
Mediaite's Rachel Sklar notes that MSNBC re-ran "Hardball" at 7PM rather than breaking into live coverage of the hurricane Tuesday night, and that "Countdown with Keith Olbermann" was noticeably silent on the disaster.
Fox News' Wendell Goler called in Tuesday from the Dominican Republic. Video here.
Calling all HuffPost superfans!
Sign up for membership to become a founding member and help shape HuffPost's next chapter