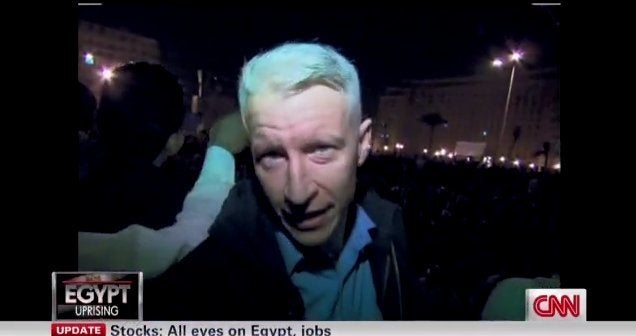 Anderson Cooper landed in Egypt on Sunday night. By Monday morning, the country already seemed different to him.
"It's a fast-changing situation," the CNN anchor said in an interview with The Huffington Post. "It feels like it changes every few hours."
Cooper has flown into the city to witness the massive popular uprising taking place in defiance of President Hosni Mubarak's government. He spoke to HuffPost from a site near Tahrir Square, which has become the site of huge protests and the focal point for the uprising.
Cooper said he saw more soldiers on the streets on Monday than on Sunday, when he arrived. "They are trying to have a show of force, to show that they are in control of the situation," he said. That meant cutting off certain roads, trying to enforce the widely-ignored curfew a little more, and trying to block people from getting to Tahrir Square.
The people who are protesting "are completely not satisfied" with the steps Mubarak has taken to reform his regime, Cooper said. "They will tell you that. Putting a former intelligence chief in as your vice president, that's not a sign of a president who wants to open up. Nothing short of Mubarak leaving is acceptable."
The Egyptian government has treated journalists with a heavy hand since the uprising began. They have been beaten and arrested, and have seen their equipment confiscated and destroyed. The regime has also cracked down on social media, blocked off most Internet access in the country, and moved to shut down Al Jazeera's Cairo operations.
It is under this backdrop that Cooper flew into Egypt on Sunday. He called the situation a "tricky" one, and noted that his CNN colleague Ben Wedeman had already had a nasty run-in with Egyptian security forces last week.
"It's a real concern," he said. "It's not robbers taking stuff away [from journalists]. It's secret police or soldiers."
However, the reaction of the protesters to the presence of journalists was a marked counterpart to the less-than-friendly reception from government forces. Cooper said that he has been reporting from Egypt for nearly two decades, and has never seen so many people willing to talk to him and his crew.
"There are a lot of places in Egypt that are really hard to shoot," he said. "[People] don't want to be seen...they're fearful. Now, they're very happy to see reporters, they're very happy to see CNN. They want their stories told...they want to make sure you're telling their story accurately."
Cooper said that he has encountered "disappointment" with the stance the United States--a steadfast supporter and financial backer of the Mubarak regime--has taken since the uprising began. People wanted more than the "fine line" the Obama administration has been walking, he said.
One way to understand the sheer intensity of the scene in Tahrir Square can be found in Cooper's description of his interview with opposition leader Mohamed ElBaradei in the square during a nighttime protest.
"It was a complete mob scene," he said. "It was like a political mosh pit. The crowd was so intense that it was very difficult to get close to [ElBaradei]...my feet were lifted off the ground."
Later, Cooper interviewed ElBaradei at his house. He said ElBaradei joked about the relative calm of the situation compared to the night before.
Watch Cooper interview ElBaradei:
It's not the first time Cooper has been present during the (potential, in this case) fall of a dictatorship. He was in what was then known as Zaire when President Mobutu was overthrown, and in Haiti when Jean-Bertrand Aristide, the country's first democratically elected president, returned to the island in 1994 after a military dictator fled.
"It's always exciting and interesting to be among tens and hundreds of thousands of people who are speaking for the first time," he said. "Nobody has any answers for what's going to happen here, and that's what makes it so fascinating."
Cooper said he did not know when he would leave Egypt. "I'm not even sure how to get out at this point."
Calling all HuffPost superfans!
Sign up for membership to become a founding member and help shape HuffPost's next chapter