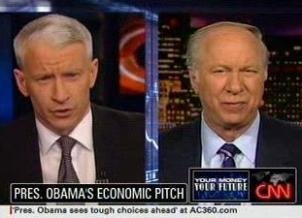 Anderson Cooper had David Gergen, the director of the Center for Public Leadership, on his show last night to talk about the President's recent economic speech and what kind of response they could expect from Republicans. At the end of some serious policy talk they had this exchange:
Gergen: "They still haven't found their voice, Anderson. This happens to a minority party after it's lost a couple of bad elections, but they're searching for their voice."
Cooper: "It's hard to talk when you're teabagging."
Related
Popular in the Community