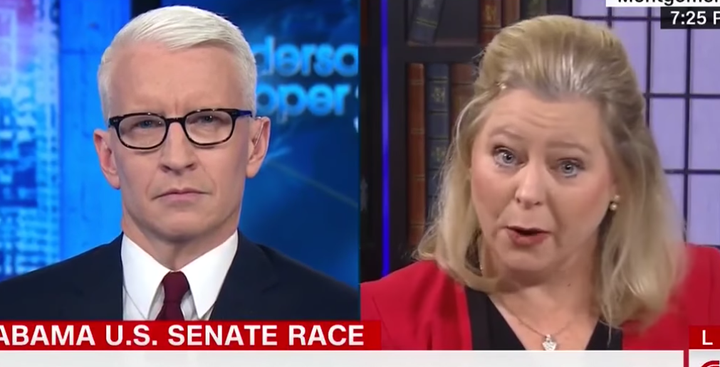 CNN's Anderson Cooper pulled no punches in a confrontational interview with Roy Moore's spokeswoman Wednesday night in which he pressed her to answer questions about the Senate nominee's positions on big issues — and lambasted her inability to answer most of them.
She would not, for instance, say whether Moore, an Alabama Republican, still believed that homosexuality should be illegal or that Muslims should not be able to serve in Congress. Instead, Janet Porter, who is from Ohio, repeatedly insisted during the interview, which turned into a verbal sparring match, that Alabama was "ground zero for freedom" and a brewing "culture war," and that Moore "stands for religious liberty" and "the Constitution." On several occasions, Porter referred to Moore's Democratic opponent, Doug Jones, as "Abortion Jones."
Early in the 15-minute interview, Porter was grilled by Cooper on the sexual misconduct allegations against Moore. Porter insisted the accusations were false — planted by "the lynch mob media" and promoted by a host of conspirators, including the "Democrat establishment," people from the "abortion lobby" and billionaire George Soros.
"Your campaign has blamed an awful lot of people for the accusations being made by women against Roy Moore," Cooper said, rattling off several examples including Jones, Senate Majority Leader Mitch McConnell, "mainstream Republicans … homosexuals, transgender people and criminals."
"Can you just explain to me how all these people got together and came up with this plot against Roy Moore? I don't know if there's a conference call that Mitch McConnell and, like, radical homosexuals are on, but it'd be fascinating to hear that," Cooper quipped.
Porter argued that "the establishment" is wont to push false allegations against candidates it doesn't like. And when "false allegations are generated," she said, "there tends to be a pile-on. That's how a lynch mob works."
Cooper later pushed Porter to answer several questions about controversial public statements that Moore had made. Porter, however, was either unable to answer the questions or attempted to evade them entirely.
"Does Judge Moore still believe that homosexual conduct should be illegal and homosexuality is still the same thing at bestiality?" Cooper asked, quoting an interview Moore gave in 2015.
"I can't answer that question," Porter replied.
"Can you get back to me on whether or not he believes homosexuality should be illegal?" Cooper pressed, after Porter said that Moore "believes the Bible and what the Bible has to say."
"If you don't want to answer, that's fine. But can you get back to us?" Cooper cut in, prompting Porter to finally agree that she would.
"Does he still believe Barack Obama wasn't born in the United States?" Cooper asked.
"You know what," Porter replied, waving the question away, "that issue has kind of come and gone."
"You can ridicule his biblical beliefs if you want," Porter replied, not answering the question. "The Bible has very clear things to say about a lot of issues."
"You're the spokesperson, and you seem unwilling," Cooper later told Porter as the interview came to a close. "I know you're not from Alabama, but you seem either not to know what his positions are or are unwilling to actually tell me what his positions are."
Watch the full interview in the videos below: