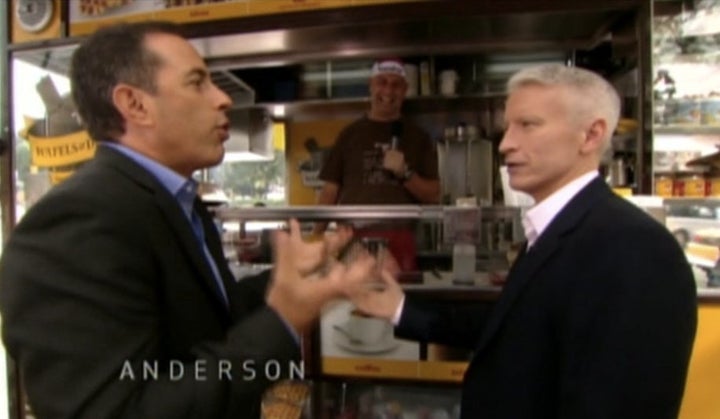 Jerry Seinfeld is an international symbol of finicky, picky behavior -- but even he can't hold a candle to Anderson Cooper when it comes to food.
Seinfeld was a guest on Cooper's talk show Friday, and a recurring theme of the hour was just how bloody-minded and narrow Cooper is about what he eats. Seinfeld and his wife Jessica had fun mocking the sheer vastness of Cooper's disdain.
It started when Seinfeld showed off a special sandwich he loved, which consists of peanut butter and honey on a bagel. Cooper took a bite and made a face. "What's drizzled on it?" he asked. Told it was honey, he said, "why do you need honey on peanut butter?"
"You are so particular!" Jessica Seinfeld said. "I like just plain things," Cooper replied. "I don't like fancy mixing of stuff."
Later, Cooper and Seinfeld went out to a waffle cart by Cooper's studio. He told Seinfeld he'd never eaten a waffle. "I don't understand the point," he said. "Texture!" Seinfeld said exasperatedly, as if he were in an episode of his sitcom. "The point is texture!"
"But there's pancakes and pancakes are good enough!" Cooper protested. Seinfeld said that waffles were crispy. "Why do you need crispy?" Cooper wondered. "For the experience of eating!" Seinfeld said. "You are really weird!"
The two returned to the studio, where Cooper admitted that he is "like a seven-year-old" when it comes to his eating habits. He also said he didn't "see the point" of cous-cous (there's already rice!) and eggs during a cooking segment.
WATCH:
Popular in the Community