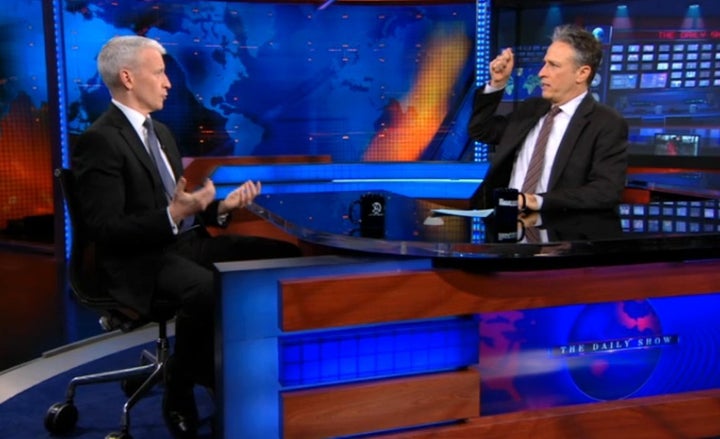 Cooper raised some eyebrows by repeatedly calling former President Hosni Mubarak and his government "liars." The L.A. Times' James Rainey wrote a blog post saying that, while he found no fault with any of the claims Cooper had made about Mubarak, his tone began sounding "a little one-note" and veered too close to outright opinion journalism. And Fox News' Liz Trotta said that she found Cooper's coverage "shocking" and that it "wasn't his purview" to call Mubarak a liar.
Stewart told Cooper that he had been amazed that his reporting had caused controversy. "I was stunned by it," Cooper said, adding that it was "really weird. I'm not big on calling people names, or I try not to take political stands, but based on facts the guy's lying."
Stewart wondered if the issue was not with Cooper but with "modern journalism," and asked jokingly if Cooper had to bring on a guest who believed Mubarak was not a liar and "also believes ice cream cures cancer" to achieve balance. Cooper said that people were often "afraid to say that something that is demonstrably not true is not true...I'm not quite sure why so many people kind of shy away from that."
Stewart closed out the interview by admitting that he worries about Cooper when he goes to unsafe places.
"When I see you in a dangerous place, I just really want to give you a big hug," he said, prompting an "awww" from Cooper.
WATCH:
Calling all HuffPost superfans!
Sign up for membership to become a founding member and help shape HuffPost's next chapter