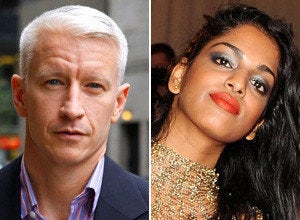 Anderson Cooper and rapper MIA had a long exchange over Twitter on Wednesday night after MIA accused Cooper of calling her a terrorist.
Capital New York's Joe Pompeo reported that as MIA sat down to watch Britain's Channel 4 program, Sri Lanka's Killing Fields, she tweeted her followers suggesting they also tune in. She then singled out Cooper, tweeting, "someone should make @andersoncooper watch it / film it and show the world what happens when respected journos get it wrong #killingfields." In her following tweet, she said that Cooper had called her "a terrorist for speaking out."
Cooper defended himself, saying, "@MIAuniverse, you are mistaken. I never called you a terrorist. I don't even know who you are other than the lady who sang at superbowl."
MIA was seemingly referring to a 2009 incident when the blog associated with Anderson Cooper's CNN show linked to an article published in the Charleston Mercury News titled, "Lady Tamil Tiger Gives Pop Culture A Bang." The article discussed MIA's hit record, "Paper Planes," and the work of her father who is widely known as a Tamil activist. The article includes the line, "To some, M.I.A. is a peaceful revolutionary artist who has shed light on a desperate situation in Sri Lanka. To others she is a LTTE propagandist rousting international support for a terrorist organization."
MIA responded to the article on the "AC360" blog. She wrote that it was widely understood that "Paper Planes" was a song about immigration, and that she does not support terrorist organizations. She also addressed her father, who she said was never a member of the Tamil Tigers, and that he retired from politics in the 1990s when he could not broker a peace agreement between the Sri Lankan government and the Tamil Tigers. "My father had no influence on my political beliefs and to imply otherwise is wrong and irresponsible. In a 2005 interview with the Guardian newspaper I explain how I was raised as though my father was 'dead' and that he had no influence of my development," MIA wrote.
While feuding with Cooper, MIA first accused Cooper of being responsible for the Charleston Mercury News article. "YOU CALLED ME A LADY TAMIL TIGER when i talked about tamil civilians dying, and u printed a retraction," she wrote. MIA walked her accusation back in later tweets, including the fact that the "AC360" blog linked to an outside article that contained what she called false information. Cooper responded, "you've gone from saying 'I wrote', 'I called you,' to saying my cnn show blog had a link to an article. Big difference."
The two seemed to make up in the end, when Cooper said he understood MIA's frustrations that the Sri Lankan war that has not gotten enough coverage in the U.S. Cooper also told MIA to "check her facts" since he also defended her finger pointing at the Super Bowl.
"@andersoncooper p.s thank you for defending my finger , please watch Channel4 #killingfields by @jonsnowC4," MIA responded.
View the entire Twitter exchange in the slideshow below:
Popular in the Community