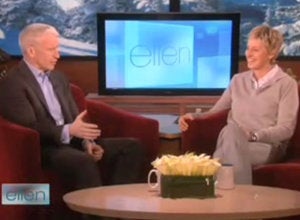 Anderson Cooper appeared on "The Ellen DeGeneres Show" Thursday but he refused to take part in the show's trademark dance.
Walking out after his introduction, Cooper put his head in his hands as Ellen tried to coerce him to dance.
"No one really wants to see a middle-aged guy with silver hair wriggling," he said. "It's not gonna happen. I'm a WASP. I was raised to suppress my emotions. I can't be publicly expressing things.
Anderson then referenced previous news personalities who have danced on Ellen's show.
"Plus, I saw what happened to Blitzer out here," he said.
"He was fine, he was not the trouble," Ellen said.
"It's a slippery slope, though, from Wolf Blitzer to Chris Matthews," Anderson responded.
Anderson and Ellen went on to discuss Bravo's "Real Housewives" series — one of his favorite topics — and why he prefers the Atlanta and Orange County shows to the New York edition.
"The Real Housewives of Atlanta to me were just kind of jaw-dropping," he said. "The Real Housewives of Orange County were just each more horrific than the next...I have not been able to commit to Real Housewives of New York because they just creep me out."
Calling all HuffPost superfans!
Sign up for membership to become a founding member and help shape HuffPost's next chapter