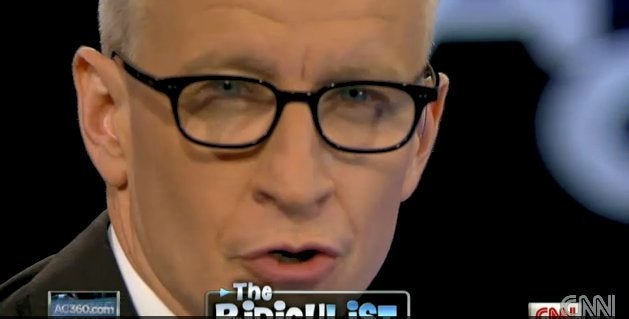 Anderson Cooper targeted Snooki in his Ridiculist segment on "AC360" on Wednesday night, and it was everything those who are familiar with his mockery of the MTV reality star might expect.
Cooper "blasted" major news networks, which he said missed out on "an opportunity of a lifetime" by not putting Snooki on air. He was referring to Snooki's recent spot on "The News According to Snooki," (which was produced by the AOL site Cambio) where the co-star of "Jersey Shore" shared her humorous takes on current events. He said, "They put people like Diane Sawyer, people like your Brian Williams and me behind the anchor desk when they could have gone in a much different direction -- a tiny, tan, poofy haired muscle-loving direction."
"I for one am not at all surprised to see that Snooki counts anchoring the news among her myriad talents," Cooper said, before mocking her coverage of global warming and aliens. After replaying a clip of Snooki talking about Hurricane Irene knocking out power for her TV, phone and computer, he dramatically turned to the camera, put on a pair of glasses and said, "Oh believe me, Snooki, I know what it's like to be powerless. Powerless against your charms."
This is not the first time Cooper has made Snooki the focus of his "Ridiculist" segment. In April, he blasted Rutgers University for paying her to speak at the school.
WATCH:
Watch the original video:
Related
Popular in the Community