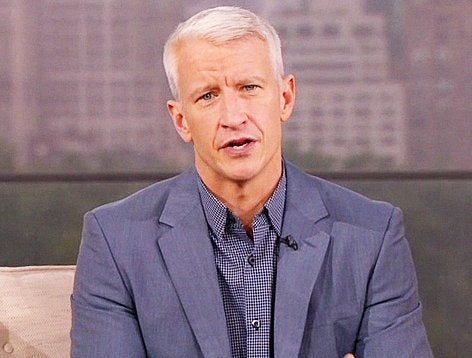 Anderson Cooper is launching a bold, risky new chapter in his career on Monday, as his daytime talk show finally premieres.
"Anderson" has been in the works for a year, but viewers will, at last, get to see whether Cooper can make it in the highly competitive daytime world when his show debuts on Sept. 12. The CNN host has been on a wide publicity campaign over the past couple of months, relentlessly sending the message that he was eager to showcase a different part of his personality. In separate interviews with the New York Times and USA Today on Monday, Cooper again sounded that theme.
"Everybody has different sides to them," he told the Times. "I don't think there's anything wrong with wanting to work different jobs that show different sides of you."
Still, it's absolutely the case that Cooper is more well-known for being in the middle of huge news stories than speaking to Sarah Jessica Parker (one of his first guests). And the talk show market is both heavily saturated and littered with past news personality failures (Jane Pauley, anyone?). But Cooper has already landed some buzzy guests (Amy Winehouse's family and the Real Housewives of Beverly Hills are both slated for the first week) and the talk show field is relatively clear of any major new competition for now. Cooper and the media world will, of course, be watching closely to see how many people tune in to see him show off what, in his words, he called his "more silly and frivolous" side.
UPDATE: The show began with a shot of Cooper introducing the day's topic (Amy Winehouse) while riding his bike. He then came onto the set and told his audience that he always wanted to have "real conversations" on his program. He quickly introduced Winehouse's family, and mostly stayed out of the way as they told their story. Towards the end of the show, he also went out into the audience to speak to people. Below, see pictures from the show.
Watch Cooper talk to the Amy Winehouse family:
Calling all HuffPost superfans!
Sign up for membership to become a founding member and help shape HuffPost's next chapter