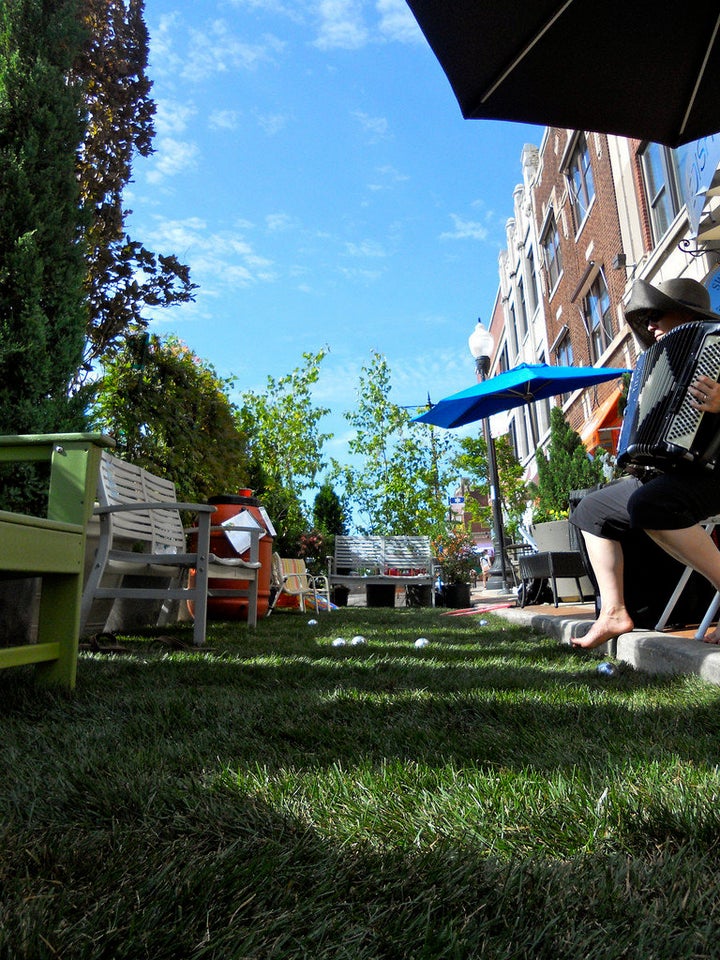 Life in a city as large as Chicago comes with plenty of oft-heralded perks, namely a seemingly endless plethora of dining, nightlife and cultural options to explore, but urban living comes with a serious downside for nature lovers: Not so much in the way of green space.
Recognizing a shortage of urban parks, eco-Andersonville, an initiative of the Andersonville Development Corporation, is working with the Chicago Department of Transportation to bring green urban retreats -- called "parklets" -- to the busy Clark Street stretch of the city's Far North Side Andersonville neighborhood. The parklets replace on-street parking spaces with small urban parks including trees, planters, public seating and bicycle parking.
Their effort is not without precedent. San Francisco is home to some 30 such urban oases as part of its "Pavements To Parks" program and other cities are also looking into ways to expand green space.
HuffPost Chicago: What inspired eco-Andersonville to pursue this project? How long has this been in the works?
Brian Bonanno: Our inspiration came last July when we set up a pop-up park in front of the Swedish American Museum as our kick-off event to the annual Andersonville Green Week celebration. Despite it being 97 degrees that day, the space was a huge hit. In a lot of ways, our timing could not have been better. Not long after Green Week, Wicker Park took a big first big step into on-street installation with the city's first bike corral, something the Andersonville Chamber has hoped to do for several years. We figured with their corral installed, there was no better time for us to make the same leap.
In late August, we reached out to CDOT to start talking about installing bike corrals. We went in with the goal of building a space that not only incorporated bike parking, but also had public seating and green space, similar to our pop-up park. CDOT was also interested in the same concept and was starting to look for communities to pilot a program. We jumped at the opportunity to participate and now -- after almost ten months of working with CDOT, our aldermen and several local businesses -- we are unbelievably close to making this space a reality.
(Scroll down to watch the Andersonville parklets Kickstarter campaign video.)
Why do you think the Clark Street strip of Andersonville is a good fit for Chicago's first parklets?
Clark Street through Andersonville is one of the most unique and inviting commercial districts in the city. This particular stretch of Clark is incredibly compact and and very dense with shops and restaurants, making it a haven for pedestrians. This stretch is also unique in that it has one of the highest rates of locally-owned businesses in Chicago. This means we have a lot of highly engaged businesses and business owners that care deeply about the future of the neighborhood. We believe improvements like parklets and bike corrals will be vital to the overall health of our community going forward.
The trends are changing: the majority of people coming to Andersonville these days are not traveling by car, they are coming on foot, bicycle or the CTA. This trend is not unique to Andersonville or Chicago, it is everywhere, and it will likely not change for the foreseeable future. These projects and future ones like it, are long-term investments for Andersonville. We know a parklet cannot offer all of the amenities of a full scale park, but we believe it can give people a place to take in the neighborhood, meet a friend, read a book, or even for a moment forget they are surrounded by brick and concrete.
The Kickstarter mentions that other cities have tried out these parklets with great success. What was the impact of those parklets?
The parklet concept really started in New York and San Francisco around 2010. Since that time, both cities have started their own "Pavement to Park" programs to encourage more installations and the last I checked, San Francisco was close to 30 different installations around the city.
Because the idea is still very new, there was not a lot of hard data for me to go through yet. I spent time conversing with businesses impacted by the presence of parklets in San Francisco to see how they felt about having them so close. Everyone I spoke with had nothing but positive things to say, many saw noticeable increases in foot traffic and several even saw encouraging increases in revenue after the parklets were installed. Those anecdotes were very helpful to us as we decided to push forward with this project. While we want to provide a place for pedestrians to enjoy, we also want to sustain our mission to positively impact local businesses.

You mentioned in the Kickstarter that the city has been supportive of this. How do you think the city is doing more broadly on protecting and advancing green space citywide under the new Emanuel administration?
I cannot say I am qualified to comment on the Emanuel administration's approach to green space. What I can say from my own perspective is that we have some fantastic parks here, but in a city as vast as Chicago, they are too few and too far between. I do not believe there is an easy remedy for lack of green and open space in a built environment like Chicago -- at least not one that won't require us to re-invent and re-imagine what is already around us.
Thankfully, there are a lot of great examples of this already starting to happen. I know earlier this year LVEJO and the city finalized a deal to build a large park at an old superfund site in the Little Village neighborhood, and now the Bloomingdale Trail looks like it will become a reality as well. So those are two amazing projects that will likely shape the city's approach to green space for a long time to come and should give people in Chicago a lot to look forward to.

A second part to that question is how these sorts of projects, like parklets, fit into the bigger picture for a city as large as Chicago. How do parklets fit into the context of the sorts of public projects you'd like to see the city embracing more broadly going forward?
Whether we re-use a defunct train line or we turn a couple of parking spaces into community space, re-invention is at the heart of the issue. It is important that the creativity and the resourcefulness of these types of projects be on display for all to see. Hopefully that will inspire others to keep pushing for more improvements and bigger projects.

How has the reception been to the Kickstarter and this idea more broadly? Are you confident you'll hit the funding goal?
The reception to the Kickstarter has been absolutely incredible. After two weeks, we are close to 80 percent funded. What has been most surprising are the levels people have been pledging at -- the majority are jumping in at $25 or more, and many have been over $100. Based on how well the campaign has been going, I am very confident that we meet our goal and possibly even exceed it.

Beyond Kickstarter, what are the next steps ahead for turning this idea into a reality? Are you hoping to see it expand into other parts of the city in the future?
Beyond the Kickstarter, we are close to getting final approval from the City Council to build these spaces in the street. This should be in order by the end of April. In the mean time, we are working to finalize our designs. We plan to have something to present to our backers and community members by early next week. After that, we will be looking to source all of our materials and labor and we hope to be ready for an installation by early June.
As of Friday, the Andersonville parklets campaign has raised over $4,400 of their $5,600 fundraising goal -- with two weeks to go in the campaign. Click here to learn more about the parklets and learn how to help turn them into a reality.
Get in touch with us at chicago@huffingtonpost.com if you have a Chicago area-based Kickstarter or IndieGoGo project that you'd like to see featured in our "Can They Kick It?" series.
WATCH the Andersonville parklets Kickstarter campaign video:
Related
Popular in the Community