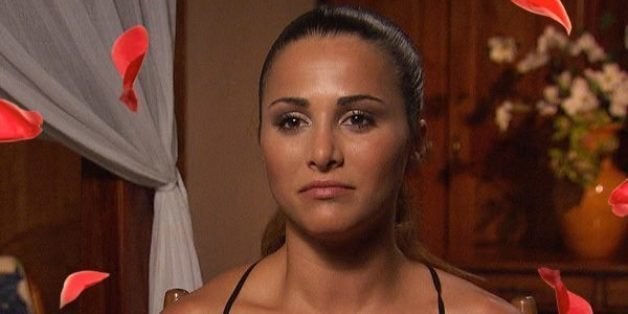 This may be the realest season of "The Bachelor" yet. After 18 seasons of showing lithe, white women woo a man with minimal time and alluded-to sex, viewers were finally allowed to see the "Bachelor" equivalent of the man behind the curtain: lack of interest.
Last night, contestant Andi Dorfman, an ombre-haired assistant district attorney from Atlanta, took known-homophobe and former soccer pro Juan Pablo to task. After spending a private night together in a "fantasy suite," Dorfman confessed that she couldn't wait to for it to end, because, to put it succinctly, JP is a pretty sh*tty person to date. "Not once did he really ask anything about me," she told the cameras. "I'm not unsure. I know he's not the one."
The fact that Andi announced the relationship was over before Juan Pablo had a chance to -- and was allowed by ABC to do so -- is damn near revolutionary in the "Bachelor" world. Like Sharleen Joynt who peaced out (by choice) before her, Andi just didn't want to date Juan Pablo and wasn't going to fake it once she realized that for sure.
As any woman in her 20s and 30s who has tried her hat at online dating knows, a blind date -- even if you've seen a person's photo, or in the case of "The Bachelor," watched them on reality TV -- is a crapshoot. The very idea that 25 pre-selected women would automatically be able to fall in love with any one man is laughable -- especially if said man only uses two words to describe his dates ("amazing" or "beautiful"), slut-shames his suitors and is an all-around boring human. Yet "The Bachelor" operates on the premise that the star has the power to choose or not choose any of his suitors. (It's bit more common to see a male contestant bowing out early, but even then it is often portrayed as a massive betrayal or agonizing heartbreak.)
The most illuminating part about last night's Andi-Juan Pablo confrontation is that he didn't do anything horrific during their "nightmare" overnight date. He's just your run-of-the-mill, selfish, sexist prick. He talked about other women, used honesty as an excuse for making thoughtless comments -- "There's a difference between being honest and being an asshole," Andi reminded him -- and seemed completely uninterested in who she really was as a person, brushing off her concerns with an "ess oh-kay."
"Do you have any idea what religion I practice? What are my political views?," an irate Dorfman, asked Juan Pablo. His response, or rather, the utter lack thereof, exposed what anyone who has watched even a few episodes of the white wine tears-filled show already knew. "The Bachelor" brand of romance is built on the fantasy that big conversations about religious beliefs, socioeconomics, career aspirations and politics -- the very things that would make or break a budding relationship in the real world -- are unnecessary in the face of amorphous "connection."
But the truth about dating on "The Bachelor," as in life, is that often the person you spend a few fun hours under a waterfall with is not the person you want to build a life with. And at a certain point, the wrong date just becomes infuriatingly annoying. "I want to die if I have to hear 'it's OK' one more time," Andi told Juan Pablo. Who among us hasn't had that very feeling when you begin to realize that the person you're out with is so very wrong for you? Chris Harrison proclaimed that this season of "The Bachelor" is the "most controversial," but I'd argue that it's the most banal. There is nothing "controversial" about wanting to break up with a sexist man who thinks women shouldn't argue and has little regard for their needs or interests. Last night, we were all Andi Dorfman.
As social media has become a more integral part of the "Bachelor"-viewing experience, there are more opportunities for fans to get a hint at the true feelings of those involved with the show. Now the people we watch on the small-screen are tweeting and snarking right along with us, in real time. And judging from Juan Pablo's ladies' Twitter feeds, the majority of them just weren't that into him.
The real enduring relationships of "The Bachelor" and "The Bachelorette" are not, generally, of the husband-wife variety (with a few notable exceptions). Rather, it's the friendships between the contestants that last far beyond the selection of a Neil Lane diamond ring. And that, as Juan Pablo would say, "ess oh-kay."
Andi and Kelly re-enact a scene from last night's confrontation, as Instagrammed by Sharleen.
The Best Tweets About 'The Bachelor' Fantasy Suites...
Even more "Bachelor" talk...
Popular in the Community