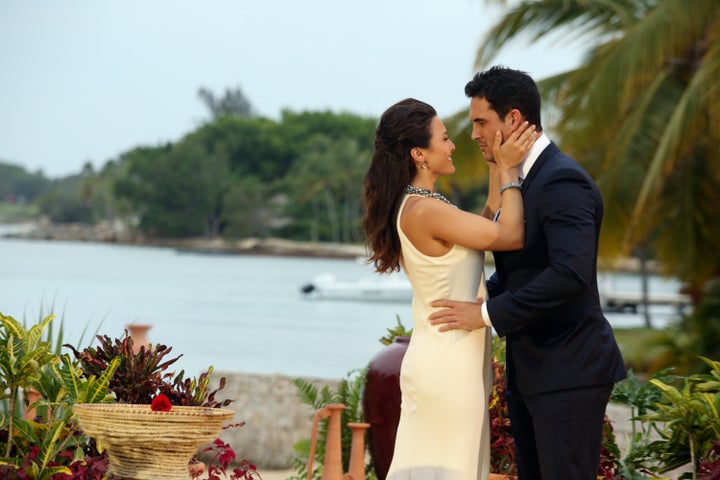 The above photo is of a happy couple, blissfully engaged after falling in love on a reality show. In just eight weeks, Andi Dorfman met 25 men, went through some emotional ups and downs, and dealt with fantasy suite blunders before confessing her true feelings for Josh Murray on ABC's "The Bachelorette" in 2014. And the rest is history misery. (Well, at least according to her new book.)
The 29-year-old former assistant district attorney from Atlanta, Georgia, is not one bit shy when it comes to detailing her breakup with Murray, whom she split with after an eight-month engagement, in her new book It's Not Okay: Turning Heartbreak Into Happily Never After. Although the couple appeared to be madly in love, it turns out love takes many different forms (who knew?!) and their connection wasn't as strong as either of them thought it was.
But Dorfman doesn't just drop secrets about her tumultuous split with Murray in the tell-all, which hit book shelves last week. She also goes into detail about her time on Season 18 of "The Bachelor" with Juan Pablo Galavis and their dreaded night in the fantasy suite, while also sharing untold stories about her "runner-up" Nick Viall and his uncalled-for confession at the "After the Final Rose" special. It seriously doesn't get any better than this, Bachelor Nation!
Below, discover five juicy tidbits from Dorfman's book, and WARNING: if you plan on reading the tell-all, beware of spoilers.
Andi and Josh had their first major fight during the show (it just didn't air, of course)
Andi opens up about the tiff in her chapter titled "Self-Help Ain't Helping," saying it "foreshadowed many of our future difficulties."
It all went down on a group date in Monselice, Italy, about five weeks into their "journey." Josh had just come off of a solo date with Andi, so he was clearly annoyed to now be on a date with her and a few other guys. And to make matters worse, Andi asked them all to take a lie detector test.
"After every man had bared his soul -- or lied -- the results were in, and we were all given the option either to read the results or 'trust' each other and throw them away," she wrote. "The men immediately jumped at the chance to read mine ... I, however, used this as my chance to 'earn the men's trust,' and opted to rip up their results and throw them in the trash."
But Josh was not a fan of Andi's decision, and later let her know how he felt about her choice to make him sweat it out only to throw away the results. They just had a great one-on-one date where they talked about trust, and now she was making him prove his worth.
" ... What shocked me the most was his tone. He was aggressive and combative, playing the victim and practically asking, 'How dare you make me prove my honesty?' And though he was obviously careful in his words as the cameras rolled, no amount of restraint could hide the look in his eyes. It was a look of disgust and rage," she wrote.
Despite their ability to move past it, this argument led Andi to question the way she was feeling for Josh. Still, she writes that she saw "a vision of my perfect love story becoming the biggest disaster of my life."
Josh was apparently an "emotional abuser" and had a pretty bad mean streak
Throughout the book, Andi details her fights with Josh, alluding to the fact that he was a jealous, self-centered man. In one of the final chapters, she opens up about how her whole identity changed after being on the show and falling for the former pro baseball player.
What people didn't know was after two shows, I had become a twenty-seven-year-old woman who walked on eggshells in her own home. What they didn't know is I was trapped with someone who, in my opinion, often behaved like an emotional abuser. Yes, I said it, and I'm not taking it back. He was good-looking, with an electric smile and the ability to charm anyone, and his affection in public made people believe that he was a loving partner, but by the end of our relationship, it was just a mask covering the control he exerted in private. He had an uncanny way of manipulating situations and conversations to make me feel like the worst person in the world. In his own words, I was not only selfish and unappreciative, but the "most miserable person he'd ever met." If we didn't get invited to a red-carpet event, he'd say it was "because of my actions with Number Twenty-Five [Nick Viall]." If I talked to another man, I was a "whore." If I disagreed, I was "argumentative." If I defied him, I was a "bitch."
Andi writes that she was so nervous about his actions that she once told her friend Nikki Ferrell (who was the last woman standing on Juan Pablo's season) that she feared for her life. While talking to Nikki on the phone in a dressing room, she uttered, "Well ... if I show up dead, tell the cops he did it," a statement, Andi says, "jarred" her.
"There, in the mirror, was a woman so far gone she was joking about her own murder ... This became the single most vivid moment of my relationship. I realized just how much of myself I had lost in the past nine months. I was trapped in a relationship that made me feel utterly worthless and dismally defeated," she wrote.
Nick allegedly played a game of "Would You Rather" while he and Andi were having sex in the fantasy suite
Andi describes her sexual encounter with Nick during their overnight date as "cringe-worthy," "lady boner-killing" and "awkward." Mid-sex, Nick apparently asked Andi if she'd rather "make love or fuck." Her response to that? "What the fuckity fuck?"
"This is sex, dammit ... kiss me, love on me, and if you can't talk without making an utter fool of yourself, then stay silent," she writes, adding that if the sex had been "mind-blowing," she could have maybe overlooked the situation -- but, that wasn't the case.
This whole blunder led up to Nick's now infamous appearance on the "After the Final Rose" special, in which he pretty much slut-shamed Andi in front of millions of viewers by saying, "If you weren't in love with me, I'm just not sure why you made love with me." Andi is still reeling from that confession.
"This motherfucker! Really? You want to confirm to the world what they probably already know, which is that two consenting adults who had been dating for seven weeks spent the night together without cameras and whaddaya know, had sex? ... Every part of me wanted to go all Georgia girl cray on his ass and fire back with some snarky response like, 'Oh really? Is that what you're calling it now, because I'm pretty sure you called it 'fucking' when you were on top of me.' But I didn't. Instead, I held back for one reason and one reason only: my fiancé."
Speaking of Nick, Andi met up with him at his apartment following her breakup with Josh
While on a trip to Chicago, where Nick lived at the time, Andi ran into her ex while out with friends. Although she did her best to avoid him that night, she ended up receiving a text from him the next day, saying he would love to meet up for a chat. Although she was hesitant at first, Andi decided to go through with it.
In her book, Andi writes that Nick apologized for his sex-fession and told her that he never meant to hurt or embarrass her.
Seeing the hurt in my face, he tells me he was angry that he had tried to reach out to me so many times before, and he felt hurt that I refused to see him. This was true -- he had, and I had refused both times and told producers that he would have his chance to talk to me at the finale. Turns out that had been a terrible idea on my part, though I think the conversation would have been the same no matter where we had it.

...

Sure, I was mad at him, but I never felt like he owed me anything. Did I feel betrayed by him? Absolutely. Did I think that his revelation caused my breakup? At times. But the truth is, while what he did had a damaging effect on my relationship, he wasn't to blame. If it wasn't his revelation, it would have been something else down the road. God knows Number Twenty-Six [Josh Murray] always seemed to find plenty of ammo for our fights.
Andi and Josh had one last sexcapade weeks after their split
Believe it or not, although Andi pretty much despised her ex, she agreed to meet him for lunch one day -- 55 days after their breakup -- for the sole purpose of, well, getting laid. Her theory?
"It's a risky move that could lead to my final descent, but I know I'm strong enough to face it. I can do this. I need to do this! If only to prove to myself that I am in the driver's seat of my own life; that I can have one last high and quit my ex addiction once and for all. Plus, it's been fifty-five days of hellish withdrawals, and maybe I want some damn dessert too!"
So, after a sushi lunch, Andi and Josh headed back to his place -- their old home together -- and got it on. But don't think this one last romp led Andi to question their breakup.
"It's the first risky move I've made that's paid off in quite a while, and while I know I'm supposed to feel some kind of 'moral hangover' about this, I feel empowered instead," she wrote. "And the feisty smirk that has finally returned to my face brings with it zero regret, zero remorse, and most of all, the power to move on."
Check out HuffPost's conversation with Andi Dorfman on AOL Build below.
Support HuffPost
The Stakes Have Never Been Higher
Before You Go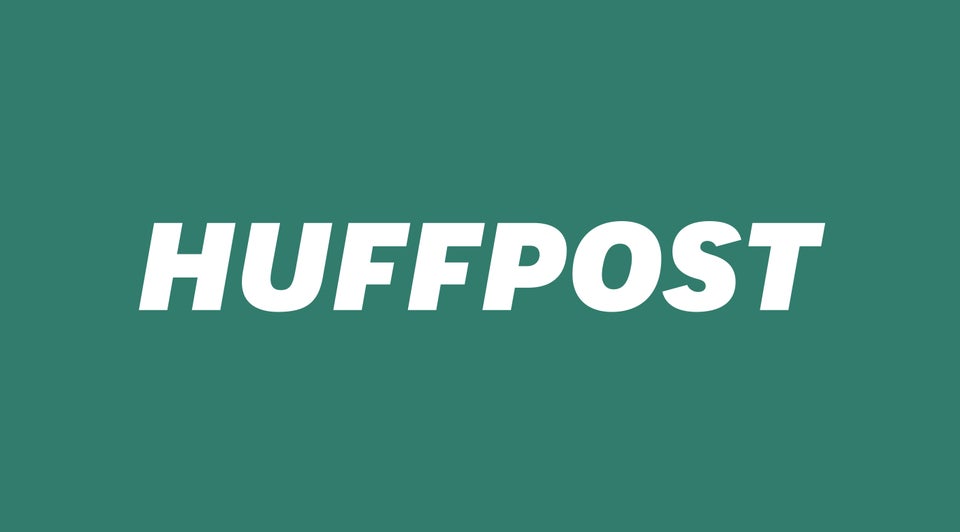 Tweets About "The Bachelorette" Season 12 Premiere
Popular in the Community