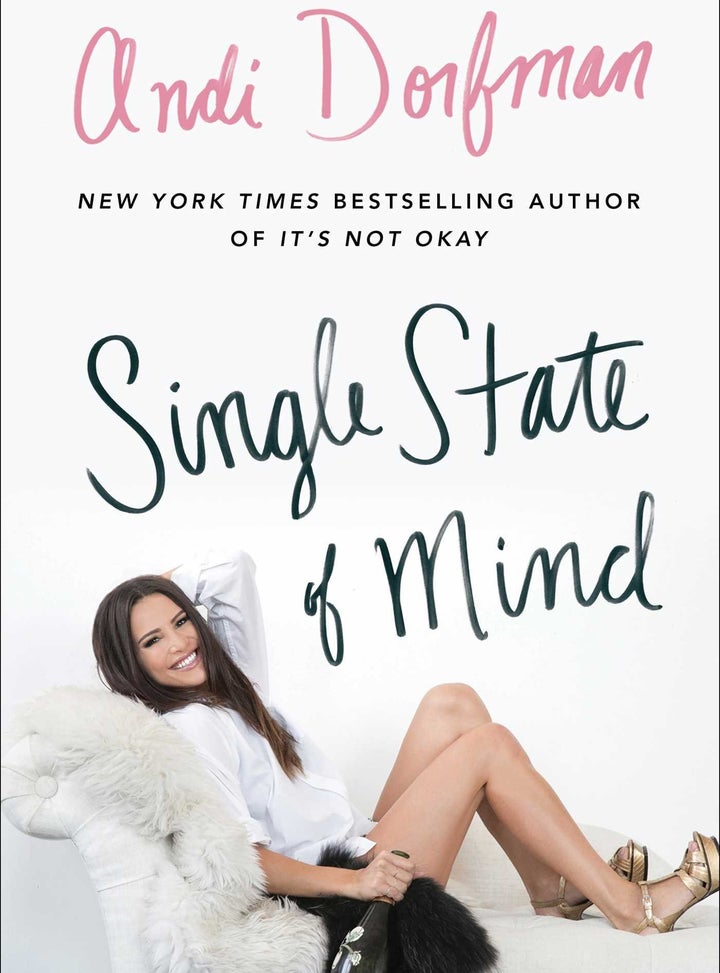 Andi Dorfman may have gotten engaged once on reality TV, but nearly four years out from her gig as "The Bachelorette," she considers herself to be a pretty private person. Her social media shows some snippets from her life ― cute fashion shots, updates on her work projects, travel photos and, of course, photos of wine ― but her romantic life rarely makes an appearance. 
It turns out that all the juicy dating stories we didn't get to see on Dorfman's Instagram make an appearance in her new book, Single State of Mind. The dudes have code names and they aren't men who once appeared on "The Bachelor" or "The Bachelorette." That's because Dorfman's second book picks up where the first one left off ― out of the reality TV world and on a plane to New York City on a one-way ticket. Once Dorfman lands, she finds herself thrown into the city's epic (and sometimes epically awful) dating scene, with the added stress of a very public broken engagement. Let's just say that all of this makes for an entertaining read.  
Dorfman sat down with Claire Fallon and Emma Gray, the co-hosts of HuffPost's "Bachelor" podcast, "Here to Make Friends," to talk about her book, the absurd stigma single 30-something women still face, and ― obviously ― bad dates. 
Andi Dorfman: I'm pretty private as far as social media when it comes to relationships, which is probably why my mom's always like, "Are you single or not?"
I just ... have not shared my romantic relationships with the media because I did it so heavily with the first one. I try not to take too many scars from that quote unquote "engagement," but I think one of 'em is being a little more private with my romantic life. So instead of being shocked at what number 25 and number 26 did in the first book, I think people are gonna be shocked that like, "Wow, she was dating this person?" 
And I also think there's a little bit to be said about figuring out who each guy is, which is kind of fun. 
Emma Gray: It is fun. I was trying to play that game.
Claire Fallon: Yeah, I've failed so far.
Claire: Yeah, I'm not a very good investigator.
Emma: I just felt like I don't know enough about people on sports teams. 
Andi: I know. I was like, wow, do I have a type. [Laughs.]
Claire: I should show it to my husband, and he would be like, "Oh it's these people, obviously everyone knows that."
Emma: Greg will be our investigator.
Andi: Yeah, this book's definitely different in that sense too. Because all the dates, all the guys are given names a little bit, but they're also more described by their occupations, where they live, how big of d-bags they are or are not. 
Emma: All very New York dating world! That is how I describe people that I went on terrible dates with. 
Andi: Right? When you read the book, you were probably like, "Yeah, this is exactly how New Yorkers are."
To hear more from Andi Dorfman on Single State of Mind and "The Bachelor," check out HuffPost's "Here to Make Friends" podcast below:
Do people love "The Bachelor," "The Bachelorette" and "Bachelor in Paradise," or do they love to hate these shows? It's unclear. But at "Here to Make Friends," we both love and love to hate them — and we love to snarkily dissect each episode in vivid detail. Podcast edited by Nick Offenberg.
Calling all HuffPost superfans!
Sign up for membership to become a founding member and help shape HuffPost's next chapter
BEFORE YOU GO