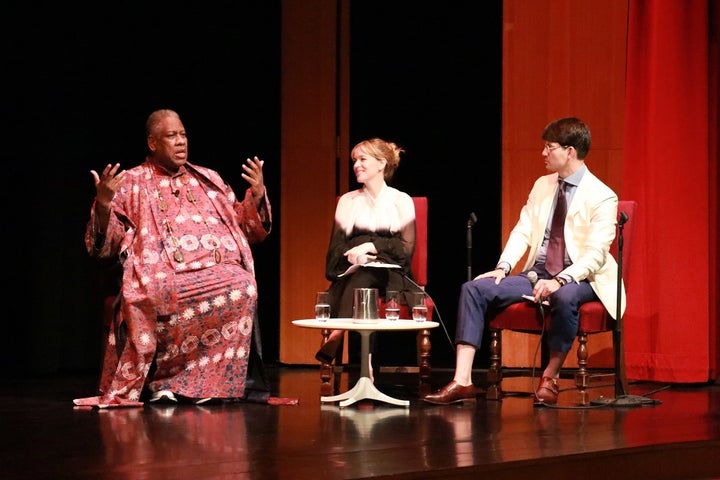 There be gods among us and this weekend one graced the Midwest. His stature and presence only solidifies his rank of fashion icon and living legend. Fashion connoisseur, sartorial, and dandy are an understatement. André Leon Talley is more than red carpet appearances and front row at Fashion Week. If Aristophanes, Caravaggio, Alexandre Dumas, Shakespeare, and Einstein were holding court, Mr. Talley would at home among them. Mr. Talley is an intellectual. This weekend he arrived in St. Louis to speak about the St. Louis Art Museum's Reigning Men: Fashion in Menswear. It is here that his professorial knowledge of French literature is acute. I had the pleasure to speak with Mr. Talley ahead of his museum speaking engagement. The conversation ranged from art, fashion, literature, history, and entrepreneurship.
Much has been written about André Leon Talley the fashion guru. However, Mr. Talley's indelible impression on me is his beautiful mind. I approached the interview with trepidation. I am not a fashionista, nor do I follow fashion trends. Most of my articles center on politics, education, women, and empowerment. For the interview, I decided on a black sheath dress and sandals with my pink pearl necklace and earrings as my "pop" of color. Would Mr. Talley be an acerbic Devil Wears Prada figure that looked with disdain on me?
Like his mentor, Diana Vreeland, Mr. Talley's entrance is grand. His African styling adds to the regalia. A simple flourish of his hand captivates. Mr. Talley exudes confidence. Not only is he stately and learned, he is exceedingly kind. Noting my anxiety, he immediately put me at ease with his southern hospitality. Surrounded by majestic works of art, Mr. Talley made the private dining room of the St. Louis Art Museum feel like the warmth and coziness of my grandmother's kitchen. As he walked me through the highlights of Reigning Men, he complimented a museum staffer on her scarf. She replied, "It's just Target." With the precision of a ballet master instructing a student on form and confidence, Mr. Talley responded, "It doesn't matter. It looks wonderful on you!"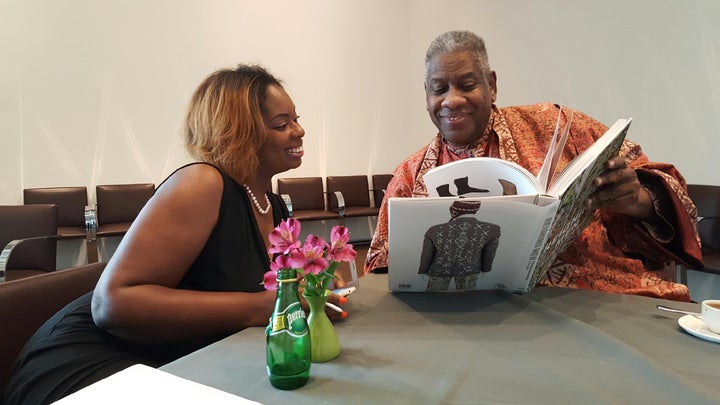 I watched and listened in wonder. Mr. Talley is an elocution tactician. The rhythm of his words fascinated me - "beautiful elongated attenuated fingers" – his description of Oscar de la Renta adjusting a bow on the runway. Mr. Talley fastidiously and judiciously chooses words to articulate his meaning. He is a raconteur who weaves through the past and present enthralling the listener. He holds dear to his grandmother's southern upbringing and was more than generous with his time, allowing me extra to get the information I needed. That afternoon as the sun set on Forest Park, I fell in love with André Leon Talley's beautiful mind. His knowledge of literature and history is as extensive as his fashion prowess. He is a walking encyclopedia, which he credits to a photographic memory. More than a photographic memory, his precise attention to detail is astounding. He recalled what guests wore to the An Evening with André Leon Talley, down to accessories.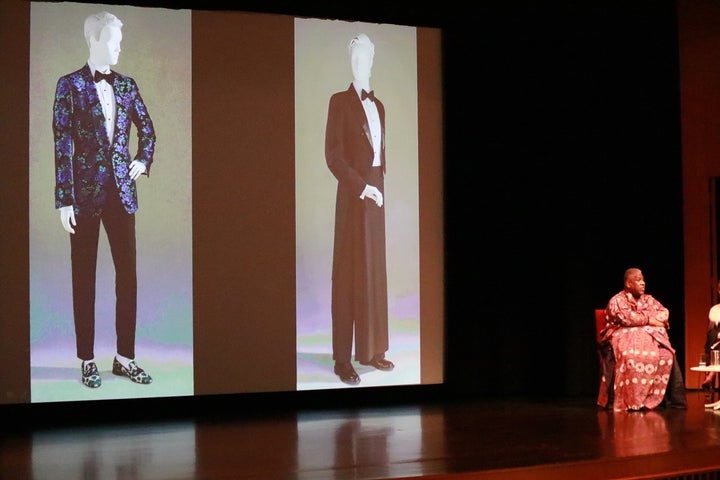 Reigning Men "explores the history of men's fashionable dress from the eighteenth century to the present and re-examines the all-too-frequent equation of "fashion" with "femininity." Mr. Talley noted some exceptional art works in the museum's collection. The St. Louis Art Museum will delight coastal dwellers who ponder whether there is much in between the eastern and western seaboard. The museum staff will charm you with its midwestern hospitality. The museum is situated in beautiful Forest Park with surrounding cultural attractions. There is a symbiotic relationship between the museum, the Saint Louis Fashion Fund (Fashion Fund), and Washington University. Designers in the Fashion Incubator program collaborate with all three institutions. The influence of the Fashion Fund was apparent at Saturday's museum talk. Several patrons arrived adorned in designer-in-residence Reuben Reuel's distinctive patterned creations. After the museum talk, Mr. Talley spoke with participants at the Center of Creative Arts (COCA) and the Stevens Institute of Business and Arts (SIBA) as part of the Fashion Fund's art and fashion outreach. In honor of Mr. Talley's appearance, the city of St. Louis proclaimed June 24th, 2017 "André Leon Talley Day."
Below are excerpts from Mr. Talley's Saturday afternoon museum talk and my Friday interview. Like my interview, Mr. Talley made the Farrell Auditorium of the St. Louis Art Museum as intimate as a southern sitting room. It felt more like after dinner conversation in the parlor while enjoying a glass of port ruminating over a sumptuous meal served – the meal being Mr. Talley's emprise.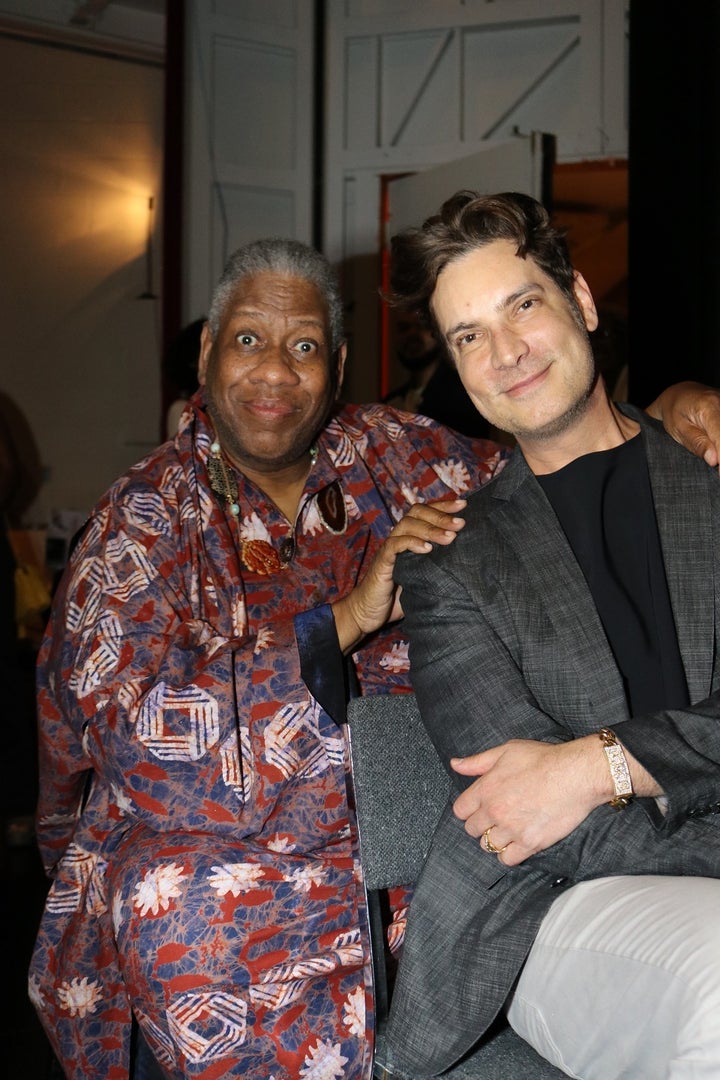 Internships and Networking
I met my fashion mentor, Diana Vreelund, in November of 1974. She was working on her second big show at the Metropolitan Museum of Art. I was a volunteer. Back then we were not called interns, instead volunteers. My assignment with her exhibit was only for six weeks, but she became a lifelong friend. She was instrumental in introducing me to Andy Warhol and working at Interview magazine, initially as a receptionist at $50/week. Yet, Ms. Vreelund helped orchestra my breakthrough interview with Karl Lagerfeld.
People liked my personality and manners. Following my grandmother's upbringing, I only spoke when spoken too. I did my homework so when I spoke there was a certain sense of knowledge. When I found out that I was going to interview Karl Lagerfeld, I knew that he loved the 18th century. I researched everything about the 18th century, from clothing, what they ate, politics and more.
This goes back to my grandmother and going to church on Sundays. Everyone dressed up for church. Everything was impeccably pressed and ironed - linens, towels, shirts, and even my underpants. I still love the smell of freshly washed sheets hanging outside on the line. Vogue was my window to the world outside North Carolina. More than fashion, it had great writers, literature, and was well read. I would walk to the white side of town to get a copy of it. I pasted pages on my wall.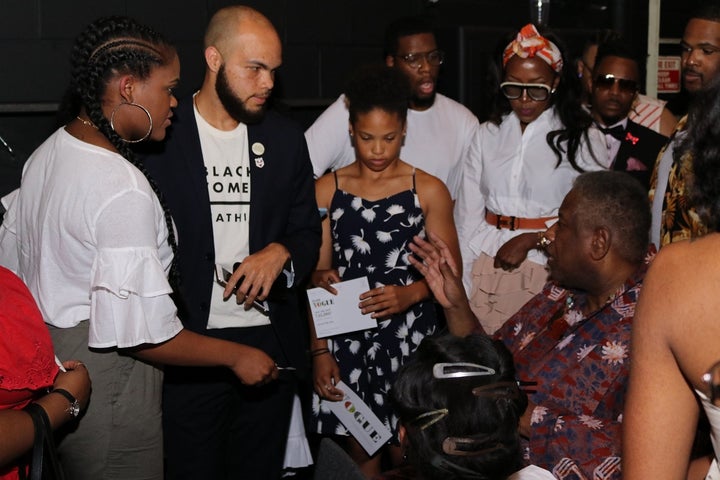 You need a dream that is unique, sincere, and valid. You can be self-taught like Bryan Jimenèz who apprenticed with local designers. Do not overlook the value of going to a school and participating in an incubator program. Think outside the box. Proenza Schouler sent Anna Wintour a note in first class inviting her to view their collection. Jeremy Scott is another example, a favorite of Madonna for the Met Gala. You have to be willing to take risks and sacrifice. The role of the designer is to prove his mettle and create something that stands out as unique.
Dandy Men of Style, Menswear Icons
Karl Lagerfeld and Manolo Blahnik are my menswear fashion icons. Karl Lagerfeld exudes opulence wearing 18th century silk damask around the chateau. [Moderator: Who is the Karl Lagerfeld and Manolo Blahnik of this generation?] Karl Lagerfeld IS the Karl Lagerfeld of this generation and Manolo Blahnik IS the Manolo Blahnik of this generation!
Well-Dressed and Modern-Day Menswear Inspiration
In the past men were as ornate as women, as seen in the Reigning Men exhibit. Today's man as well dressed, no; but, men today are comfortably dressed. Today's fashion disruptors and influencers are rappers and musicians. Like the Harlem lindy hoppers wearing zoot suits featured in the exhibit, rappers like Drake, Jay-Z, Diddy, and Kanye are the modern-day inspiration transcending music and influencing fashion. Jaden Smith's style evolution is an example of a fashion disruptor. His Met Gala appearance using his shorn dreadlocks tied in gold as a pocket accessory was genius.
The Perception of Fashion as Condescending
You cannot be condescending. You are young and do not know everything.
Related
Popular in the Community