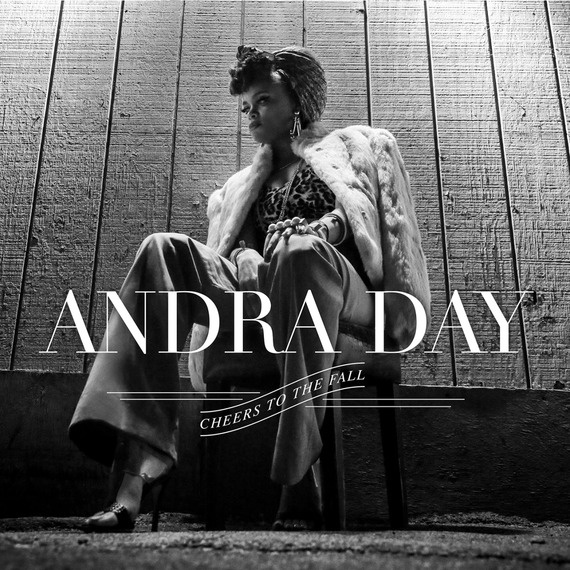 Seeming like a hybrid of the luscious and raw vocal of Amy Winehouse and the neo-soul vibe sensibilities of Angie Stone, Andra Day is one of the hottest names to come out of the music industry this year. Andra took a moment from promoting her debut album "Cheers To The Fall" to chat with me about her new album, working with the iconic Stevie Wonder, and what we can expect from her in 2016.
It seems like you can't turn on a music channel without hearing your luscious vocals. How did you get your start in the music business?
That is very sweet, thank you. It has been a year full of miracles. I was actually discovered by Kai Millard and Stevie Wonder. She heard a clip of me singing from a show I did in front of a little strip mall in Malibu, CA and she played it for Stevie. He liked what he heard and they orchestrated a call between the two of us. It was one of the most insane and uncomfortable experiences of my life. I was excited to be on the phone with one of my biggest musical inspirations, but the thought of saying the wrong thing or something inappropriate did cross my mind. Some time went by after the call and eventually, they reached out again to invite me to dinner in L.A. at Mr. Chow's. At dinner, he introduced me to Adrian Gurvitz, the producer I worked on the album with and I signed to Buskin Records. We went into the studio some time after that and began making music.
You're a hybrid of so many different sounds and types of music. How would you describe your sound or the type of music that attracts you?
It's simple really. I call it soul music. I really like jazz and soul, but I also love so many other types of music and I didn't want to be afraid to blend and experiment. We just agreed that if it feels good, feels real, and it's from the heart, then we'll do it. So that's why I call it soul because that's where it really came from.
You were also a dancer for quite some time. Tell me about that. Did it help you make the transition to music?
I was a dancer for about 20 years. It didn't really help me transition into music. I danced for a while and I knew I could sing, so I just began singing in a praise band at church, and doing musical theater and jazz vocal performance in school. One didn't really lead to another I was just always interested in the performance arts.
"Cheers to the Fall" is one of the most buzzed about albums of the year. What was the entire creative process like for you? Does the album have a specific message?
Thank you so much! The process was liberating, challenging, and deeply emotional for me. I was writing about my life so I remember facing myself and having to accept that I was the kind of person who could be so dishonest, or I remember being with someone who made me feel completely expendable. But after praying about it all, putting it on record was the natural thing to do. It reminded me not to accept defeat and instead take my ashes and make something beautiful with them. Getting into the studio everyday with producers Adrian Gurvitz and Raphael Saadiq to create these songs was a lot like sitting on the therapists couch. It also taught me how to make a record. We would create the shell of what we wanted, and then take the song into a big studio with the players we wanted to create the final production. I learned a lot about how to pick great musicians from them.
"Rise Up" is one of the most gorgeous and achingly wonderfully structured songs that has come around in quite some time. What is the history of this single?
"Rise Up" is a simple message about perseverance, hope, and selflessness. It was a song I prayed a lot about, and when we did the record I sang over the piano that Jenn Delcevio played before writing anything down to see what would come out naturally, and the bulk of the song actually came out in that take. We realized we didn't want to change much and it was meant to be simple. People always ask what I was going through at that moment that was particularly challenging, but it wasn't that. I just needed to be reminded to continue to hope, and continue to persevere. It's something we all need no matter what we are going through.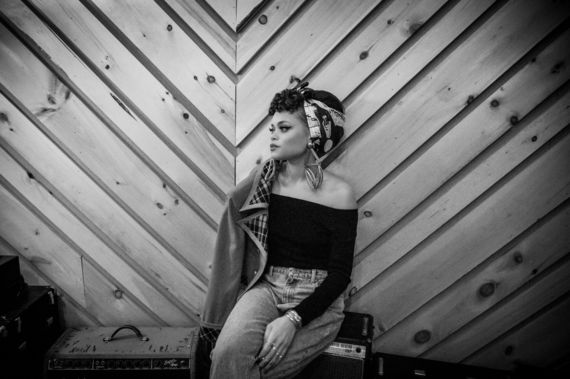 Stevie Wonder has been a "fairy godfather" of types for you. What is it like collaborating on his iconic holiday track "Someday At Christmas"?
It was truly an honor. He has been immensely supportive and is one of the kindest people I've ever met. I love the song and working with him on this particular record was great because it is a Christmas song that embodies not just the joy of the holiday, but it is also a very true statement of hope. It doesn't pretend that things are all good but it does hope and believe, in the spirit of the holiday, that things will get better. It's definitely not your run of the mill Christmas tune, but that's what I love about it.
What does 2016 hold for Andra Day? Any specific things you want to accomplish? Resolutions?
We have the Grammy's and NAACP Awards. We start a radio promo tour in January and another headline tour at the end of February. We also start touring with Leon Bridges in May. A lot of things I have to be grateful for. No real resolutions, I live my life one moment at a time. My goal is to just be present in each and everyone one of them.
2015 has been an absolutely monumental year for you. What is one word that describes you and your life right now?
(All Images Used With Permission)
Calling all HuffPost superfans!
Sign up for membership to become a founding member and help shape HuffPost's next chapter