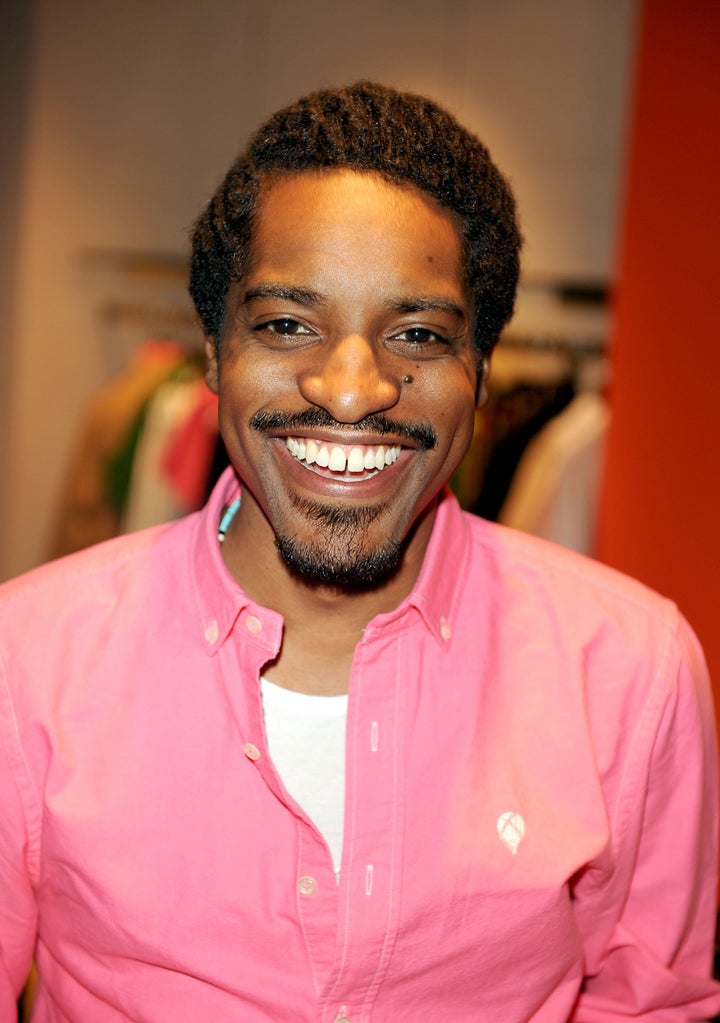 Attention fellas: apparently rocking a moustache in the month of November is the perfect way to raise awareness and funds for prostate and testicular cancer initiatives--thus deeming the month "Movember." Who knew?
Which is why the iconic rapper and actor hit the streets of New York City this week to help Gillette spread the word about Movember's charitable efforts via its eMO'gency Styler Tour. As one of Gillette's Masters of Style (aka: dashing spokesmen), Andre was on hand to offer complimentary curbside grooming services using Gillette's Fusion ProGlide Styler to anyone looking to freshen up their facial follicles. That's right, Mr. 3000 was the city's personal barber for the day.
This was clearly the perfect opportunity to catch up with the 37-year-old star about his stint grooming mo's, what the ladies think about his well-manicured facial hair, his incredible personal style (we're big fans) and when we can expect his Bixby clothing line to hit the racks again.
What was it like being up close and person with people's facial hair?
I only did a little bit, but I've noticed the change in mens presentation of themselves. That's really what Gillette tapped into, they did research and figured out that guys are really growing facial hair more then ever. And that's why I was part of it. When they reached out to me and said that in 150 years they've never had any guys with facial hair in their ads and this is the first time they were going to do, I knew I wanted to be a part of it.
Has facial hair always been important part of your personal style?
It's been a part of me, but I wouldn't say important. I think every man wants facial hair because it says something. It says "I'm older" and "I'm mature." And I didn't get facial hair until I was 25 or 26. So once it grew in I left and never cut it. Actually when I did my last film I had to cut if off, but that was the first time ever.
Do you get experimental with the style and shape of your facial hair?
I can't. I don't grow hair on certain areas of my face. I don't experiment too much--I just keep what I know. But with this product (Gillette's Fusion ProGlide Styler) you can shave and trim. There's a lot of options. Basically you would have to go to a barber to get all of that done, which costs about $25 a visit.
Have you found that women are loving your facial hair?
Yes they do! It depends on the women--some like the clean cut kind of thing. But those aren't the kind of ladies I get.
With that said, do you like when your lady friends touch your facial hair?
Yeah, it's a comforting thing. But even I do it--like when I'm sitting and talking I kind of mess with it. Before I had facial hair I used to twirl my hair right next to my ear, but I started to get a bald spot so I stopped doing it. It's a lot cooler to just sit and play with my facial hair.
Let's talk a bit about your personal style. We've seen you in everything from retro to futuristic outfits. How would you describe your style?
It is so all over the place, like I can't nail it down--but I think I like it that way. I'm a Gemini for one, so I change up all the time. I get bored really, really, really fast. I go through a lot of mood swings. Sometimes I get really serious about clothes and sometimes I don't care, sometimes I want to get real slum and ghetto and then sometimes I want to have something to talk about. So wherever I am in my head my clothes reflect that in some kind of way.
I love this denim on denim on denim look you're rocking today.
Why thank you! It was actually a mistake. But style comes from mistakes sometimes!
Do you have any major influences when it comes to your style? A person, place or thing?
I have a lot of style influences, but I get inspiration from everywhere. But my biggest are old men on the street and Ralph Lauren--but not necessarily for his clothing, although I wear his clothing. I think his story is really important and I think most African Americans can relate to his story. Ralph Lauren didn't come from that world, he built himself--he was just a dreamer. And you know, most of us rappers dream and say we have certain things when we don't. But at the end of the day we end up having them because we love them so much. Ralph loved that WASPy anglo-saxon world so much that he took it, reinvented and represented it better then they could in the first place. And that's what rappers do--take life and present it in a better way in which you live.
Speaking of creating, what's going on with your menswear line Bixby?
Unfortunately we launched in 2008, which was the worst economy to start anything. The press that we got and the fans really loved what we were doing, but we could not stay afloat. But I think it was a great thing because it was my first time diving into that world. I was going to the factories, spending time in Hong Kong and Italy, actually seeing my stuff being made. I was dreaming too much and I was using my own money. I didn't have a backer to slap my hand and say "you can't do that." So this next launch is going to be a lot more focused and streamlined. The ideas have gelled now.
When can we expect the relaunch?
I can't say. I don't have a time right now. I'm looking for a key person to help, because I can't run it myself.
Any plans to design a collection for women? Fingers crossed!
I can't tell you. Just stay tuned though!
Anything in the works when it comes to your music and movies?
Musical I can't say a lot. I do have things going on, but it's so early for me to talk about them. I do have the Jimi Hendrix film coming out this summer. It was really fun doing that. I think people are going to be really surprised and learn something from it. It's not going to be just recreating Hendrix's YouTube moments, it's really a true story. And you'll learn stuff about Hendrix that you didn't know.
Check out Andre at the eMO'gency Styler Tour stop in NYC in the slideshow below--and learn more about Movember here.
PHOTO GALLERY
Andre 3000 At Gillette's eMO'gency Styler Tour
REAL LIFE. REAL NEWS. REAL VOICES.
Help us tell more of the stories that matter from voices that too often remain unheard.
BEFORE YOU GO