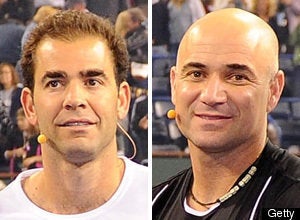 Eight tennis players competed Saturday night in the "Hit for Haiti" charity event, which raised $1 million for the American Red Cross Haiti fund following the Caribbean nation's devastating earthquake. The evening featured a doubles match that pitted Pete Sampras and Roger Federer against Rafael Nadal and Andre Agassi. But even though the goal was to raise money for charity, the two older stars managed to create an awkward environment for many viewers.
According to FanHouse, Agassi "gave running sarcastic commentary the whole night," but Sampras soon escalated the situation by mimicking Agassi's style of walking.
Agassi then poked fun at what he has claimed is Sampras' habit of tipping minimally. Emptying his pockets, Agassi said, "I don't have any money.... No, no wait. I got a dollar." Greg Couch at FanHouse notes that in his book, Agassi "wrote that he and Sampras were in the same restaurant once, and when Sampras left, Agassi got the valet to confide to him that Sampras had tipped him just one buck."
Sampras apparently did not appreciate the comments, as he fired the ensuing serve right at Agassi.
In his 2009 autobiography, Agassi called Sampras "more robotic than" a parrot. Sampras said the remarks were "disappointing." But it was Sampras who got the last laugh on Saturday. Federer and Sampras ended up winning the match, and the two feuding stars hugged at the net. Scroll down to watch Saturday night's exchange.
Calling all HuffPost superfans!
Sign up for membership to become a founding member and help shape HuffPost's next chapter