Last week Andre Landeros Michel debuted his second collection, entitled Version II, during New York Fashion Week.
The New York-based designer founded his label LANDEROS NEW YORK in 2013 and since then has been churning out his "dark, romantic and gender neutral" clothing, as he describes it, which is inspired by the goth, punk, new wave and industrial music of his youth.
The Huffington Post caught up with Michel after his NYFW presentation to chat about his stunning new collection, why he's committed to the idea of genderless clothing and more.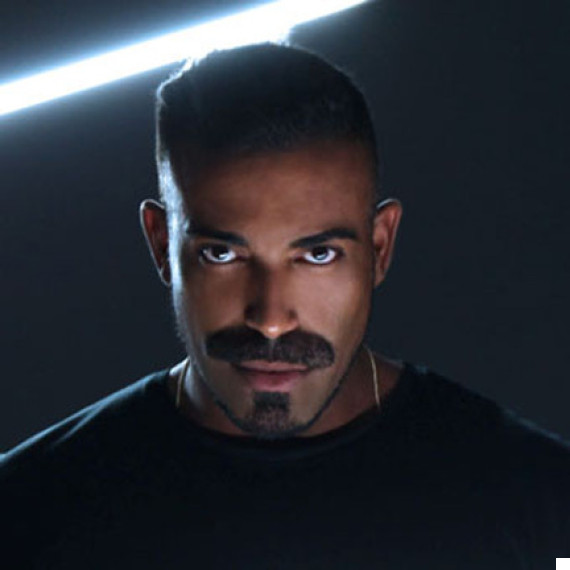 (Andre Landeros Michel)
The Huffington Post: I'm often surprised by what influences your work -- and how those influences manifest themselves in your collections. Tell me what inspired your newest collection that you just showed at New York Fashion Week.
Andre Landeros Michel: Each collection starts with the music. I immerse myself for weeks at a time in the music of my youth. Bands like Scritti Politti, Arcadia, Propaganda, Cabaret Voltaire all help to inform my design process. I spent countless hours as a kid watching their music videos and reading everything I could get my hands on at the time especially magazines like Smash Hits and NME New Musical Express. Like a sponge, I absorbed all the fan knowledge I could and stored it up until now. Then I just connected the dots. The album artwork for the band Arcadia, Duran Duran's side project, had been created by the notorious fashion illustrator Tony Viramontes. His extreme contours, fluid brush strokes, strong women and softer men have had a huge impact on my work to this day.
Other references in the collection come from various sources: The sci-fi animated cult classic "Fantastic Planet," (La Planète Sauvage) by René Laloux; the art of famed artist Dan Flavin; the works of contemporary dance choreographers Michael Clark and William Forsythe; Japanese traditional clothing; and a metal dress form on the album artwork of '80s band Propaganda.
My LANDEROS NEW YORK Fall 2015 collection, titled Version II, pays homage to the '80s band Scritti Politti, whose alternate versions of tracks were simply referred to as 'Version,' hence "Version II" -- my second NYFW presentation.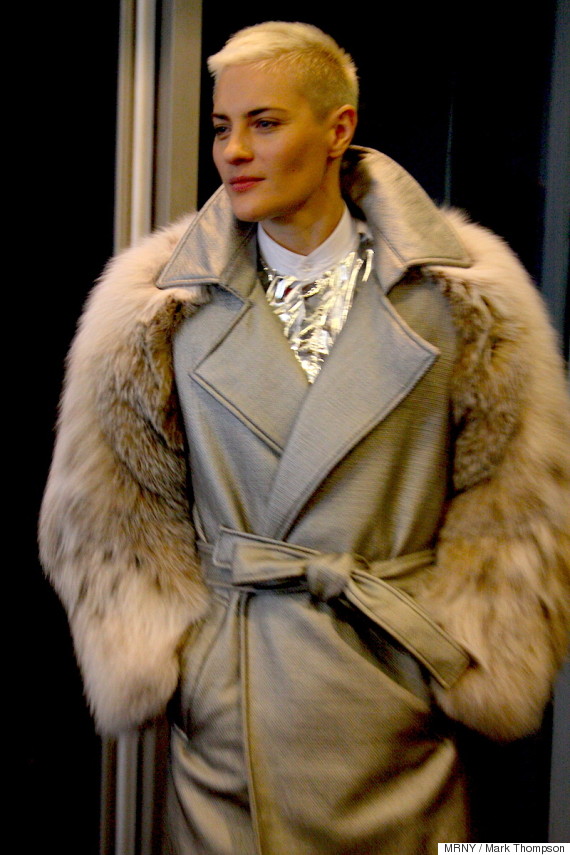 The clothes are referred to as "genderless." Talk to me about that. Is there a political foundation to that decision?
Initially I started out creating clothes for men. However, I quickly realized the need to expand my reach to accommodate smaller sizes. Designing for a specific gender to me felt a bit antiquated especially given my penchant for blurring the lines between the two. I've never differentiated before, so why start now?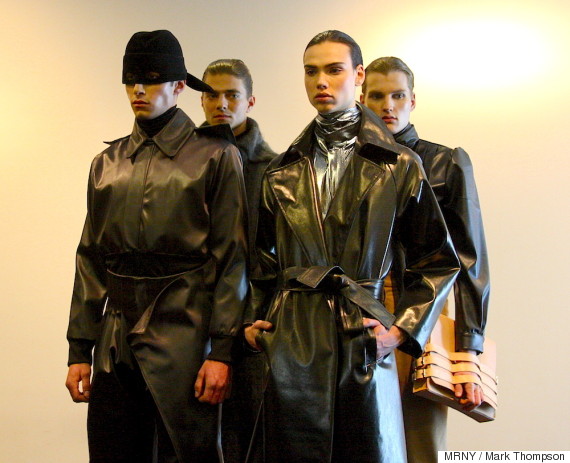 It seems that the idea of "genderless" or unisex clothing is catching on -- Selfridges in the UK is now only selling gender neutral clothing and other designers have talked about moving in that direction. Do you think genderless clothing will be the norm in the future?
I would like to think so. For my brand LANDEROS NEW YORK, from a design and production vantage point, it makes total sense. From a sales perspective I hope ultimately the customer will be able to educate the retailer about their wardrobe needs, instead of a preassigned sales approach based on sex.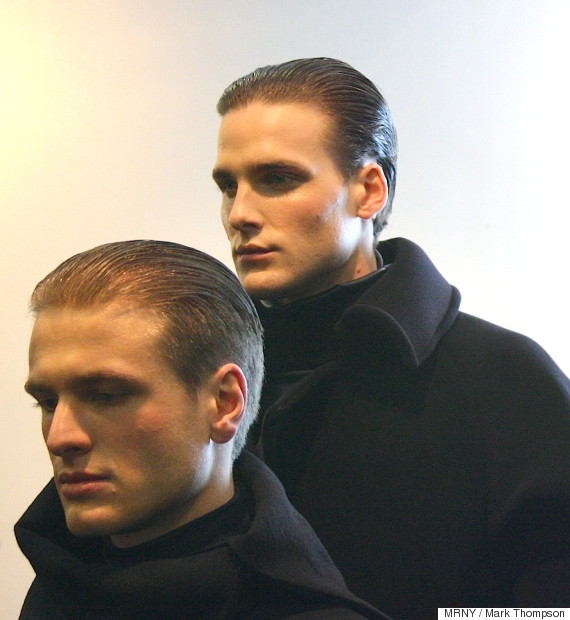 Do you consider yourself a queer designer? How does (or doesn't) your sexuality inform your work?
Above all else, I consider myself an outsider. Growing up on Long Island listening to New Wave radio station 92.7 WLIR/WDRE featuring punk, goth and industrial music and being an active member in those subcultures labeled me an outsider. I gravitated towards the misfits, punks, goths and club kids who wholeheartedly embraced the LGBT community. During my club kid years I was fortunate to experience the glamour and excess of New York underground nightlife and soon realized for myself it was a non-issue.

Who are you making clothes for? Who is your customer?
For a confident person who loves luxe fabrics and non-traditional materials combined in an unexpected manner.

What's up next for you?
Hopefully more artist collaborations! I've had the pleasure of collaborating with the swedish design duo MURKY Mike Årsjö and Emelica Lidman on neck collar pieces using recycled silver for my fall 2015 collection. I throughly enjoyed the collaborative process and hope to continue with them and other artists with a similar aesthetic.
Check out a slideshow of images from the LANDEROS NEW YORK Fall 2015 collection below. For more from Andre Landeros Michel, visit his official website. Also make sure to check the label out on Instagram and Facebook.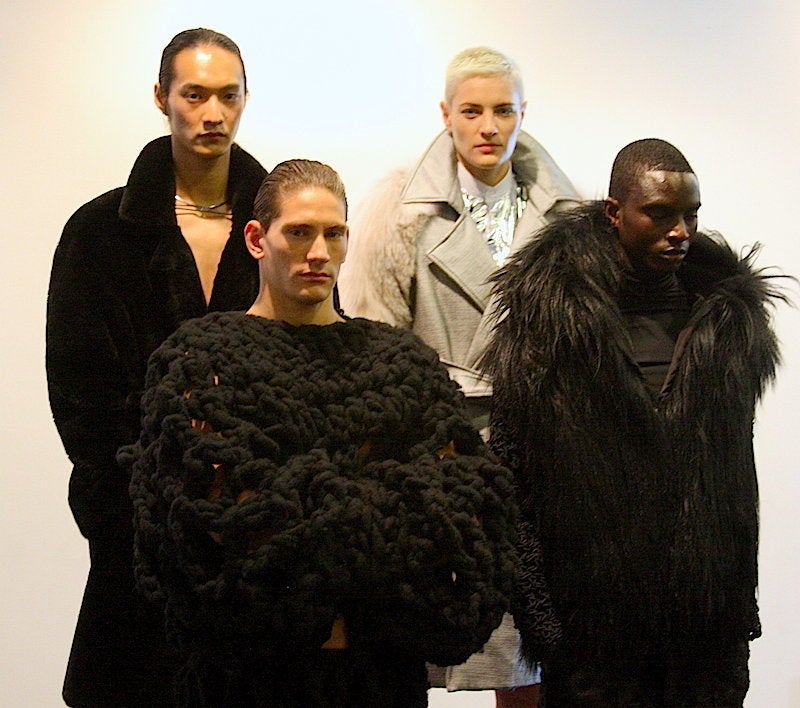 LANDEROS NEW YORK Fall 2015
Popular in the Community