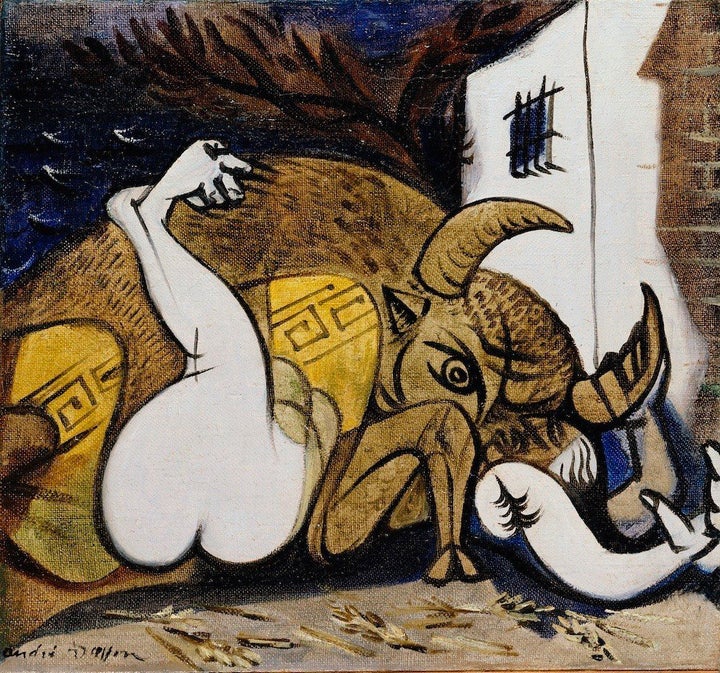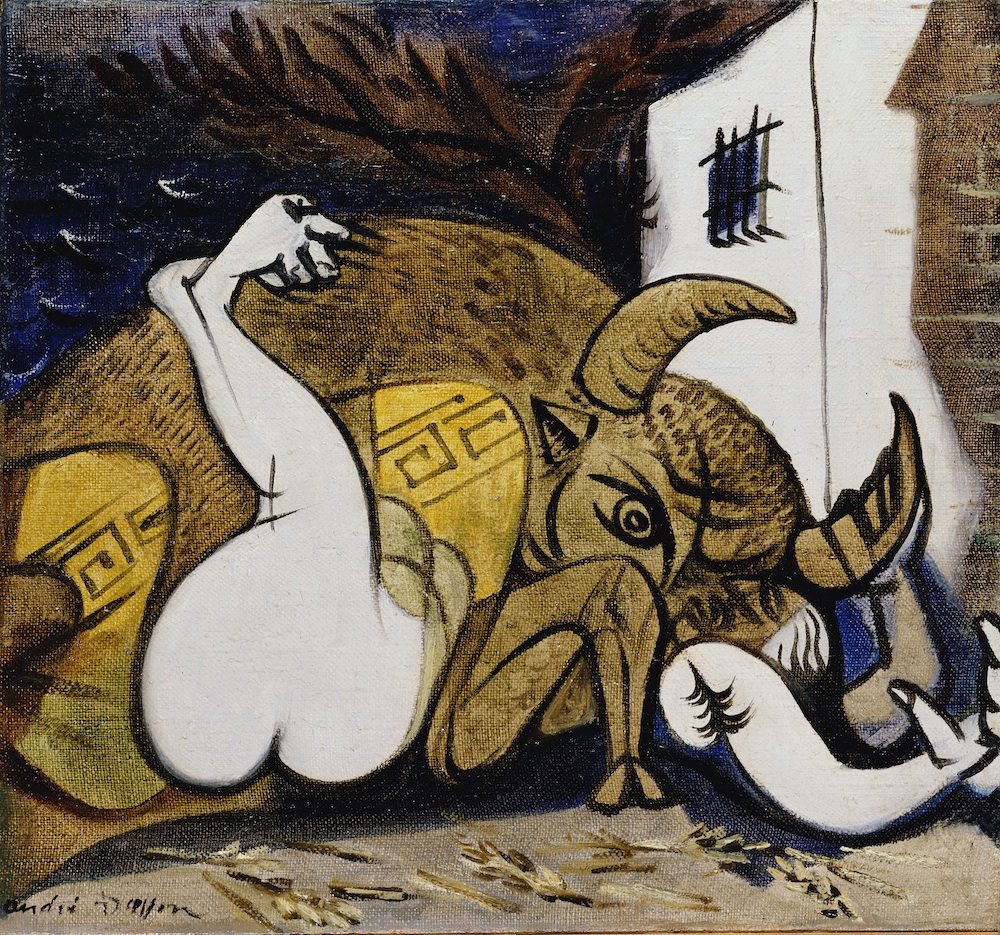 André Masson, "Pasiphaé" (1937), signed (lower left), oil on canvas, 37.5 cm by 40 cm (14-3/4 in. by 15-3/4 in.), (C) 2012 Artists Rights Society (ARS), New York / ADAGP, Paris, courtesy Blain Di Donna
In 1976 the Museum of Modern Art took a chance: They decided they would give André Masson a major, career-spanning retrospective. It was a chance because Masson, then 80 years old, was never quite as celebrated as his Surrealist peers; he had his loyal supporters, but his work seemed to typically evoke rigorous criticism or, even worse, total indifference. Reviewing the show for The New York Times, John Russell wrote, "The problem is simply that Masson has made a lot of bad paintings in his lifetime." Russell's review, "Masson the Misjudged," turned out to be one of the most fair-minded articles on the show and argued that MoMA's decision was, in fact, worth it, even if Masson remained a painter prone to both hits and misses.
Blain Di Donna's "The Mythology of Desire: Masterworks from 1925-1945" is being billed as the largest solo show of Masson's work since the MoMA retrospective. It's less than half the size but covers about a third of his career, so, all told, it is a sizable look at Masson's development. Calling them "masterworks" is a stretch, especially given the critical terrain, but some of his most well-traveled paintings are here: 1937's "Pasiphaé" and 1939's "Portrait d'Heinrich Von Kleist" among them, along with many others making their U.S. debut.
A grace of "The Mythology of Desire" is how professionally everything has been done, from the curation, which is thoughtful and elegant, to the catalog, with an essay by the Surrealist scholar and biographer Mary Ann Caws. The show essentially moves in reverse chronological order, beginning with Masson's Surrealist paintings from the '30s and early '40s and making its way to a series of pared-down works and, finally, to some of his earliest paintings. Those early efforts might be the most intriguing examples of all. Two of them, "Les corbeaux" and "Sentier sous-bois," are oddly reminiscent of Charles Burchfield and were part of Masson's very first solo exhibition in 1924. (The convenient span of the Blain Di Donna show, "1925-1945," is slightly inaccurate, as the earliest work is from 1922.) Masson did what every young artist does: He emulated his peers and idols while slowly discovering his own artistic identity. And as with any artist of the time, young or old, Masson's eye was clearly on Mr. Pablo Picasso, who remained an influence throughout the painter's career.
The heart of the show, taking up the entire first gallery and half of the second, focuses on Masson's Surrealist paintings. While some have been hesitant to label Masson a "true" Surrealist, the traits are all there, from the mutant and hybrid forms to the detailed iconography, from the fixation on women and sex to the interiors and landscapes ajar with the unexpected or uncanny. These paintings from the 1930s and '40s resound with the influence of Miró, Dali, and de Chirico, and a handful are Masson's hits: "Pasiphaé," "Métamorphoses," and "L'histoire de Thésée." They are drastically different in style, but all three are good displays of Masson's elusive talent.
If they were joined by an equally engaging group of paintings, "The Mythology of Desire" would have been a show I thoroughly enjoyed. Whether a stronger, more consistent grouping of Masson's work from the period was possible, I can't say. In the paintings that are on view, Masson's eye and taste is not always easy to trust; his style darted from mode to mode, his colors could clash, and probably his most famous contribution, his "sand paintings," where "sand was strewn over patches of glue flung quickly onto the canvas," are represented here by three examples that don't quite land. True to its title, "The Mythology of Desire" shows Masson wrestling with the subject of femininity and desire, sometimes metaphorically and sometimes explicitly -- take 1939's "L'homme emblématique" as an example of the latter. Not the most sensitive rendering.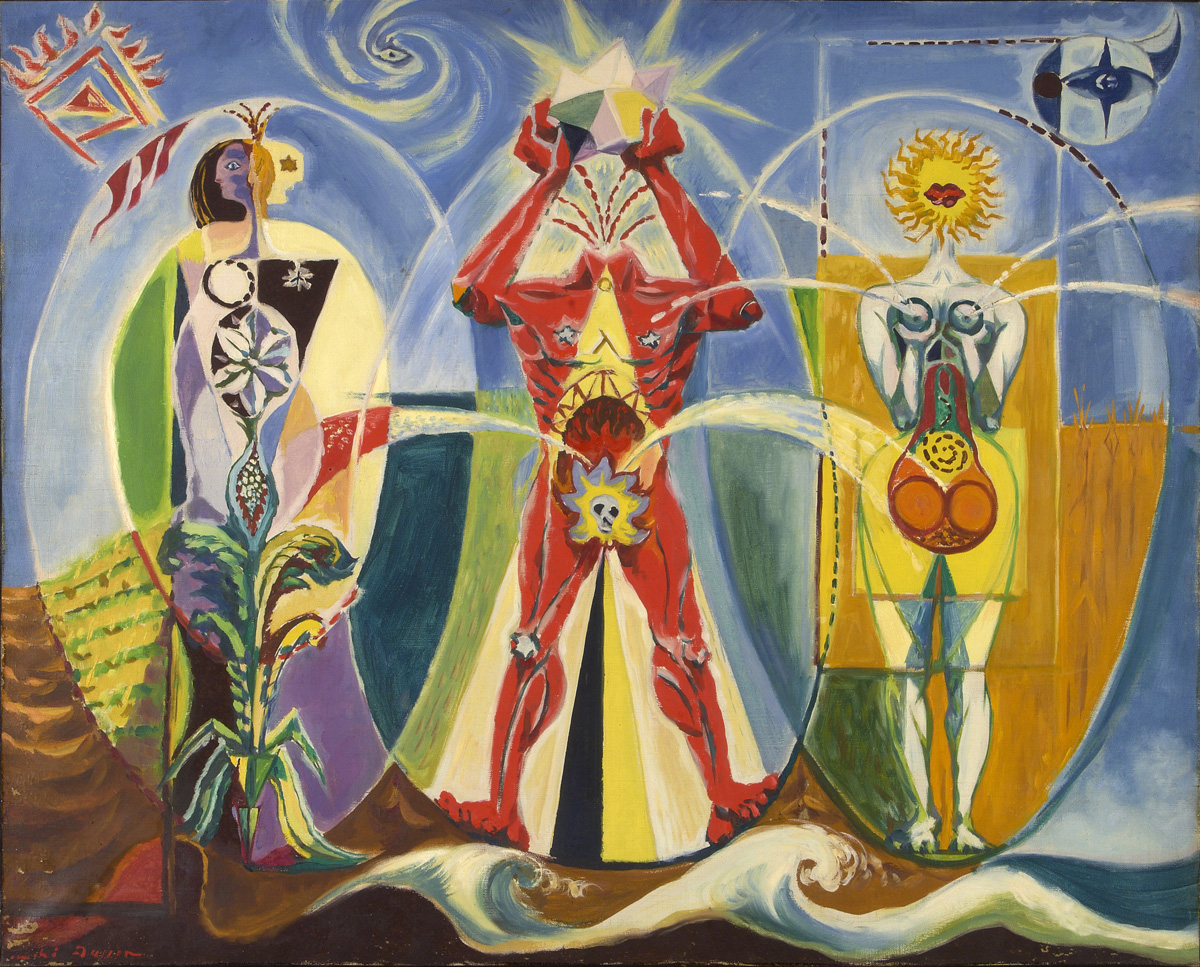 André Masson, "L'homme emblématique" (1939), signed (lower left), oil on canvas, 65 cm by 81 cm (25-5/8 in. by 31-7/8 in.), (C) 2012 Artists Rights Society (ARS), New York / ADAGP, Paris, courtesy Blain Di Donna
It's funny how much truth there is in John Russell's quotation from 36 years ago; André Masson produced good paintings -- you might find more than I did -- but he also made some bad ones. Neither a footnote nor a chapter in the history of modern art, Masson's career will probably always ignite a conversation worth having and a show worth putting up. And wherever you fall, in "The Mythology of Desire: Masterworks from 1925-1945" there's fuel enough for both camps, his detractors and his supporters, and fuel still for those in between.