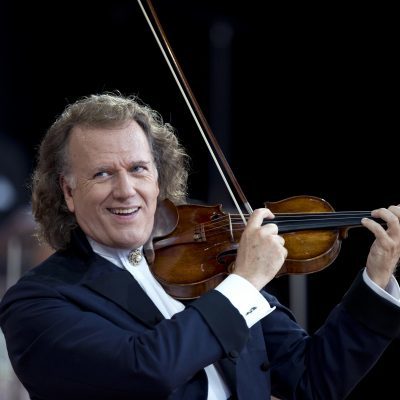 The Dutch-born violinist and conductor has become the biggest-selling classical musician in the world. He has sold 40 million records and CDs, performed live before 15 million ecstatic concertgoers and his 2014 World Tour outgrossed such superstars as Metallica, Ed Sheeran, Rod Stewart and Beyoncé. His latest album: "Shall We Dance."
Why do you think your music has caught on with so many people worldwide? Because we play with our hearts. And I love to communicate with people, I talk to them, I want them to feel at ease during my concerts. I love to entertain them and give them an evening they and we will never forget.
Do you change the format of your shows to fit the country you are in? Yes, I add some local tunes to the program. In the U.S. we will play some great American classics, of course.
I notice that you are very relaxed on stage and even banter with the orchestra and sometimes the guest singers. A little showbiz never hurts, right? I am not a fan of the word "showbiz." I love to entertain, but we do not put on a show like you see on Broadway with 20 girls looking exactly the same. Everything we do on stage is real and comes from our heart. There's no cheap apple juice in my shows. When you see that people on stage are supposedly drinking Champagne, it really is Champagne. There is nothing fake about our concerts.
Has there been one consistent theme with all your performances--is there a selection of music that you play everywhere? We play more or less the same program wherever we go for one year. Then it changes. But I always play Johann Strauss's waltz "By the Beautiful Blue Danube." It is my favorite piece of music.
You once said that "I'm living my dream. I'm not a hit artist. This is my life." Give us an idea of what your life on the road is like. My orchestra and I travel together by plane or bus and arrive at the venue in the afternoon. Then I will do the soundcheck, have dinner and then take a nap before going on stage refreshed for a three-hour concert. After the concert we all sit together and have a glass of wine. There's so much adrenaline, none of us can go to bed right away.
I know that a personal trainer travels with you, but are there other things that are part of your daily routine when traveling? I do a lot of sports and eat healthy. We also have a team of three cooks that prepare delicious meals throughout the day for the crew, the orchestra and me. I love to spoil the people who work for me.
Is there a personal ritual you do for good luck just before a performance? There's no special ritual except that I tune the instruments with all my musicians separately before the concert. After dinner, before I take a nap, then I call my wife Marjorie.
I hear you travel with a favorite red couch. True? I have four red couches. In Germany I once slept on one, and it felt like I was sleeping in my own bed. So, I bought it. Then I had four copies made. I want that feeling before a concert of being in my own bed.
You have a massive show with a 60-piece orchestra and huge, beautiful sets. How do you get all your equipment, props, etc. from one place to another? I have four different sets. For example, the set in Mexico will go straight to Florida. The set in Chile will go to Phoenix. They all go by truck or ship. That way we can do a flip-flop. We can always play. There is no excuse of "We cannot play because the truck was too slow." Everything you see in a performance we brought with us. In the U.S we will travel with nine trucks. The set will always be there.
Will there ever come a time when you hand the baton over to someone else? Who would it be? No. The brand is "André Rieu." I am involved in every process whether it concerns the program, the costumes or the staging. And my fans expect me to be there.
REAL LIFE. REAL NEWS. REAL VOICES.
Help us tell more of the stories that matter from voices that too often remain unheard.
This post was published on the now-closed HuffPost Contributor platform. Contributors control their own work and posted freely to our site. If you need to flag this entry as abusive,
send us an email
.