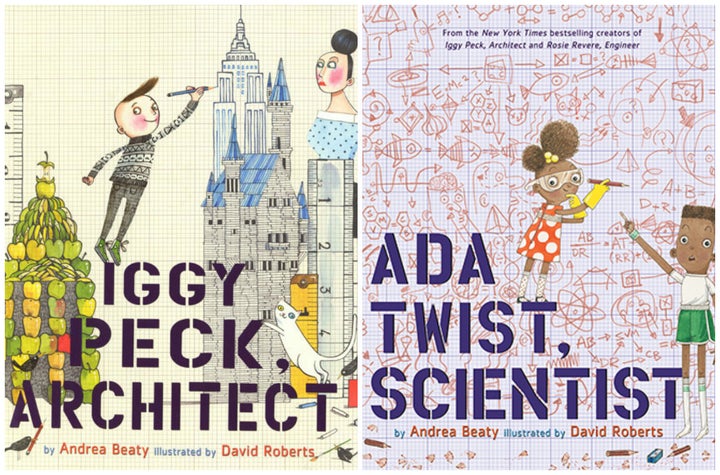 New York Times best-selling author Andrea Beaty stumbled into writing children's books by accident, she says. But you'd never know from her quippy, engaging style and her success in the literary world.
Beaty is the mind behind a variety of kids' books, and is perhaps best-known for her series about bright students in Miss Lila Greer's second-grade class. The books in this series ― Iggy Peck, Architect, Rosie Revere, Engineer, and Ada Twist, Scientist ― encourage kids to follow their curiosity and pursue their passions, even if there are obstacles, including the adults in their lives. The books are illustrated by David Roberts, whom Beaty calls a "straight-up genius."
Beaty studied biology and computer science in school, and when she later worked in tech support for a company, she was in charge of a newsletter. Surprisingly, the skills she acquired doing that prepared her for the children's literary world.
"It was remarkable training ― taking big ideas and making them clear and hopefully making them entertaining, getting to the point quickly," she told HuffPost. "I had no clue I wanted to write for kids, or at all, until I had kids of my own, and I started reading picture books and I fell in love with that art form."
Beaty describes herself as a person who's always enjoyed and felt comfortable exploring new ideas, just like many of her characters. She credits her childhood in the countryside, where she remembers her and her siblings' imaginations could "run wild."
"I was a kid being raised in a very large family ― six kids in the country before there was the internet, before there was actual TV you could watch any time," she said.
Now she boosts a new generation's imaginations through her books. At signings, she asks her young fans, "What do you love to do? What do you make?" Beaty told HuffPost, "Every kid has something."
"Sometimes it'll be as specific as, 'I draw pictures with a red crayon ― never blue, never orange, never yellow, red,'" she said. "Only red and only cats. Those kids are fantastic."
Beaty also offers a lovely lesson that kids should learn more about the ideas that interest them because "you don't know where they'll take you."
"Every step of that path, you're going to pick up some tool to put in your toolkit and eventually there will come a time in your life where you are the one person who has exactly the right toolkit to do something," she told HuffPost. "And for me, it happened to be writing these books."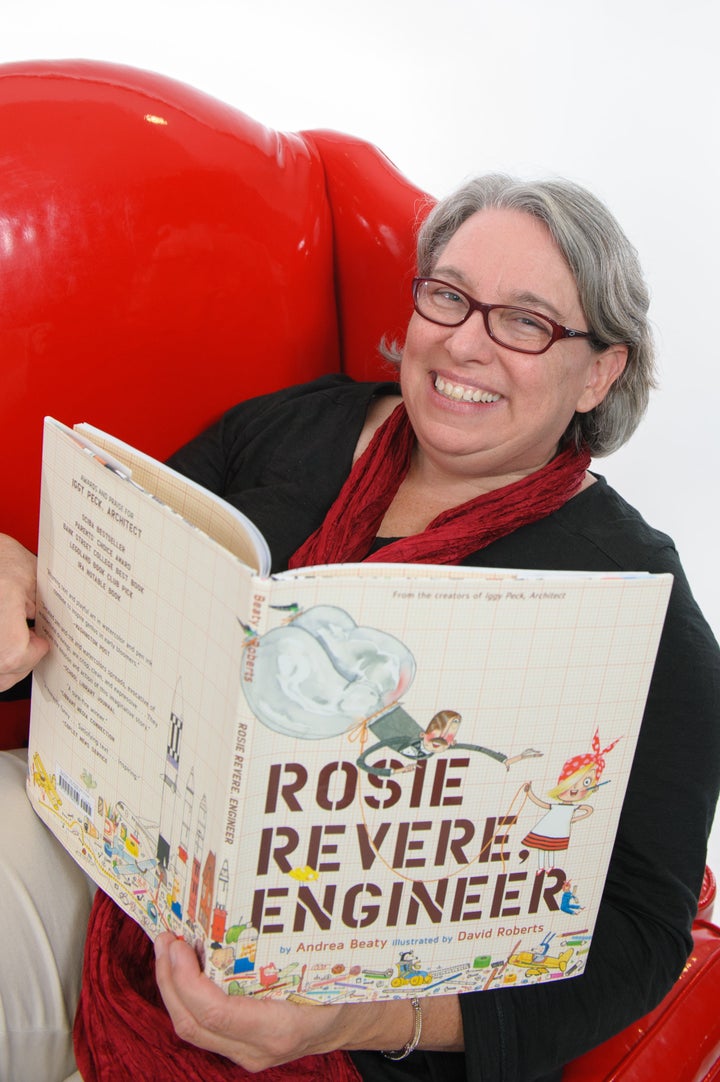 Storytime is a great time to share these lessons of perseverance and inquisitiveness, but how can caregivers (parents, grandparents, aunts, uncles, teachers) foster this sense of imagination and exploration outside of reading? Beaty said it's important for kids to have access to books and to see the adults in their life reading. The author also encouraged parents to get kids out of their everyday bubbles and to simply listen.
"Go to garden centers, go to hardware stores or thrift shops, go to botanical gardens or walk in the forest," she said. "Expose your kid to things they've maybe not seen before, and then just kind of follow their lead. They'll show you."
Beaty knows that taking on the thousands of questions kids seem to ask can be overwhelming for many parents who maybe are just trying to get dinner on the table. STEM topics and questions about science, technology, engineering and math can especially be difficult for parents who have no experience in the subjects ― but taking the time to listen, to write down the question and then to follow through with finding an answer can be a learning experience for both children and adults. As the author put it, "Celebrate the question."
"Now we have two scientists out there exploring the world. What could be better than that? And what could be more empowering for a kid than to know that they are driving the conversation and their adult is coming along with them?" she asked. "That's suddenly a shared journey."
When asked what she was working on next, Beaty said she couldn't reveal much. She did, however, share that a story about another student in Miss Lila Greer's class is on the way.
"Iggy is about passion, and his passion happens to be architecture," she said. "Rosie is about perseverance, Ada is about curiosity, and the next one is about bravery."
As always, it'll be written for any kid with a dream, a passion, or simply a knack for exploring.
"People will say Iggy Peck is a 'boy book,' but that's not true," she said. "They're all just kids' books."
For more information on Beaty, head to her site, which also includes free resources to download to encourage kids in their explorations.