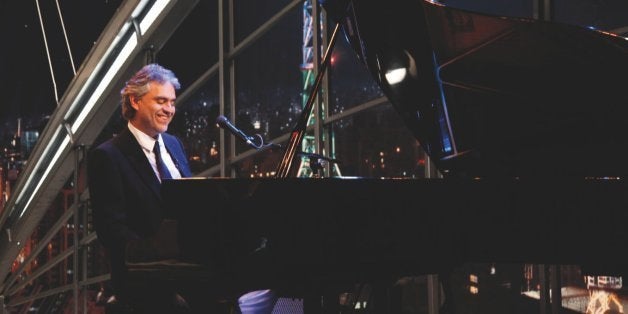 It's not uncommon for folks at the top of their fields to take up teaching at universities, the sight of their names widening the eyes of eager undergraduates scanning the term's available courses. It is, however, almost curious when an expert such as Andrea Bocelli signs up for coursework himself.
But that's precisely what the 55-year-old opera singer did. This October, Bocelli -- one of only a handful of opera singers known to pop audiences -- completed a master's degree with top honors in vocal performance from The Conservatory of Music, Giacomo Puccini in La Spezia, Italy. The tenor sought the wisdom of peers like Plácido Domingo as he worked his way through the university, where he was joined by his own son (the latter completing courses on piano). The journey ended when Bocelli presented his thesis, titled "The Value and Meaning of Opera Singing at the Beginning of the Third Millennium."
Ahead of Bocelli's Dec. 11 performance at the Barclays Center (where he'll perform in support of "Love in Portofino," his new CD/DVD compilation that includes his legendary performance in that Italian village), we traded emails with the opera star about what it was like to return to school and how he plans to incorporate his furthered understanding of his craft into his performances. Our inquiries and his replies (translated by the singer's team) are available below.
How does this particular tour mark an evolution for you as an artist?
The feeling of an evolution is a constant for every artist who is pursuing the search of refinement and enlargement of his/her own means of expression. Personally I can say that this professional period - that is surely reflected in the content of my tour – is for me a stimulating and positive time of growth….With maturity I think I have acquired from the interpretative point of view as well as from the technical one too, a certain solidity which allows me a three hundred and sixty degrees freedom also from the point of view of the repertoire addressed. The lineup of this tour is really demanding it requires a constant commitment and continuous "jumping through the hoops" as far as the voice is concerned. The part dedicated to the operatic repertoire is very wide, though ranging from Donizetti to Puccini, from Meyerbeer to Gounod, the concert will focus on Giuseppe Verdi, a composer (whose birth bicentenary we are celebrating this year) who, like nobody else, has been able to tell in music human passions, through timeless works like "Rigoletto," "Il trovatore and many others. There will also be famous popular romanzas and songs from my most recent recordings and also sacred pages related to the upcoming Christmas season. In short we will have the possibility to exchange wishes through music.
What was the reception of the university when you first said that you were interested in going back to school? Were they surprised?
If there was any wonder about it, it faded away at the time when they were able to see the honesty and the seriousness of my intention. To get back to school at my no longer young age has been an interesting and challenging bet. A quarter of a century since I graduated in law, I wanted to face from another point of view the issues that have, anyway, marked my professional life. Besides I have had the pleasure and the privilege to be for some time the school mate of my son Amos (he is studying piano at the same conservatory) and to show him through the example, the importance of learning and the willingness to learn always, in every season of life, with the necessary humility.
Did spending time thinking strictly academically about performing and music enrich your understanding of your craft?
It is unlikely that an academic study has an immediate impact on professional life. The adventure of graduating has anyway enriched my knowledge: I have been able to deepen topics that - after twenty years of career – I perceive as fundamental. In preparing my thesis I have had the pleasure of collecting testimonies from colleagues such as Plácido Domingo but also from singing teachers and musicologists. The entire course of study has confirmed what I already thought, that the value and meaning of opera singing, at the beginning of the third millennium, remain intact. In fact they have acquired further and wider characteristics, because in front of the predominant risk of giving way to superficiality in every field of expression, opera singing is able to deal with such a drift: it is a form of art that uplifts the spirit and allows expressing the inexpressible. Opera singing is in every way of inestimable value; a real heritage for all mankind that has been reached over centuries of studies, attempts, flights of the spirit.
Was it difficult to translate some of your academic studies and/or realizations into a cohesive performance?
Every meeting, every reading, every meditation, everything contributes to change us and it is inevitably reflected in the final product, at the time when the interpreter expresses her/himself. I often stress how the reading of the texts of some philosophers has had an influence on me, thus contributing to my specificity as an interpreter. My recent studies have forced me to face, once again, among other things, the classic texts of the belcanto technique, which I have approached with a more mature and aware attitude if compared to the way I had read them when I was young. What is certain is that singing is not merely modulating a song by means of the voice: we sing and we celebrate the beauty that we can grow and live every day. If you want to sing and give emotions to those who are listening, you must have something to tell through your singing, you have to use singing like an instrument to tell something. This something is the sum of experience, of studies, of your deepening; it is the richness that you acquire through living. To sing well you must have many passions, you must learn how to develop a passion for life.
You're arguably the most famous touring classical singer -- do you feel a certain sense of responsibility in that way?
I feel a strong responsibility, every time I sing the immortal pages of the great composers, and it is very difficult that I am one hundred per cent satisfied with my performance. The anxiety, the tension that invariably accompany me when I get on stage are mitigated by the awareness of having done all that was possible, with seriousness and consciousness, to face in the best way the masterpieces of Opera. I hope I have made known to a wide and diverse public a repertoire that remains my favorite. Having helped, I hope, in the past years, to bring a breath of fresh air in the Opera world which was going to forget its own popular vocation.
At this point in your career, are there any moments that stand out as accomplishments you're most proud of?
There are some concerts like the night in Central Park or the one –more recent – In Portofino that for a series of happy circumstances have been qualitatively very lucky. But what I am most proud of is not related to my work as a singer: my voice is a gift I have received and of which I have no merit at all, even if I have tried to honor, as much as possible, this talent doing my best. Instead I am most proud of my children to whom I have tried to convey the values in which I believe and that I pursue in my daily life. I am also very proud of my philanthropic dream that for the past two years has been a very active reality…I am referring to the "Andrea Bocelli Foundation", a tangible demonstration of a concept dear to me: I think that the greatest demonstration on the part of people of good will is consistency; it is a behavior in line with principles. What matters is the example; concrete actions that defeat declarations of intent. The world belongs to those who do and not to those who speak.
Like any successful artist, there have been times where critics have written unfavorable things about your previous work. Are there any criticisms that you better understood or even came to terms with as a result of your study break? Has there been any criticism that you have read that you felt was fair?
Constructive criticism is essential for an artist. For my part I always try to be as conscientious as possible in my artistic choices, as well as in the discipline that my profession requires. When a critic is constructive, I pick it with gratitude. I myself am the fiercest critic of my performances and I always try to learn something from imperfections. During these years I have always been ready to welcome new suggestions from reviewers but also from my colleagues. I have a debt of gratitude, in this sense, with the late, great tenor Luciano Pavarotti, a great friend too, who gave me extremely valuable advice.
What's coming next?
My concert agenda is full of commitments which are already timing the upcoming years. Besides on the pop side we are evaluating new songs, while on the operatic one I have planned the recording of "Manon Lescaut" by Puccini. I try not to think too much about future commitments and to deal with one thing at a time, trying to give importance and intensity to every day and to every meeting. I must say that to spend so much time away from home, from one continent to the other is always very tiring for me, but the enthusiastic way I am welcomed, particularly in the United States (my second country, where every time I come back I "feel at home") pays me back and motivates me to go on.
REAL LIFE. REAL NEWS. REAL VOICES.
Help us tell more of the stories that matter from voices that too often remain unheard.