A blurb by Tina Fey on the cover of the 2015 paperback edition of the hilarious autobiographical book Andrea Martin's Lady Parts reads: " I have loved Andrea Martin from afar for many years, but now, after reading this funny and heroically honest book, I would like to take things to the 'next level' and marry her. " Well move over Tina Fey, you may have to fight me for her hand in marriage.
I have admired Martin for years, since her SCTV days when she did side-splitting imitations of Liza Minelli swallowing a fly, Bette Middler at the Continental Baths playing the piano with her chest and bum; and her trademark character Edith Prickley with her leopard skin hat and unforgettable signature laughter: paahaa! As Aunt Voula in My Big Fat Greek Wedding unsuccessfully trying to pronounce the word biopsy ("be-bop-bop-bopsy"), she almost had me peeing in pants... Martin won her second TONY Award for Best Featured Actress in a Musical for her role as Berthe in the 2013 Broadway version of Pippin. If you missed this particular production of the Stephen Schwartz musical, Pippin joins the circus and so does Martin, actually flying on a trapeze at one point. She is goddamned fearless.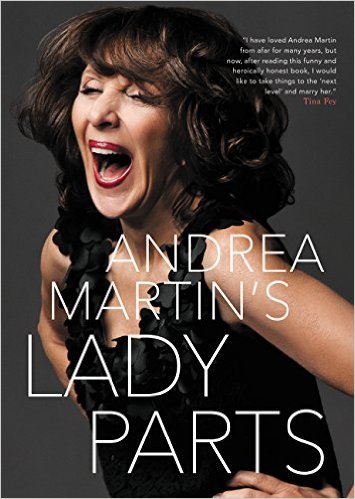 That she is also funny, offbeat and beautiful with her large brown eyes and dark Middle Eastern features, I have always known. But what shines through most in Andrea Martin's Lady Parts is her wonderful warmth and humanity. Whether discussing her difficult relationship with her father, or caring for her roommate and best friend who passed of AIDS, or her childhood friend whom cancer took several years ago, Martin cares deeply about other people, and it is precisely this empathy which helps to make her such a great comedienne. You can't be a truly great performer if you don't like people. While she cops to being solipsistic and neurotic, she is actually self-confident and generous to a fault.

Martin was born in Portland, Maine to an Armenian family from Van--her grandparents had survived the Armenian Genocide of 1915. She studied acting at Emerson College and joined SCTV in 1976 after playing Lucy on a touring company of You're Good Man Charlie Brown and starring in a few minor horror films. Steve Martin, one learns reading Lady Parts, suggested at a dinner that she call her book "Perky Tits" because of her, well...perky tits. Her editor thankfully put the kibosh on that colorful if questionable title. An example of Martin's humor and compassion in her chapter "Crazy": "I am no expert on mental illness, and yet I could be, I've been called "crazy" so many times in my life. Not the Sinead O'Connor shaved-head scary kind of crazy, but the charming, spontaneous, unpredictable cute kind of crazy. Think Diane Keaton or Goldie Hawn. ...I have managed my disorders successfully over the years with exercise, therapy, family, close friends, children, a career and humour...but for millions of people who suffer from mental illness, the prognosis is less kind. ..We lack true compassion and insight. We turn away and go about our business, hoping we don't come into contact with someone who looks crazy."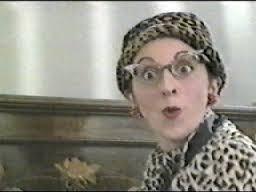 I don't usually read celebrity bios--they tend to dwell on boring industry details or to airbrush over the truly interesting details in the artist's life. "A pack of damned lies!" my best friend from USC film school would scream. There are no lies here: just honest reflection and heartfelt truth. Even if you don't know Martin well as an actress you'll enjoy this flowing account of one of our best actress's colorful life. And if you don't know Martin (What's wrong with you, get with the program!), just search her YouTube skits or why not, buy all seven seasons of SCTV--Martin Short, Gilda Radner, John Candy and other stellar performers all started off there as well--and enjoy. As they say in Armenian, gnadsset! To life! To Andrea!
You can buy Andrea Martin's Lady Parts, HarperCollins Canada, 2015: http://www.amazon.com/Lady-Parts-Andrea-Martin/dp/0062387286
Calling all HuffPost superfans!
Sign up for membership to become a founding member and help shape HuffPost's next chapter