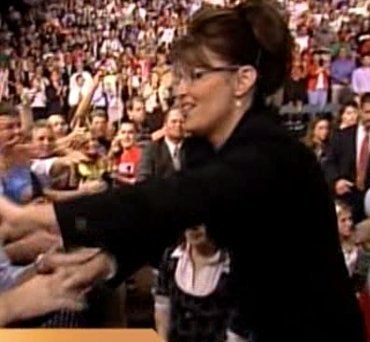 On MSNBC this evening Andrea Mitchell reported on how minimal John McCain's interactions with his choice for vice president, Sarah Palin, have been. According to Mitchell, McCain only met Palin once.
Politico has more on the short history of their encounters:
John McCain on Friday announced a running mate whom he met only six months ago and with whom he spoke just once on the phone about the position before offering it in person earlier this week.

McCain's first encounter with Sarah Palin came at a Washington meeting of the National Governors Association in February, according to a campaign-provided reconstruction of how the little-known Alaska governor was thrust into the national spotlight. The two discussed the position by phone on Sunday before McCain invited Palin and her husband to Arizona to formally make the offer. McCain, joined by his wife, Cindy, did just that Thursday morning at their home near Sedona, Ariz.
And as Think Progress is reporting, McCain Campaign spokesperson Nancy Pfotenhauer appeared on Fox News earlier today and was asked how well McCain knew Palin. Her answer to host Bill Hemmer:
You're running flat into the wall of my ignorance here, Bill. I truly have no indication whatsoever the extent of a relationship that exists with the Governor of Alaska.
Popular in the Community