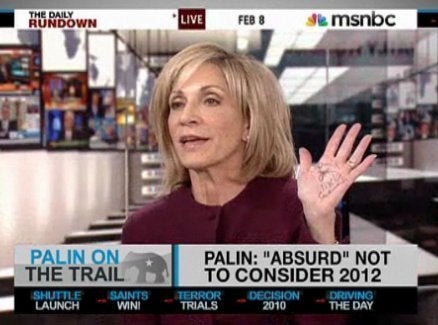 Andrea Mitchell mocked Sarah Palin on MSNBC's "Daily Rundown" Monday morning by appearing on-air with notes written on her hand.
Palin was caught over the weekend reading notes off her hand at the Tea Party Convention in Nashville.
Mitchell said that was "one of the most interesting things" from Palin's appearance over the weekend, and showed off the notes scribbled on the inside of her own hand.
"Daily Rundown" co-host Chuck Todd attempted to defend Palin, saying, "We've all done notes."
But Mitchell said that Palin's "cheat sheets" were damaging in that she had described President Obama as a "charismatic guy with a teleprompter."
"If Mitt Romney had notes on his hand, wouldn't we take it pretty seriously?" Mitchell asked Todd and co-host Savannah Guthrie.
"She does, sort of, get played... she has different rules," Todd stammered.
Support HuffPost
The Stakes Have Never Been Higher
Related
Popular in the Community