WASHINGTON -- Last fall, Chloe Drury believed her mother would save her. The British teenager had been diagnosed with Ewing's sarcoma, a kind of adolescent bone cancer. Her mother was trying to convince BioMarin, a Northern California pharmaceutical company, to let Drury into a clinical trial for a potentially life-saving drug.
But BioMarin refused. The company noted that Drury needed to be 18 to join the clinical trial and she was three months short of that milestone. "She just couldn't believe it," recalled Drury's mother, Debbie Binner, from her U.K. home. "I think she just thought I would sort it out. She thought she would get the drug and it would be sorted out. And it wasn't."
Drury had been relatively healthy when she first sought the BioMarin drug known as a PARP inhibitor, Binner said. But every day she went without treatment took its toll. The cancer gradually spread to her lungs. Drury became so weak that she had to be put on oxygen. When she turned 18 in January, BioMarin finally allowed her to receive the drug. But by then it was too late. She died two weeks after starting the medication.
BioMarin doesn't appear to have changed its policies since Drury's death. For the past month, American Andrea Sloan has been waging a similar battle via social media in a last-chance attempt to convince BioMarin to give her the PARP inhibitor in hopes that it will stave off her advancing ovarian cancer. While the drug is still in clinical trials, Sloan could potentially receive the drug under a "compassionate use" exemption -- a policy under which companies are allowed to dispense experimental drugs that have not yet been approved by the Food and Drug Administration. So far, BioMarin has rejected Sloan's pleas.
The Austin, Texas, lawyer and advocate for domestic violence victims has taken her campaign to Twitter, Facebook and YouTube. She has attracted dozens of politicians to her side, including former House Speaker Newt Gingrich (R-Ga.). A Change.org online petition now has close to 150,000 supporters.
"It makes me worry a little bit about whether the leadership at this company can be changed," Sloan told HuffPost. "If they aren't willing to throw [Drury] a lifeline, I'm not sure what would."
BioMarin, in a statement sent to HuffPost, wrote that it sympathized with Drury's parents. "The situation involving Ms. Drury was very different from that of Ms. Sloan," it said. "Ms. Drury entered our Phase 1 trial for BMN 673 for Ewings Sarcoma when she turned 18. Ms. Sloan is requesting to receive BMN 673 outside of a clinical trial. BioMarin is committed to doing what's in the best interest of patients with rare genetic diseases by delivering first-in-class or best-in-class therapies approved by the regulatory agencies as quickly as possible. Study protocols are agreed upon between the company and the regulatory agencies prior to a trial commencing, and the parameters are based on ensuring maximum patient safety."
In response to earlier queries about Sloan's case, the company had forwarded a statement saying it supports such compassionate use exemptions but more research needs to be done on the drug Sloan is seeking.
But the WSJ also reported:
The agency allows manufacturers to make their drugs available, but can't require them to do so, and some companies are reluctant to participate before their products have received marketing approval. The FDA says it has been working to win over more companies. It revised its regulations in 2009 to effectively open the program to a greater number of small drug manufacturers. Most companies that provide drugs for the program do so free of charge, but some seek to recoup their expenses, the FDA says. Health insurers generally don't reimburse patients for the cost of the drugs.
In another exchange, which was later sent to HuffPost, Bienaime compared Sloan's quest to that of people who lobbied for insurance companies to cover bone marrow transplants for women with breast cancer "before there was any clear evidence of clinical benefits" in clinical trials. "Ignorance kills," he wrote. "Please inform yourself before insulting people you do not know about topics you know nothing about."
Bienaime's arguments are undercut by his own company's press releases and statements from its executives declaring that the drug Sloan seeks has "superior potency" and that the data are "progressively more encouraging." Moreover, the drug Sloan wants has been designed by BioMarin to treat her type of ovarian cancer. And her own doctor is calling for it.
In another email, accidentally forwarded to Sloan supporters and sent on to HuffPost, Bienaime asks a colleague about the status of the PARP inhibitor's clinical trials; he appears to be unsure as to what his company is actually doing. He concludes the email by asking a subordinate, "Have you engaged the PR agency?"
Sloan meanwhile is getting sicker. "I needed this medicine in July," she said. "We're almost to October." Fluid has started to build up in her right lung. She now goes to a hospital once a week to have the lung drained. "It's difficult for me to breathe now," she said.
Binner said watching her daughter die was "beyond horrific."
"You feel helpless, almost like the world's gone mad," she recalled. "This isn't happening. Surely, in the U.S. and the U.K. things like this don't happen. There wasn't enough time."

Before You Go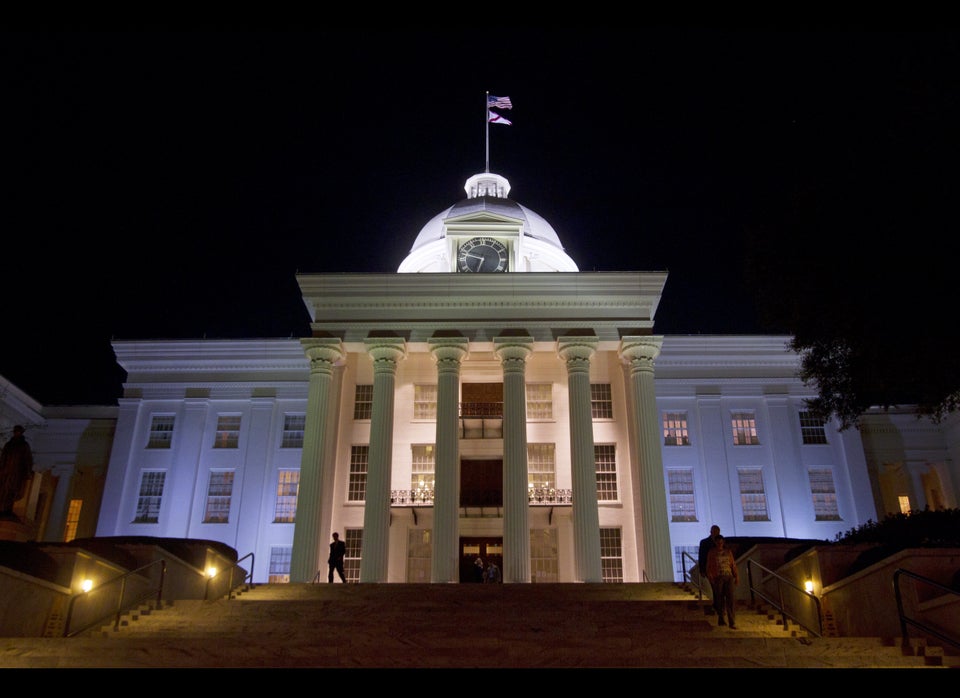 U.S. State Capitol Buildings
Popular in the Community